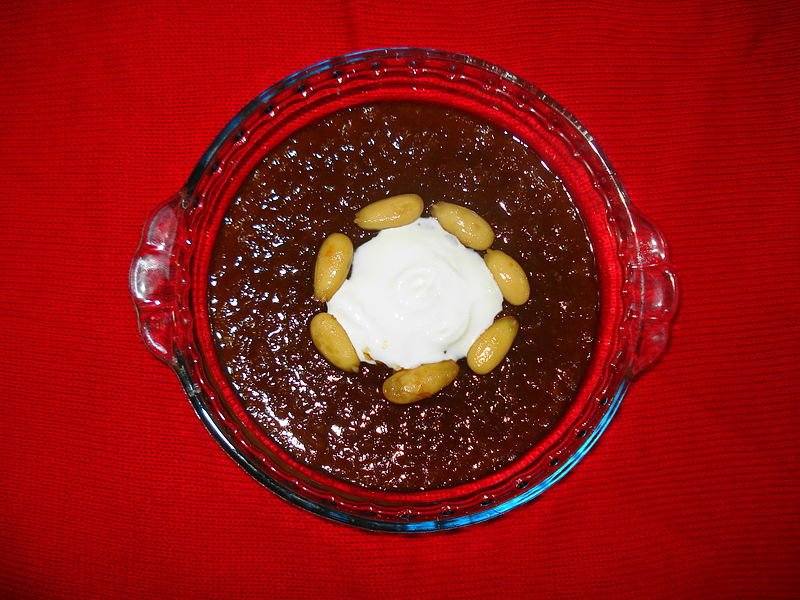 Qubani ka meetha is an Indian dessert made from dried apricots. It is a part of Hyderabadi cuisine and is a common feature at Hyderabadi weddings. It occupies pride of place in shahi dastarkhwan, or ceremonial royal feasts. The dessert is topped with blanched almonds and is traditionally garnished with malai or ice cream.
Ingredients
250 grams dried Apricots
150 grams sugar
1 Tablespoon lemon juice
1/4 cup almonds -blanched and roasted
Fresh Saffron Cream or Ice Cream
Directions
Firstly, soak the apricots in enough water overnight. If the apricots are not pitted then remove the seeds.
Heat the apricots and water together. Add a stick of cinnamon as it infuses the flavour in the dessert.
Add a few drops of lemon. Now, add the sugar and keep stirring until it reaches a mushy consistency.
Qubani ka meetha is ready. Take a dessert glass and put the base layer of finely chopped almonds, pistachios, walnuts.
Pour the apricot pudding over it. Top it with saffron cream.
You can serve it warm or cold with saffron cream.
Know More: 7 Sisters: Search for Authentic Northeast Cuisine Ends Here in Hyderabad