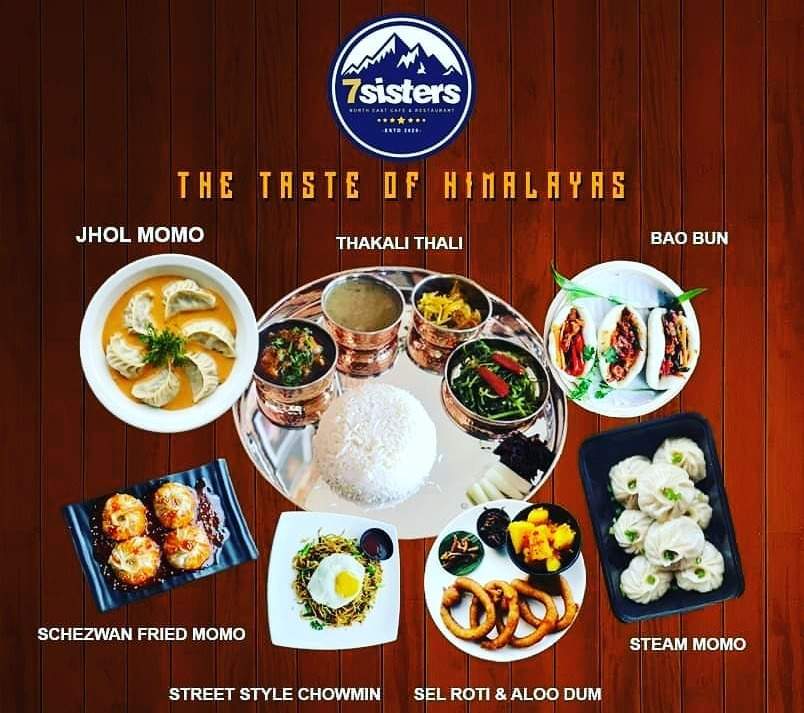 Hyderabad has become a truly metropolitan city with a mix of the right cultures. Off late, Pan Asian food is being loved by one and all in Hyderabad, and one restaurant that has become quite famous in the up-market area of Banjara Hills, Hyderabad is 7 Sisters Northeast Café. Let's review the restaurant in detail
Ambiance
To be precise, 7 Sisters is a proper South Asian rooftop restaurant which also serves authentic Northeast food. It's a classy and cozy place with a white and blue colored theme. The seating is simple yet elegant and gives you a European vibe. The seating is comfortable but only four or six per table can be seated. For taking pictures, this place looks amazing
Best dishes to try
7 Sisters is not a regular Chinese place as it is a mix of a variety of Asian cuisine and Northeast India's local dishes. The menu has a variety of dishes and one surely needs to have prior knowledge as to what they want to order.
The soups are delicious and other dishes like Sushi, Basil Chicken, Thai Curry, Dimsums, Chicken Wings, and Japanese sticky fried rice are the best ones to order. The variety of momos this place serves is the best.
Customer Service
One of the best aspects of 7 Sisters is the staff which is very friendly. Though their service is a bit delayed, the waiters are top-notch as they explain the dishes along with the ingredients in detail. The only issue with this restaurant is the people get too close to you as the place is a bit cramped. The best tip is one needs to order everything at home so that you have a peaceful meal.
Value for money and food portions
7 Sisters costs Rs 800 for two. The taste is pretty good and for all those who like to try new dishes, this restaurant has all the pan-Asian varieties. When compared to other Asian restaurants, 7 Sisters is slightly better portion-wise as the dishes have enough quantity as one dish is easily sufficient for two. Though everyone might not like the taste, the value for money is decent.
Wow factor of 7 Sisters
To be frank, there is absolutely no wow factor with 7 Sisters. It is a small yet cozy place where you can try Asian cuisine. There is no dish that stands out or will make you go wow. As it is in the upmarket area of Banjara Hills and serves a variety of dishes, it has become popular among the youth.
Overall experience
7 Sisters is strictly for those who love Pan Asian food and special northeast dishes. All those who look for that Indianess in their food will surely be disappointed. This is a decent restaurant but one needs to bear with the very slow service which can get on your nerves at times. It gets crowded on the weekends and we suggest you try this restaurant on the weekdays as things are quite chilled out and there is no delay in service.
Extra Info to watch out for
Takeaway Available
Not Kid-Friendly
Opens 11 Am to 11 PM
No Reservations
Address:
7 Sisters
Road Number 4,
Resham Bagh,
Banjara Hills,
Hyderabad,
Telangana 500034
Know More: Restaurant Review -Dine O China in Gachibowli, Hyderabad