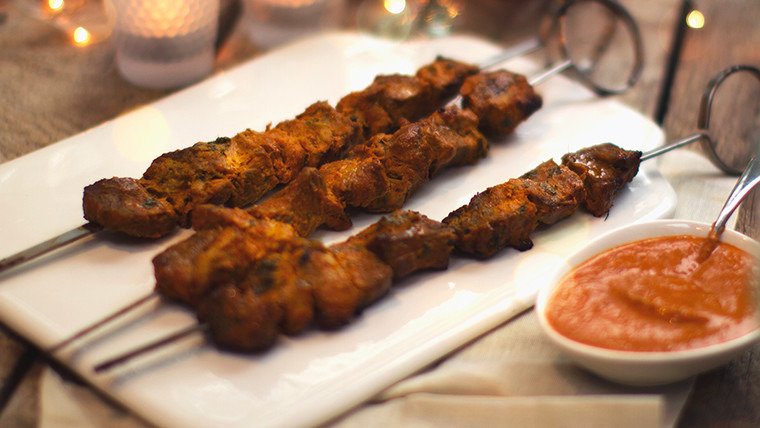 Hyderabadi Boti Kabab is an easy snack option for any big occasion or your next home dinner party. Boti Kebabs are mutton cubes marinated in a myriad of spices and cooked in aromatic saffron, rose petal paste and coconut. Boti means meat and Kebab is cooked on low flame in a Tandoor.
Ingredients
Kebab1 Kg mutton cubes (extra clean, from male goat thigh)
50 gms ginger paste
100 gms raw papaya paste
100 gms white onion paste
150 gms brown onion, finely chopped
150 gms desi ghee
5 gms yellow chilli powder
5 gms coriander powder to taste salt
5 gms garam masala
5 gms potli masala
20 gms chana dal flavour, roasted
100 gms curd
5 gms rose petal paste,1 gms saffron
300 gms poppy seeds paste
10 gms cashew paste
10 gms almond paste
10 gms chiroli paste
5 gms desiccated coconut powder, 10 ml kewra
4 pcs clove
6 pcs green cardamom
Directions
Take a wide bowl, put washed mutton cubes and add ginger paste, raw papaya paste, white onion paste, curd, coriander powder, yellow chili powder, garam masala, potli masala, salt and brown onions.
Blend well with the help of both hands, keep in a refrigerator or in a cool place for 1 to 2 hours.
Take a pan and put on heat. Add ghee, then clove and cardamom, after roasting put the entire marinated mutton, add some amount of water, roasted chana powder and stir vigorously.
Put on medium flame, cover it for almost 15 minutes till completely done.
After 15 minutes, remove the lid when the mutton is almost done. Now add cashew, almond, chironji paste, dessicated coconut powder, rose petals and poppy paste.
Now add saffron water and kewra water, stir 2-3 times and close the flame.
Garnish with fine onion rings and coriander leaves.
Know More: Best Restaurants to Try in Gurgaon