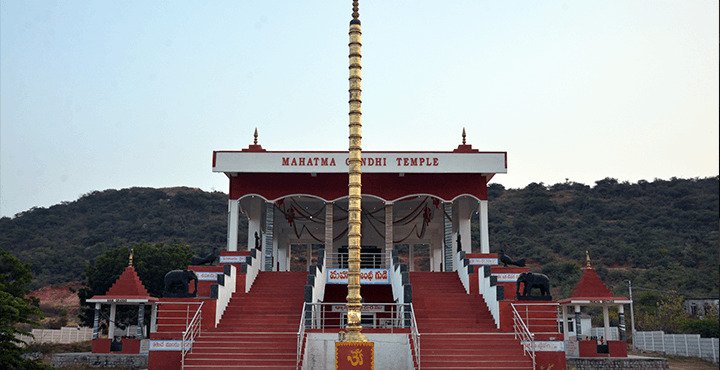 Are you a follower of Mahatma Gandhi? Then you should not miss the visit to the Mahatma Gandhi Temple in the Nalgonda district of Telangana.
Temples of gods and goddesses are the usual sight when traveling to any corner of the country. There are only a few temples built for leaders or noblemen. Here, we have something unique to share with you; there is a shrine with Mahatma Gandhi as the presiding deity.
It is the temple dedicated to the Father of the Nation. If you are in Telangana or planning to visit this part of the country, the Mahatma Gandhi Temple at Chityal town in the Nalgonda district is a place that you can include in your list.
It is just 75kms away from Hyderabad city. A long drive via the scenic fields will give you a pleasant experience.
The Mahatma Gandhi Charitable Trust constructed this temple in 2014.
Temple description
Gandhi is featured in the temple in a sitting position with a blessing posture. The priest performs all pujas and distributes Prasad to the people, just like in Hindu temples. The temple locates amid lush greenery.
You can see the Navagrahas, just as they are in Hindu temples. The presence of Navagrahas in Hindu temples is nothing new, but have you ever heard of the installation of Pancha Bhutas in any of them? You will find the idol forms of Pancha Bhutas (Bhumi – Earth, Akasam – Sky, Vayu – Air, Jalamu – Water, Agni – Fire) on one side of the temple. It is the first time in India that the idols of Pancha Bhutas have been sculpted.
The holy soil
Following the deity's darshan, you can view exhibits of soils from 30 different Indian temples, including Badrinath, Kedarnath, Kasi, Rameswaram, and others. Each of them will include the temple's name and a brief description of the temple.
On the backside wall of the shrine, you can find religious books and Mahatma Gandhi's authored books. It is a perfect spot for ardent readers and history geeks.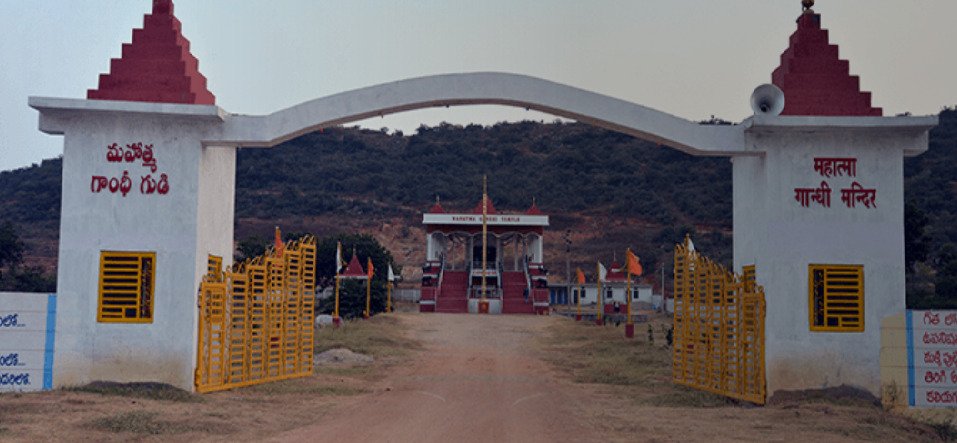 Room for Meditation
There is a meditation room found beneath the main temple. The space and the statue of Gandhi emanate tranquillity and are the ideal setting for connecting with your inner self.
Food and Accommodation
You hardly find any restaurants or eateries in the surroundings. It is better to carry food while you travel to this place. However, you can find good food in roadside dhabas on the highway.
Plan the visit from Hyderabad as there are no major accommodation facilities available here.
Conclusion
The construction of Mahatma Gandhi's temple aims to keep the Father of the Nation alive in the minds of Indians. The location instills patriotism and a sense of belonging in visitors. It has also become one of the Hindu temples where devotees can make a wish. It is worth visiting and adding to your list of must-visit places in Telangana.
Also Read: Lambasingi – The Ooty of Andhra Pradesh