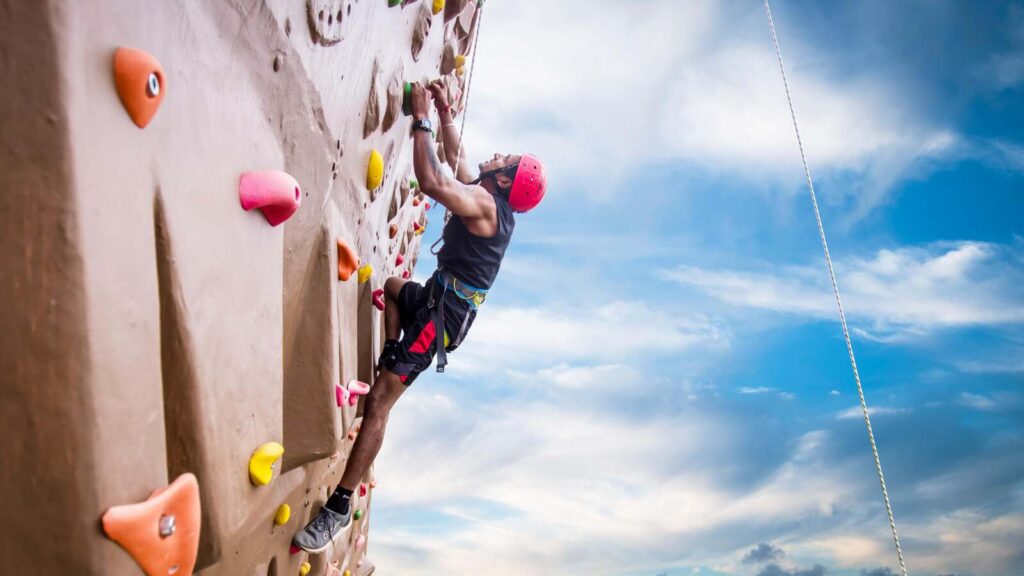 Hyderabad is not just a city known for its vintage collections of majestic structures but is also the ideal place for adrenaline enthusiasts.
Are you longing for an adventurous weekend and a break from a daily professional chore and stress?
Then the visit to District Gravity, an adventure park beside Leonia Holistic Destination, Shameerpet, in Hyderabad gives you the never-before thrilling experience.
It is a perfect adventurous spot for both adults and children. Unlike other adventure parks in the city, District Gravity will host more than 80 adventurous attractions.
Packages offered
The District Gravity offers four different packages: Trill Package, Fun Package, Indoor Package, Day package, and Group package. The Group Packages are appropriate for those who make a team visit, like corporates, schools, youth, and families.
You can select any of the packages and begin your adventurous journey for a day. The packages and activities are of reasonable costs.
Let's see what this adventurous destination has to offer
Giant Swing
When a friend accompanies you to this park, Giant Swing will be a crazy activity. The Giant Swing accommodates two people. When released from a height of 50 feet, the swing feels like falling from the heights of the sky, and the high oscillations in the air thrill you for a while.
Zipline
You must have done the Zipline before, but the one here gives you a different experience. It is the longest Zipline that you would have ever tried in any of the adventure parks in the city. The Zipline is way up at 60 feet high from the ground and 1600 feet long. The release into the air down the line gives your heart a jerk, and you enjoy the thrill.
At the end of the Zipline, you can see a car waiting to pick you up and drop you at the start point of the Zipline. It is the comfort that this adventure park provides to visitors. 
Rope Course
Walking on different challenging pathways using a rope is exhilarating. There are three levels here posing 33 different challenges. If you are an adventurous freak or an expert in the Rope course, you can challenge yourself to complete the second level, which seems the toughest of the three levels.
Multi activity Tower
The 60 feet of multiple towers with six different activities, including Wall Climbing, Rappelling, Para Jump, Slithering, Net Climbing, and Multiple Climbing. You can succeed in any activity with correct positioning and hand-eye contact.
Human Sling Shot
Human Sling Shot makes you feel like a flying Angy Bird. You are tightly fixed and pulled to a certain distance by the tractor and then left into the sky. It is an undulated fly with a feel-good experience.
Euro Bungee
The experience of flying vertically up and also is a known activity.
Chicane Circuit
Are you a motorsports lover? Then it is a must-try. It is an experience of a racer in the relevant ambience of the professional track where some of the karting community holds the most prestigious races. The Chinese Circuit, which lengthens to 1.2kms and 8 m wide with world-class infrastructure, is India's first CIK (Commission International De Karting) approved track. The racing track has slowed and fast curves that can speed up your heart and mind during your drive.
Mud Run
While doing the mud run and completing the challenges on your way, the body with mud all over smells the pleasant odour, and suddenly you feel like becoming an army man or woman finishing the challenging activities throughout. It will be fun when you do it in a group.
Paint Ball
It is a perfect team-building game. When you come along with family, friends, and office colleagues, this activity shouldn't be a miss. A team of people shooting paintball against each other is exciting and fun.
Fun activities for children. It is open to adults as well
Trampoline
Tarzan
track
Bull
Ride
Bungee
Run
Meltdown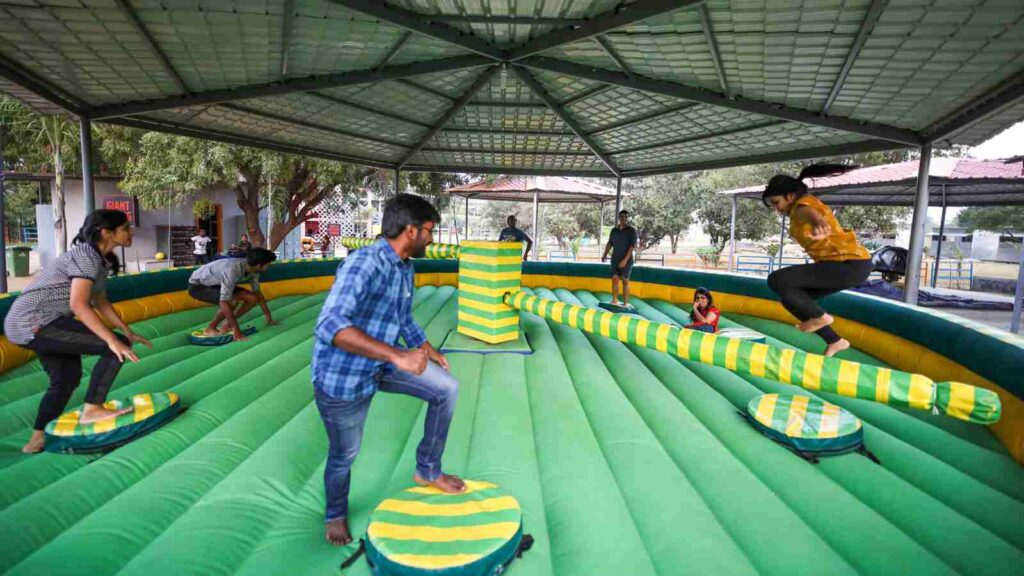 A splendid spot for indoor and outdoor games-
You come alone or in a team. The outdoors of the District Gravity keeps you engaged with sporting spirit. No more watch in TVs; you can encounter different sports here and realize the sportsman in you.
The activities are
Archery
Rifle
9 Hole Mini-Golf Course
John Ball
Human Foosball
Basketball/Football
Cricket Ground- The sizable ground that can accommodate tournaments
Indoor games
Carrom,
Ludo, Snake and Ladder, Chess, Darts
Pool Paradise
Without diving into the swimming pool and doing the rain dance, any outing is incomplete. You can buy the swimsuit at the counter. The rain dance and swimming relax your body from all stress and tiredness of doing several adventure activities.
Services
The District Gravity leases the space for weddings and rendezvous meetings. Corporate companies can hold meetings and rejoice in the space with varied adventures. It facilitates social gatherings, Mice events, and Movie shootings.
Food
There is a live kitchen. The food court treats your taste buds with 20 different delicacies in a buffet. You have to know that the Day Package covers the food price. There are no special cuisines to try.
Do's
Shoes are a must to walk inside the adventurous home. The visitors can also purchase shoes from the counter at the park entrance.
Places to visit near Shameerpet
Shameerpet Lake
Shameerpet lake, also called 'Pedda Cheruvu', treats you with its serenity of clam waters surrounded by lush greenery and a wide variety of birds flying around.
Shameerpet Deer Park
The Shameerpet Deer Park, well known as Jawahar Deer Park, is a sprawling 80 acres of land with Deer in abundance, and also, you can see different kinds of birds and snakes. It is one of the most-visited places by Hyderabadis.
Conclusion:
The visit to District Gravity is worthwhile. You enjoy it when you come alone or in a group. It will be a re-energizer for techies. Families with children can enjoy the sprawling, adventurous space throughout the day. It is an exuberant experience for anyone who gets into this adventure park and it is a perfect weekend spot. You can end your exciting day by spending a pleasant evening at the Shameerpet lake.
Also Read: Top 5 Weekend Getaways from Hyderabad