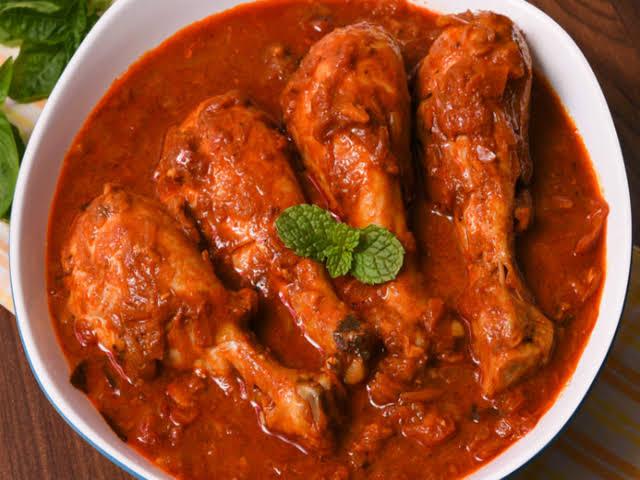 Dum ka Murgh is a traditional Hyderabadi dish. Dum is derived from the Persian word 'dum' or 'dum baksh' meaning 'to give breath to'. This means a technique of very slow cooking in a vessel sealed with a tight-fitting lid so that steam is prevented from escaping.
In this Hyderabadi chicken recipe, the chicken is slow-cooked in a yogurt-based marinade flavored with various spices. This red chicken curry can be paired with a variety of rice and bread.
Ingredients
1 chicken, whole cut-up
2 Tablespoon cashew nuts
1 Tbsp chironji or buchanania lanzan
1 cup sour curd, well beaten1 cup deep-fried onion
2 Tablespoons ginger paste
2 Tablespoon garlic paste
1/2 tsp turmeric powder
1/2 Tablespoon kashmiri red chilli powder
2-3 green chilli, chopped
1/2 cup mint leaves, chopped
1/2 cup fresh cilantro, chopped
1 Tablespoon shahi jeera4
5 green cardamom pods, crushed
2 cinnamon sticks
5-7 cloves, crushed
1 Tablespoon cumin seeds
2 Tablespoons coriander seeds
Juice of 1 lemon
3 Tablespoons vegetable oil
1 Tablespoon ghee or clarified butter
Whole wheat or atta dough
Salt, to taste
Directions
Add cashew nuts and chironji to a grinder and dry grind them to make a fine powder.
Take the ground nuts out of the grinder and put them aside.
Now add cumin and coriander seeds and make a fine powder with them.
In a large non-stick pan, add chicken, nut powder, curd, fried onion, ginger-garlic paste, chopped chilies, chopped mint and cilantro, turmeric, red chili powder, cumin powder, coriander powder, cinnamon sticks, cardamom pods, cloves, shahi jeera, lemon juice, salt, vegetable oil and ghee in the pan. Mix well.
Leave the marinated chicken in the pan for at least 2 to 4 hours.5.
After 4 hours take the lid off the pan and seal it with the atta dough and put the pan on medium heat to cook the chicken for at least 35 to 40 minutes.
After 40 minutes, turn off the heat but do not open the lid.
Leave the chicken as it is for 10 minutes.
Chicken is ready. Serve hot with rice or any Indian bread.
Know More: Hyderabadi Mirchi Ka Salan Recipe
There are many sites which offer casino deposit by boku no-cost slots.