Talakona Waterfall is a visual treat located nearly 60 kilometers from Tirupati, which is the most famous spiritual destination in Andhra Pradesh. Talakona is the highest waterfall in AP.
It is the prime attraction of Sri Venkateshwara National Park, which is a part of the gigantic Seshachalam forest. This park is rich with a large variety of flora and fauna, medicinal herbs, and beautiful views of lush green landscapes and pleasing waterfalls. The fierce flow of water from a height of 270 feet is truly enchanting!
How to reach Talkona waterfalls in AP?
To reach this place you better take your own vehicle as it's hard to find a transportation service. Of course, Tirupati which is one of the nearest cities to Talakona is well connected by road, rail, and air.
You may also try booking the Talakona package by APSRTC which is available from Tirupati only on Sundays.
There will be a checkpoint at nearly 9 KM from Talakona where you have to pay the entry fee which is around 15 rupees for two-wheelers and 100 rupees for four-wheelers.
Timings: 6:00 AM to 7:30 PM
Accommodation:
Many good stay options are available around 20 kilometers from Talakona.
Laxmi Nivas, Aditya Birla Nilayam, Padmavathi Nilayam are some good options to try out.
You can also try Vanadarshini, an eco-resort developed by the forest department of AP.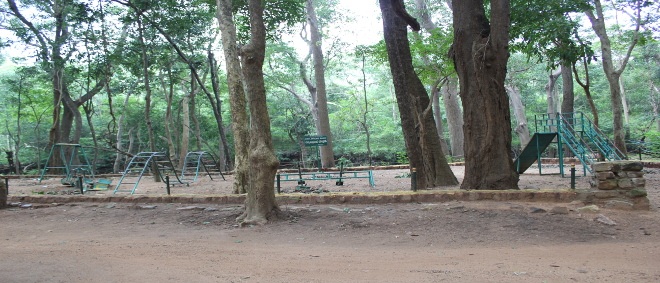 Food:
There is a huge reputation for the local chicken recipe along with some tasty vegetarian cuisine. You can order the food in the canteen before moving towards the waterfall so that it will be ready by the time you come back.
What is so special about Talakona?
Sidheshwara temple
Wildlife sighting
Trekking
Waterfalls from a height of 270 feet
Vanadarshini park
Sidheshwara Temple:
After a 20 minute drive from the checkpoint, you will reach this ancient Talakona temple. This temple is dedicated to Lord Shiva and was built in the 18th century. Many people gather in this place during Mahashivarati and stay awake till the next day morning. Next to this temple, you'll find canteens where you can pre-order food. After visiting the temple, we will start our trek towards Talakona.
Animals everywhere!
As we actually enter the park, a large variety of animals will keep wishing us. Monkeys are very active among them. These crazy apes never fail to entertain us. Peacocks also stand as a special attraction on the way.
This region is home to many endangered species like Slender Loris, Indian Giant Squirrel, Mouse Deer, Golden Gecko, Panther, Porcupine, Chital, and Sambar. But you may not encounter all of these as frequently as monkeys.
Trekking
It is nearly a two-kilometer trek from the parking area. We are supposed to reach the top with the help of the stone stairs built by the forest department. It is going to be arduous and exciting at the same time. As you walk forward, not even a single moment will be passed without amazing you. Full of vibrant life thrives everywhere in the form of verdant plants, entertaining animals, and the most beautiful architecture carved by nature itself!
And now, Talakona
After a 40 minute arduous trek, you will finally witness the enchanting Talakona waterfall. The water falling from a height of 270 feet mesmerizes everyone. If you are adventurous enough, enter the field where water is flowing and let that pure and untouched water heal you. It's recommended to be a little cautious while doing so. After enjoying the view wholeheartedly, travel back to the place where you pre-ordered food and enjoy the tasty local cuisine. By that time you will be exhausted and feel very hungry because of the intensity of the trek. In such a situation, the food becomes even tastier!
Vanadarshini
It is a forest resort and kids become very excited to stay in this place. Adults also can spend some quality time here by breathing some fresh air and by forgetting the day-to-day troubles.
One has to make a pre-booking to stay in this forest resort. It costs around 1500 for two people and 5,000 for 10 people.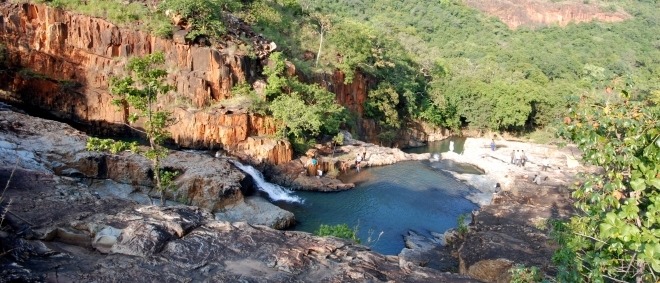 Planning a botanical tour?
If yes, this place is a must-visit for you. The Seshachalam forest of the Eastern Ghats is well known for hosting many medicinal herbs that are mentioned in the ancient Ayurvedic texts. The famous Red Sandalwood can also be seen on your way to the waterfalls.
Important points to remember
Across the park, you will see many boards with instructions from the forest department of Andhra Pradesh. Let's see some of the most important ones.
You are not supposed to cause any exploitation or destruction either by removing forest produce or harming the wildlife
One shouldn't perform any act that may lead to a forest fire.
One should not carry any weapon.
The trek to reach the waterfall may dehydrate you because of the tropical south Indian climate. It may not be suitable for sensitive people.
Once you travel some distance, you will not find anything to buy. So, make sure to carry some snacks and enough water.
Hold a stick in your hands to protect yourself from monkeys. But don't harm them.
The rock surface near the waterfall is going to be very slippery. So, be cautious with kids.
This amazing place is not for those addicted to living in cemented forests! It is not for someone who doesn't like an adventure. If green cover and wildlife can exhilarate you, then Talakona welcomes you wholeheartedly. Come one, immerse yourself completely in the beauty of Talakona waterfalls.