Do you want to land in a place full of beautiful landscapes without spending a lot? If yes, welcome to Srikakulam. This northernmost district of Andhra Pradesh is home to ancient temples, beautiful beaches, and most importantly, you will find kind-hearted people everywhere. Try visiting this amazing Tourist Attractions in Srikakulam you won't feel your time wasted.
How to reach Srikakulam?
You can easily reach Srikakulam either by bus or train. The railway station and bus stand are separated by a distance of nearly 12 kilometers. The nearest airport is in Visakhapatnam which is nearly 50 miles from Srikakulam.
Where to stay?
You can find both budget-friendly as well as some premium stay options on the premises of the bus stand. Varam residency, Hotel Blue Earth are some of the best star hotels near the bus stand.
A Hotel, N.S.R Residency, Sri Ram Lodge are some other good options to stay.
Famous places to visit in Srikakulam:
Arasavalli Temple
Srikurmam Temple
Srimukhalingam temple
Salihundam
Telineelapuram Bird Nesting Area
Kalingapatnam beach resort
Seethampeta Adventure Park
How much time will it take to explore this place?
Well, for Seethampeta Park, you tend to spend a whole day! That's how big and enchanting it is. You can visit the remaining places in the next two days.
If you reach Srikakulam by train, it's better to visit Seethampeta firstand for the rest of the places, you can start from the bus stand.
Now, let's look at each of these places in detail.
1. Arasavalli Surya Narayana Temple
It is one of the few temples in India which are dedicated to the deity Sun. The Temple was built in such a way that on certain days the sun's rays will directly fall on the feet of the idol.This event happens twice a year in March and October. Hats off to the architects of those days. Locals consider Ratha Saptamito be a very auspicious day and many people visit this temple on that day.
How to reach
This temple is simply 2.5 kilometers away from the Srikakulam bus stand. You can take the help of any local transport service.
2. Srikurmam Temple
Apart from the beautiful stone carvings, a rare kind of Star Tortoises are a special attraction of this temple. A park was also built there to conserve this rare kind of tortoise.
To reach this temple nearly 15 kilometers from Srikakulam, you have to take a bus from the RTC complex or book a taxi there. It's better to visit this temple after Arasavalli because both the temples are on the same road.
3. Srimukhalingam Temple
This temple is dedicated to Lord Shiva and was built around the 9th century. Every year locals participate in Chakratirtha Snana, which is considered to be a holy bath in the river Vamsadhara. This temple is about 50 kilometers from Srikakulam city and it's well connected by road. You can easily find a bus to this place from Srikakulam bus stand.
You may feel like you went to a remote place, but you will be amazed by seeing the wonderful stone carvings there. Without the help of any advanced tools in those days, architects carved the temple manually and it shows the level of devotion towards the work they are doing. 
4. Salihundam
Salihundam is the most exciting place to visit in Srikakulam. It lies at the top of a hill beside the bank of the Vamsadara river in Salihundam village. It is a Buddhist heritage site.
Archeologists say that the remnants date back to the 2nd century!  On the hill, you will also find a museum along with Buddhist stupas. It is one of the favorite destinations for picnics in that region. You will also get very enchanted with the view of the Vamsadhara river from the top of that hill. For reaching this place also you can simply take a bus or a taxi.
5. Telineelapuram Bird Nesting Area
If you are fascinated by birds, you must visit this place. It's more than 65 kilometers from the city but this place is worth your traveling time. The ideal time to visit this place is between September and March.
Every year nearly 3000 special guests fly to this place from Siberia. Fifteen years ago, the number used to be 10,000. But now it's dropped to 3000 because of the changing climatic conditions. Visit this place before the number goes down to zero!
6. Kalingapatnam beach resort
Who really hates a beach? No matter how many wonders any place can offer, a visit will be incomplete without chilling on the beach. So, make sure you visit this beautiful KalingapatnamBeach.
You will find buses to this place at almost any time in the bus stand. After you reach the village, you can take guidance from the local people to reach the beach. There is also a resort developed by the tourism department of the state government. You can also make a pre-booking on their website. Kalingapatnam Beach Resort
7. Seetahampeta Adventure park
This park is developed by the Integrated Tribal Development Authority(ITDA) of the State government. Seetahampeta is 40 kilometers from Srikakulam railway station and it will look like a world by itself with beautiful waterfalls, eye-catching landscapes of hills, and many adventurous activities inside the park.
It is the first Park in Andhra Pradesh to have all the three Air, Water, and Land adventure activities. Paramotoring is a special attraction and the pilots are well trained and belong to the tribal community of that place.
It's not an exaggeration to say that one full day wouldn't be enough to explore this park completely and two eyes are not enough to perceive the beauty of that landscape!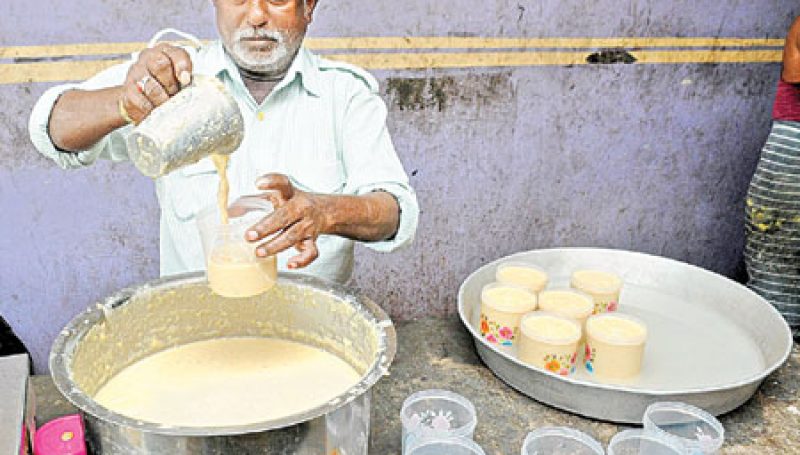 Some famous food items to taste in Srikakulam:
1. Utanki:
This crispy and tasty sweet is made with three basic ingredients milk, sugar, and rice. These three ingredients are finely ground and the paste-like substance is used to prepare Utanki. Very few families in the Sompeta region can prepare this sweet. They even export this sweet abroad. You can find this in almost every sweet shop in Srikakulam or you can either buy it online.
2. Mona vunda (Raagi sweet):
This healthy sweet is almost going extinct. You can nowhere find it in any Sweetshop. You can only request the households of agricultural families in the rural areas of Srikakulam to prepare this sweet for you. You can even prepare it on your own. All you need to do is take some ragi flour into a bowl, add some jaggery and salt as much as required and mix all of them for some time with your hands and mold them into any shape of your choice. After that boil them in water for a few minutes and your Healthy Mona vunda is ready to serve.
3. Mandhasa Kova:
Finally, before leaving Srikakulam, make sure you taste Mandhasa Kova. You can find it in many sweet shops on G.T Road. Even though it's made with regular ingredients like milk and sugar, it's popular because of its unique taste. Many people who visit this place just fall in love with that taste!
We hope you got an idea about what to see and taste in this beautiful yet very underrated place. You can visit all the important places of Srikakulam in just two to three days. Wish you a very happy journey!
Also Read: Varkala – A geological monument in Kerala