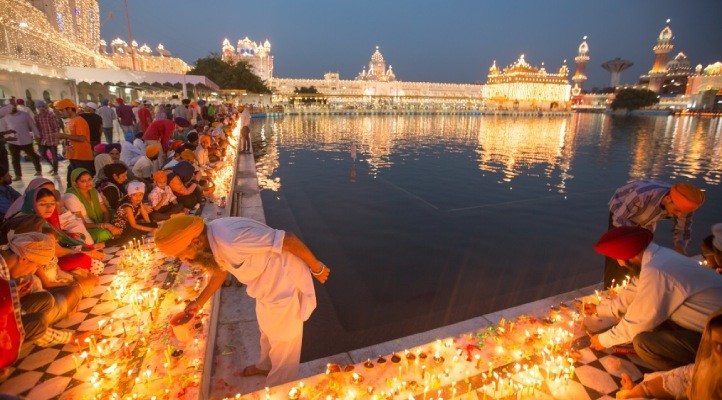 Diwali is around and most of us must be excited for this festival of lights. During Diwali, you come across a number of festivals in not just Punjab, but all over India. Kids get excited as they'll get holidays and a chance to play with fire crackers, while on the other hand adults wait for this festival to organise get-togethers with friends and relatives.
In short, every single person tries their best to celebrate Diwali to a higher extent so that they can make good memories.
But, have you ever thought that if you had to create a list of places where Diwali is celebrated in the best way, which cities or places would you keep in that list?
Amritsar in Punjab is one such city which is considered as the best place to celebrate your Diwali for numerous reasons, and here with this post we are going to discuss them all.
Why is it called Diwali Amritsar Di
As we said there are numerous reasons because of which people say, Amritsar has the best Diwali, let us have a look at them:
The first and most important reason which makes Amritsar's Diwali one of the best Diwali from Punjab is that this place is close to God. The Golden Temple is here, which is completely filled on occasions like Diwali and more. Not just that, people from all over India visit the Golden Temple around Diwali to seek blessings of God.
The belief of people from Amritsar in God is so extensive that it makes them even more happier during the season of Diwali. Secondly, when you believe that by seeking blessings from the Golden Temple will make you and your life better, that's what will happen with you.
Along with that, people also come from various places to play and celebrate Diwali in the Golden Temple. There takes place a number of preparations within the gurdwara premises, hence everyone wants to be a part of those celebrations.
The second thing people look for during the season of Diwali is collecting memories with their friends and family members. We all know how we collect memories nowadays, that is with the help of clicking pictures with each other.
But things are not that simple, we should know some good scenic places to click those pictures to get good pictures together, and that's what Amritsar has.
In Amritsar you would be able to find a lot of gurdwaras, gardens, memorials, historical places and many more such places that makes Amritsar one of the most photogenic places.
Hence this also becomes a reason behind people traveling from all over India to Amritsar and celebrating Diwali here.
Festive Vibe with Pleasant Weather
During the Diwali season, you would be able to notice the change in weather, monsoon will start to end and winters start coming that makes the temperature pleasant. With this soothing weather, everyone around feels good and they get a good vibe to work with a happy face.
If you are just roaming around the streets of Amritsar during the Diwali season you would be able to notice a different vibe all around, the vibe is inexpressible in words, but we can say just one thing that you will always have a smile on your face during this season.
Explore More: Experience Sikh Heroism at Banda Singh Bahadur War Memorial
We all know that Amritsar has great food items that are going to make your taste buds divine. But the best part is during the Diwali season you are going to notice more than usual food items in Amritsar.

You will find the market filled with sweets, snacks, fast food, cholle bhature and many more such things. Here's a quirky caution for you, if you are visiting Amritsar during Diwali, then you are going to come back with a lot of memories and some extra body weight.
The food here will be so tasty, that you would be unable to say no to it at any cost.
Shopping is another exciting thing about Diwali, as you will notice a number of new things everywhere from streets to large malls which are combined with festival offers. If you are traveling to Amritsar during Diwali then we would suggest you to get an extra bag with you, in which you can keep all the stuff that you will buy while shopping here in Amritsar.
Another big reason to call Amritsar's Diwali the best, because you get the best deals on every single item. No matter if you want to buy food items, clothes, electronics, or any other thing.
People from all over the world travel to Amritsar during Diwali, to visit the Golden Temple and many more such places. If you are also traveling to Amritsar during Diwali you are going to make a lot of new friends during your trip.
Plan your trip early and book the tickets accordingly so that you don't face any last moment disappointment. Also, book your accommodation in advance as it the festive season and it is jampacked everywhere.
This was all about a few reasons that makes Amritsar's Diwali the best.
Conclusion:
Your surroundings, the people around you, the places around you, and your atmosphere plays a crucial role for your happiness. Amritsar during Diwali will definitely host you in the best way and helps you create lifetime memories.
Explore More: Gwalior – The City That Breathes Music