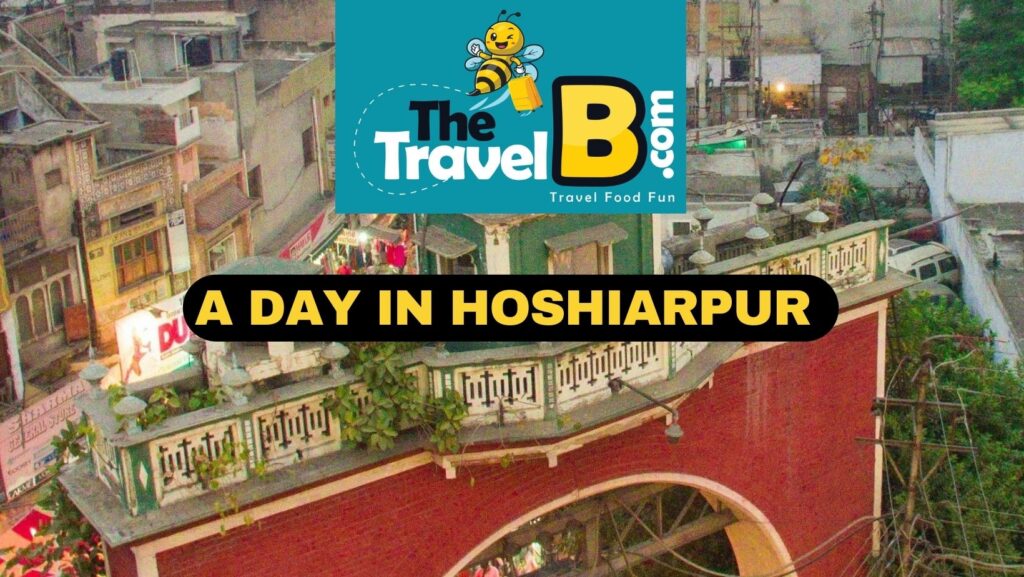 Visit Hoshiarpur : Are you planning your next trip to the land of saints in Punjab? Yes, you guessed it right, we are talking about Hoshiarpur which is a small yet beautiful part of Punjab and is famous for its mixture of the city along with the hilly looks.
Before planning and actually proceeding for your trip to Hoshiarpur it would be better to get a virtual tour of this city of Punjab.
Here with this blog, we are going to offer you just that.
Morning Walk & Workout
If we had to choose a city with the best morning view then we would surely choose Hoshiarpur. The first reason is, this city is close to the hilly areas that makes the overall atmosphere of this city great, along with that there are a number of gardens where you can directly visit for your morning walk.
Some of the most famous gardens of Hoshiarpur are Jain Colony Park, Railway mandi park, Garden Estate, New Adarsh Park, and many more.
Along with gardens and people going for their walk, you will also notice a number of people visiting the gym for their morning workout.

In case if you are visiting for the first time, then you should surely visit Saleram Dam and Dholwaha Dam Lake, these are the best spots to go for morning walk in Hoshiarpur.
Breakfast
If you have heard about the history of Hoshiarpur then you must be aware that the most popular food items of Hoshiarpur are cholle bhature, and naan cholle. Let us have a look at some of the best breakfast options you will find in Hoshiarpur.
Rajput Naan Bhandar: This is one of the oldest naal cholle shop in Hoshiarpur, the best part of this place is that you would be able to get the authentic taste of naal cholle, and cholle bhature here.

In case if you have never had tasty naan cholle then this place is the best breakfast option for you.
Gobble's Cafe: If you are looking for the best veg food in Hoshiarpur for breakfast then Gobble's cafe is the best option for you. Here you can customize your order, or you can also order veg plates that consist of a few veggies, dal, raita, roti, and rice.

You should definitely check out their chai, it's one of the best chai you'll ever have.

Thecafedible: This place is for all those people who are looking for western style breakfast. If you are looking for the best veg sandwiches to pair up with french fries and hot coffee, then Thecafedible is the best place for you to have your breakfast.
Cafes to work
If you are someone who is not traveling to Hoshiarpur on a workcation or not working at all, then you can skip this part of our blog. As here we are going to share a few quiet and peaceful cafes from where you can easily do your work online/offline.

Shake Shook Cafe: The first option is Shake Shook Cafe which is a good place to party and work as well. The staff of this place is so good, in case if you are facing any disturbance while working at this cafe you can directly ask for their help and they will fix the issue ASAP.

Along with that you can also check out their shakes, they have a huge variety of shakes and pizzas.

Soya Cafe: Here is the second option for cafes to work in Hoshiarpur which is Soya Cafe. Although this is a family point and most of the families visit this place for picnics and all, but if you have a meeting with a large group then this place is going to be perfect for you.

Food items of this place are tasty, but you should definitely check out their chai, you'll fall in love with it.
Chai Sutta Bar: At most of the places Chai Sutta Bar is built in the form of a small outlet, but in Hoshiarpur you would be able to notice a large size outlet of Chai Sutta Bar with a sitting capacity of at least 10-15 people.

Hence if you are looking for a quiet place to work with a good ambience then Chai Sutta Bar is the best place for you.
Explore More Places at : TheTravelB.com
Exploring Hoshiarpur
Now is the time to talk about a few places of Hoshiarpur that you can explore. Let us have a look at the list:
Takhni Rehmapur Wildlife Sanctuary: Most of the people are unaware of this place, but Hoshiarpur has one of the most beautiful wildlife sanctuaries of Punjab. It's a very cool and peaceful place, if you want to explore the nature and wildlife of Punjab, then this is a must-visit place for you.

Kamahi Devi Temple: Here's one of the most historical and oldest temples of Hoshiarpur. It is also a peaceful place, if you want to know about the history of this temple and spend some time in peace then Kamahi Devi Temple is the right place for you.
Best Places for Lunch & Dinner in Hoshiarpur:
Stonecage Cafe: Want to have lunch or dinner at a place that offers western, Indian, and Punjabi food items which are delicious as well? If yes, the Stonecage cafe is the perfect place for you.
The overall ambience of this place is modern and it's a super clean place.
DAWT Restaurant: If you are looking for a restaurant that offers the best veg and non-veg food items for your lunch or dinner then DAWT restaurant is the option for you. It's a perfect place for you to fine dine with your friends and family.
Shopping
To do quality shopping at affordable prices in Hoshiarpur you can directly visit the local market of this place. Just make sure that you are not visiting here with the help of a car or any such vehicle, as the roads do not have the space for that.
If you want to explore branded items then you can visit The Time Square which is a mall here in Hoshiarpur. Also, it's built recently, so you'll get all the latest facilities.
Conclusion
Hoshiarpur is such a place that has a number of things and places to be explored, and if you are a first-time visitor then you surely will face issues during your trip. Hence, we think our blog must have helped you by providing a virtual tour of Hoshiarpur.