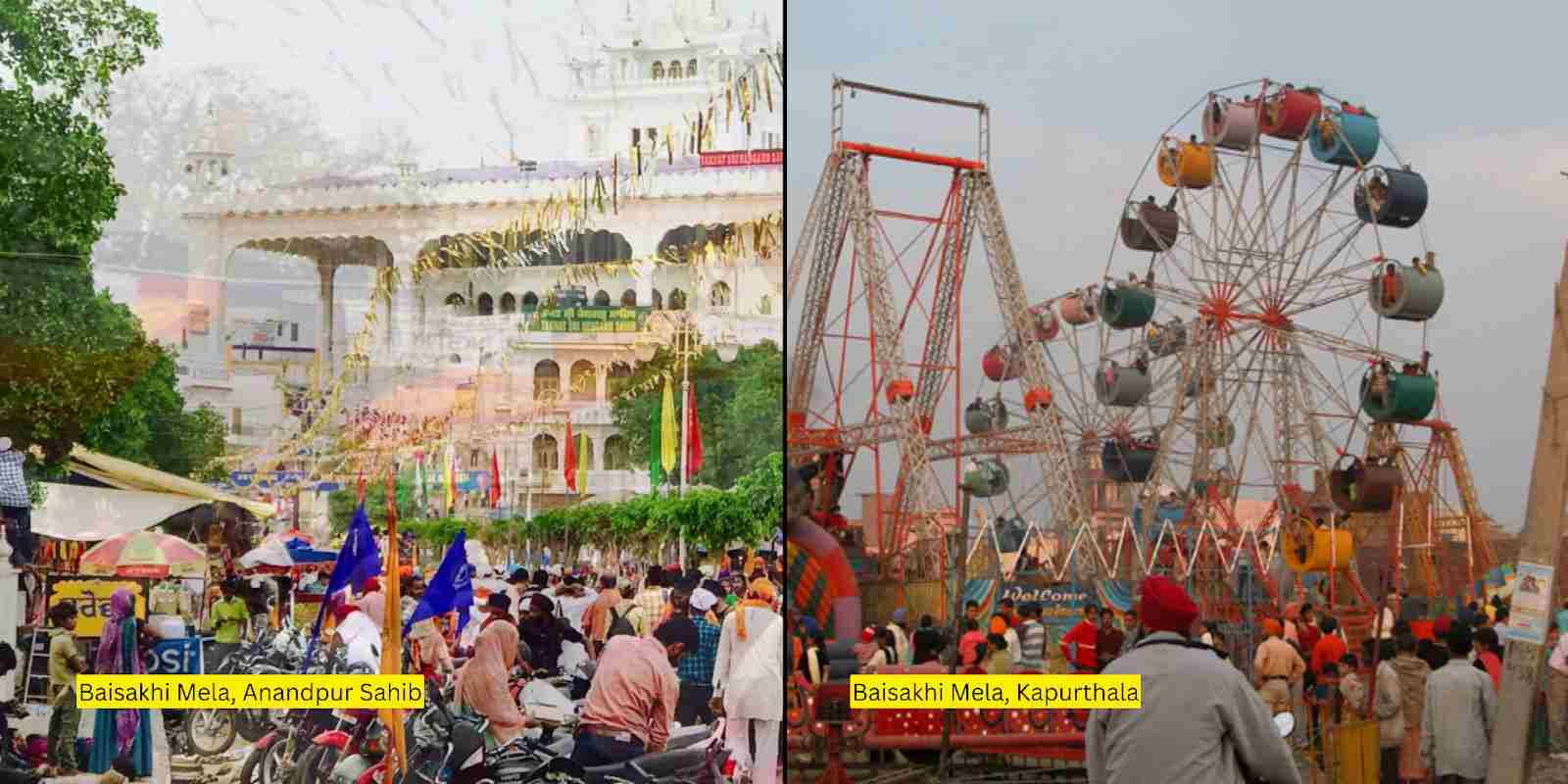 Are you someone who believes that Baisakhi is just celebrated as the harvest festival in Punjab? If you said yes, then we would like to mention that you are 50% right, because there's one more big reason because of which Baisakhi or Vaisakhi is celebrated.
In this post we are going to discuss everything about the Baisakhi festival and where the best Baisakhi mela in Punjab is celebrated.
All About Baisakhi Festival
Baisakhi is considered as one of the most important days for Sikhs, because of this day in 1699 Sikhism was born.
Yes, you heard it right and this is another reason why people celebrate Baisakhi on 13th or 14th January of every year.
Want to know the historical story behind Baisakhi?

Well yes, so on the day of Baisakhi in 1699 Guru ji came out of his tent with a sword in his hand and asked Sikhs, "Any Sikh who is ready to give his life for his faith should come into the tent."
After this 5 Sikhs went inside the tent and after some time, Guru ji came out of the tent with his sword covered with blood. And within a few minutes those 5 Sikhs also came outside unharmed and wearing a turban along with a sword hanging.
Those 5 Sikhs are called the "Panj Piyaare" and after that Guru ji also spread Amrit on them.
That particular process is called "Amrit Chakna" or also known as "Sikh Baptism Ceremony."
How is Baisakhi Celebrated?
The occasion of Baisakhi is celebrated in various ways, let us have a look at those ways:
The first method with which Baisakhi is celebrated is where people will specially get ready and they will visit the Gurdwara.
The second method of celebrating Baisakhi is when people will move out of their houses to be a part of the Nagar Kirtans. During Nagar Kirtans, Sikhs will take their holy book Guru Granth sahib ji and travel across the town by chanting the name of their guru.
After all these rituals people will move out to be a part of the Baisakhi mela that takes place in almost every part of Punjab.
But we are here to know about the best Baisakhi mela in Punjab.
Best Baisakhi Mela in Punjab
There are two different types of Baisakhi melas that takes place in Punjab. The first type of Baisakhi mela is more entertaining and fulfilling, while the second type of Baisakhi mela is more spiritual oriented.
Best Spiritual Oriented Baisakhi Mela in Punjab
The best spiritual oriented Baisakhi mela in Punjab takes place in Anandpur Sahib, as it is considered as a holy city for Sikhs. On the occasion of Baisakhi you will notice almost every Sikh traveling to the gurdwara, you will see guru langar taking place on a number of spots, Nagar kirtans taking place in the whole city.

Secondly, special Baisakhi mela will be held in Anandpur sahib where you would be able to do Shabad kirtans, enjoy langar, a few food items and enjoy Baisakhi in a very peaceful way.

If you are someone who loves peaceful places then this mela is the perfect option for you.
Best Entertaining & Fulfilling Baisakhi Mela in Punjab
The most entertaining and fulfilling Baisakhi mela in Punjab takes place in Kapurthala. At Kapurthala in Punjab you would be able to notice Baisakhi melas at a number of places, and most of those melas are going to be filled with entertaining activities, fast food items, shopping and many more.

If you are someone who wants to explore in a fun way then you should surely visit the Baisakhi mela of Kapurthala in Punjab.
How to travel?
As there are two locations discussed in this post, we will be discussing how to travel in two parts.
Explore More: Explore Bithoor in UP – A Hub of Pilgrimage
Anandpur Sahib: From any place in India, you can get a bus, train, or cab which can directly take you to the Anandpur Sahib city. In case if you are traveling from outside India then you would need to book a flight till Amritsar and then you can take a bus or train till Anandpur Sahib.
Majorly the Baisakhi mela takes place around Anandpur Sahib Gurudwara, so you can take an auto ride till the gurdwara after reaching the city.
Kapurthala: Kapurthala is a city near Jalandhar in Punjab and to reach this city you can book a train, bus, or cab easily. If you are traveling via flight then you can book a flight till Amritsar and then you can take a bus or train till Kapurthala.
The best and entertaining Baisakhi mela in Kapurthala takes place at Kanjli Wetlands. So, you can take an auto ride till this place after reaching the city.
Hotels Nearby
In Anandpur Sahib and Kapurthala, you can fine local to star hotels easily. Although we would suggest you to visit a gurdwara in Anandpur sahib if you want to stay, you would be able to get good facility rooms easily.
Food Items to Try Out
When in Anandpur Sahib make sure to never miss out on guru ka langar, which is the best food item which you should have during your Baisakhi mela trip. Along with that you can find plenty of food items like makki ki roti, saag, rajma chawal, cholle bhature, samosa, tikki wala burger and many more.
Conclusion
Baisakhi mela is a must-visit event at least once in your lifetime. It is said if you have never been to a Baisakhi mela then you have never got to know about the actual history and the culture of Punjab. Most of the people see Baisakhi mela with one point of view of enjoyment and fun, while with this post we have shown the second point of view as well, which is the spiritual part of this festival.
India is blessed with many attractive destinations and it is not that difficult to choose one for your next vacation. However, instead of picking the routine destinations, this time take your loved ones to any unexplored location and enjoy each moment. TheTravelB.Com is your best guide to select underrated destinations across India. Reach us @ https://thetravelb.com/contact-us/ or send an email to contactthetravelb@gmail.com to share your experiences or for any suggestions.
Explore More: Clock Tower Market – The Shopping Hub of Ludhiana