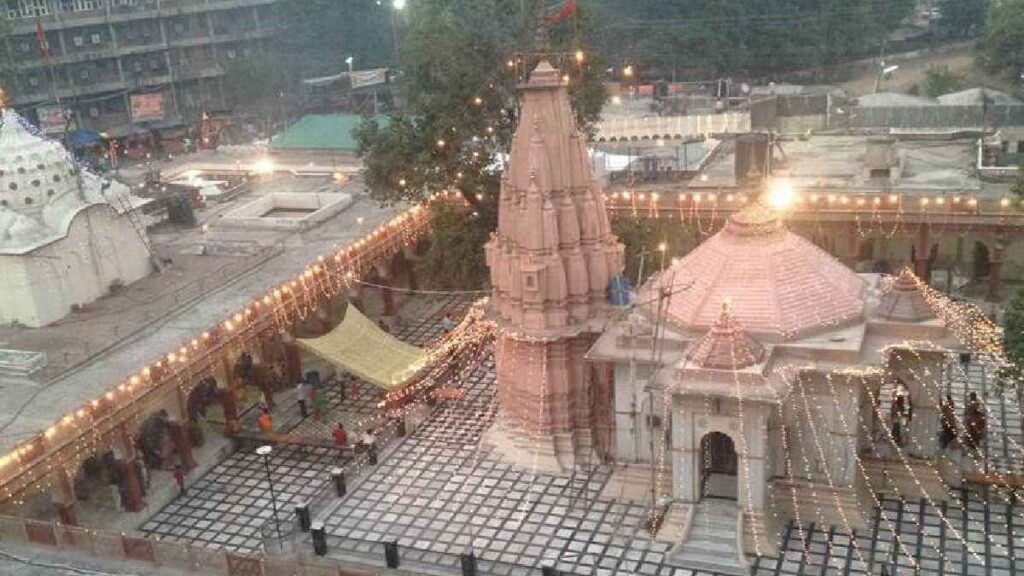 New Year has begun and just like everybody else you also must have thought about starting something new this New Year. Well, we are not going to help you with business ideas to start this year, but we are going to talk about Shri Kali Devi Temple in Patiala which is also considered as the most devotional place here. 
Let's have a look at a complete travel guide to Shri Kali Devi Temple, Patiala.
History of Shri Kali Devi Temple
There are two major stories linked with the Shri Kali Devi Temple, Patiala, let's discuss both of them:
Shri Kali Devi Temple was built by Maharaja of Patiala in 1936. One day, he suddenly decided to build a Kali devi temple, for which he bought six foot tall statues of Maa Kali and Paawan Jyoti from Bengal.
Yes, the statues that you see today in the temple were bought here in Patiala from Bengal in 1936.
The second story linked with Shri Kali Devi Temple is that the wishes of devotees who visit come true. Hence, it's one of the biggest reasons why this temple is known as the most devotional place in Patiala.
How to Reach
By Air: If you are traveling via air, you need to book a flight to Amritsar or Chandigarh and then you can book a cab or bus till Patiala. Later you can take a rickshaw ride till the Kali Devi Temple.
By Train: You can directly book a train till Patiala and right after moving out of the railway station you can take a cab ride till the temple.
By Road: If you are planning a road trip, Shri Kali Devi Temple is easily accessible.
More Info About Shri Kali Devi Temple

Also Read : Explore Kapurthala, the 'Paris of Punjab' with Beautiful Palaces
Shri Kali Devi Temple is open for devotees from 5am to 9pm, 7 days a week.
Whenever you visit this temple make sure to not bring any smartphone or camera with you, as photography is not allowed in this temple.
If you ever bring any such thing with you, then you would have to submit it at the gate.
If you are visiting this temple for the first time and want to taste the langar then make sure to visit this temple around 12 noon. Because Mata ki Rasoi and langar distribution takes place around that time.
Mainly this temple is known for Shri Kali Mata, but the temple is huge and you would be able to find a number of other temples in it as well.
If you are someone who loves to be in a quiet place to meditate, then you will be happy to know that this temple has such spots where you can just sit or meditate.
Places to Explore Nearby
Patiala is not just known for Shri Kali Mata Temple, but there are other tourist spots that you can explore and make your trip to Patiala a worth remembering one. 
Qila Mubarak: The first place to explore nearby Shri Kali Devi Temple is Qila Mubarak which is a historical landmark, it was built 300 years before and that is why the government of Punjab has done a lot of restoration work.

Not just that, it's open for tourists as well. If you are someone who loves history, want to learn about it, or you love art or if you are looking for a perfect spot for photography then Qila Mubarak is the perfect place for you.

The timings to visit this place is from 10 am to 7 pm. 

Baradari Garden: If you are someone who loves greenery and want to spend some time in nature then Baradari Garden nearby Shri Kali Devi Temple is the perfect spot for you.

Although there are no specific timings to visit this place, but we would suggest you to not visit the garden late at night. 

Patiala Zoo: If you are a person who loves animals and want to visit a zoo then Patiala is famous for its deer park. The ticket price of this place is also minimal and the timings are from 9am to 5pm.
Foods to Try in Patiala 
Most of the Punjabi food items are similar, but let us have a look at the special food items that you can get only in Patiala. 
Cholle Bhature: Who doesn't love cholle bhature, but try them in Patiala trip to try a different flavour.
Tandoori Chicken: At most of the Punjabi places you will get the best butter chicken, but here in Patiala you should try out their tandoori chicken, you would be able to get the crisp and smoky flavour.
Jalebi: If you have a sweet tooth then jalebi is the best sweet dish you will find in Patiala.
Kathi Roll: You might have had a lot of kathi rolls in your life till now, but the spicy and creamy taste of kathi rolls from Patiala are different and you will never find such a taste anywhere else.
Conclusion
Most of the people believe that Patiala is a place to be remembered for their historical places, but there are also other things that you can find and should try out during your trip to Patiala. Entire family can have a perfect holiday in Patiala.
India is blessed with many attractive destinations and it is not that difficult to choose one for your next vacation. However, instead of picking the routine destinations, this time take your loved ones to any unexplored location and enjoy each moment. TheTravelB.Com is your best guide to select underrated destinations across India. Reach us @ https://thetravelb.com/contact-us/ or send an email to contactthetravelb@gmail.com to share your experiences or for any suggestions.