It was the pleasant weather, quaint cafes, and wandering around aimlessly on streets that I enjoyed while holidaying in McLeodganj. In case this is what you're into too, skip Dharamshala in favor of this wonderful getaway instead.
Background
This scenic mountain town is home to His Holiness, the 14th Dalai Lama. A cultural melting pot of Tibetan, Indian and British cultures, McLeodganj is around 10 kms away from Dharamshala and located in the Kangra district. With its Himalayan backdrop and lush greenery, this town is culturally blessed with prominent Tibetan influences. It is home to a number of monasteries that are examples of architectural excellence.
A range of cafes and souvenir shops make it a very relaxing spot. Wander in its streets soaking up the culture or trek in its hills, this place will surely leave you spellbound.
How to Reach
Mcleodganj is only accessible by road. You can either drive your own car or hire a taxi. Road connectivity to the place is excellent, and there is a regular bus service running all year long. There is no railroad or airport here, but it is not very far either.
By Bus: In case you're traveling from Delhi to Mcleodganj, you can take an overnight bus from the Tibetan colony near Majnu ka Tila. Fare for an ordinary bus is Rs. 500, however a luxury Volvo would cost around Rs. 1000.
By Train: About 100 kilometers away from Mcleodganj is Pathankot, the nearest major railway station. Kangra, about 30 kilometers away, is the nearest narrow-gauge station.
By Flight: Mcleodganj is located about 20 kilometers from Gaggal Airport, also known as Dharamshala-Kangra Airport or Kangra Airport. A taxi can be easily hired from right outside the airport for a short 30-minute ride to Mcleodganj.
What to Eat
There are plenty of places in Mcleodganj where you can try delicacies from all around the world without burning a hole in your pocket. Dominated by Tibetan cuisine, dotted with bakeries selling indulgences at minimal prices, a Lebanese surprise, a flavoursome touch of Italian, a rather French brunch, and soothing North-Indian cuisine with Parathas and Tandoori delicacies are just some of the delights you will find in McLeod.
Best Cafes in McLeodganj
Woeser Bakery – There's nothing like a warm cup of fresh cappuccino and a chocolate-covered cherry directly plunged into it if you want more sweetness. Located on Jogiwara road, this bread shop in Mcleodganj offers you a quiet environment. Its inviting ambience attracts a lot of tourists.
Cost for Two: Rs 300 (Approximately)
What Not to Miss: Make sure you don't miss out on the carrot cake and chocolate brownies!
Jimmy's Italian Kitchen – From delicious pizzas to mouth-watering pasta, this spot is an Italian delight no matter what you order. It's no wonder that so many people return time and time again for a little taste of Italy right in the center of McLeodGanj.
Cost for Two: Rs 500 (Approximately)
What Not to Miss: Make sure you try the alfredo chicken white sauce pasta and baked potatoes.
Moonpeak Espresso – It's time for us to head to one of the oldest eating places in Mcleodganj. The idea of sipping the best-fermented espresso while sitting at an adorable hill cafe has always appealed to us, hasn't it? This is exactly what Moonpeak offers. Along with its great coffee and delicious food, Moonpeak is a cafe that all travellers need to visit.
Cost for Two: Rs 300 (Approximately)
What Not to Miss: Don't forget to have the amazing Himachali Thali.
Namgyal Cafe – There is no doubt that Namgyal is heaven on Earth. The interiors of this cafe are spectacular and the menu consists of everything from masala chai to coffee and a book rack full of intriguing titles.
Cost for Two: Rs 400 (Approximately)
What Not to Miss: The wood-fired pizza.
Lobsang's Four Season Cafe – Located at the center of the market, this cute café serves Italian and Tibetan food and is most famous for its momos. The decor has Tibetan touches with idiosyncratic wall art and a miniature bookshelf.
Cost for Two: Rs 300 (Approximately)
What Not to Miss: Do try the Momos and Thukpa.
Tibet Kitchen – From momos to perfectly made thukpa, you are sure to love everything they make at this authentic Tibetan restaurant located just outside Mcleodganj.
Cost for Two: Rs 350 (Approximately)
What Not to Miss: Steamed Momos.
Carpe Diem – There's no doubt that this cafe will make a great choice for those who like to enjoy a meal on the rooftop. They offer everything from Indian, Italian, Thai to Chinese and Mexican. Speaking of the atmosphere, it's hard to describe it in words. Also, the outdoor seating makes for a comfortable place to cuddle up and enjoy the view
Cost for Two: Rs 600 (Approximately)
What Not to Miss: Tacos and Pizzas here are amazing.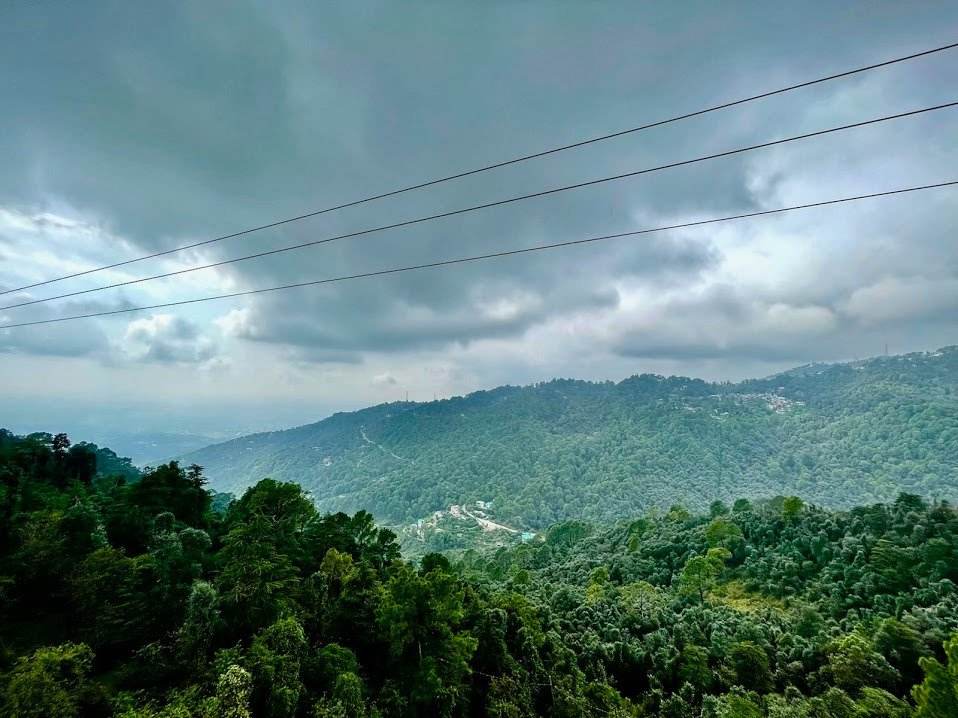 Where to Stay
The number of hotels and hostels in this town is plentiful; and are spread throughout the town. Whatever your budget or preference may be, you will easily find a place to stay.
Here are a few accommodation options that I like (both Hotels and Hostels) for you to check out:
The Hosteller McLeodganj Mini
Location: 270 Bhagsunag, McLeodganj, Himachal Pradesh, 176219
Perks: In-house cafe, storage facilities, free WiFi, etc.
Cost: Starting from INR 299 only.
Website: https://thehosteller.com/hostels/McLeodganj/
Moustache McLeodganj
Location: Ward no.2, opposite of Hotel Pink White, Bhagsu Nag, McLeod Ganj,
Dharamshala, Himachal Pradesh 176219.
Perks: 24-hour front desk, parking, free WiFi, etc.
Cost: Starting from INR 335 onwards.
Website: moustachescapes.com
goSTOPS McLeodganj
Location: Upper Bhagsu Nag, Mcleod Ganj Dharamshala, Himachal Pradesh 176219.
Perks: Mountain view, free WiFi, etc.
Cost: Starting from INR 399 only.
Website: https://gostops.com/location/gostops-mcleod-ganj/
Hotel Bella Heights
Address: Temple Road, Near Dalai Lama Temple, Kangra, McLeodganj
Average Price/Night: Prices start at INR 2,500 (double-sharing & tax excluded)
Hotel Sapphire Mcleodganj
Address: Temple Road, Mcleodganj
Average Price/Night: Prices start at INR 2,500 (double-sharing & tax excluded)
Places to Visit
● Bhagsu
Located on the road connecting Mcleodganj and Dharamshala, the Bhagsunag Waterfall is a perfect spot for picnicking with family and loved ones. The most popular attraction is the Bhagsunath Temple. Also the Bhagsu cake is a must-try on the way to Bhagsu Nag at the Old German Bakery.
● Namgyal Monastery
Originally founded by the second Dalai Lama in the 16th century, Namgyal Monastery is home to the Dalai Lama. The monastery is currently the largest Tibetan temple outside Tibet.
● Naddi Viewpoint
This scenic viewpoint is located in Mcleodganj's Naddi Village. During the winter, the peaks are covered in snow, making it the ideal place for viewing the spectacular Dhauladhar range. It also serves as the starting point for many treks such as Kareri Lake, Triund, and Dharamkot.
● Dal Lake
Located about 3 km from Mcleodganj town, Dal Lake is the perfect place to stop and relax on your way up to Naddi Viewpoint. This beautiful lake is named after the Dal Lake in Srinagar.
● St. John in the Wilderness Church
One of Himachal Pradesh's most important churches, this neo-gothic structure was built in 1852 in dedication to John the Baptist and is near Dharamshala on the way to Mcleodganj.
Conclusion
McLeodganj is truly the perfect weekend getaway to delight your soul. Amidst the beautiful hills and lush greenery, experience the blend of Tibetan, Indian and British cultures. Feeling like booking your tickets already, just go ahead?
India is blessed with many attractive destinations and it is not that difficult to choose one for your next vacation. However, instead of picking the routine destinations, this time take your loved ones to any unexplored location and enjoy each moment. TheTravelB.Com is your best guide to select underrated destinations across India. Reach us @ https://thetravelb.com/contact-us/ or send an email to contactthetravelb@gmail.com to share your experiences or for any suggestions.