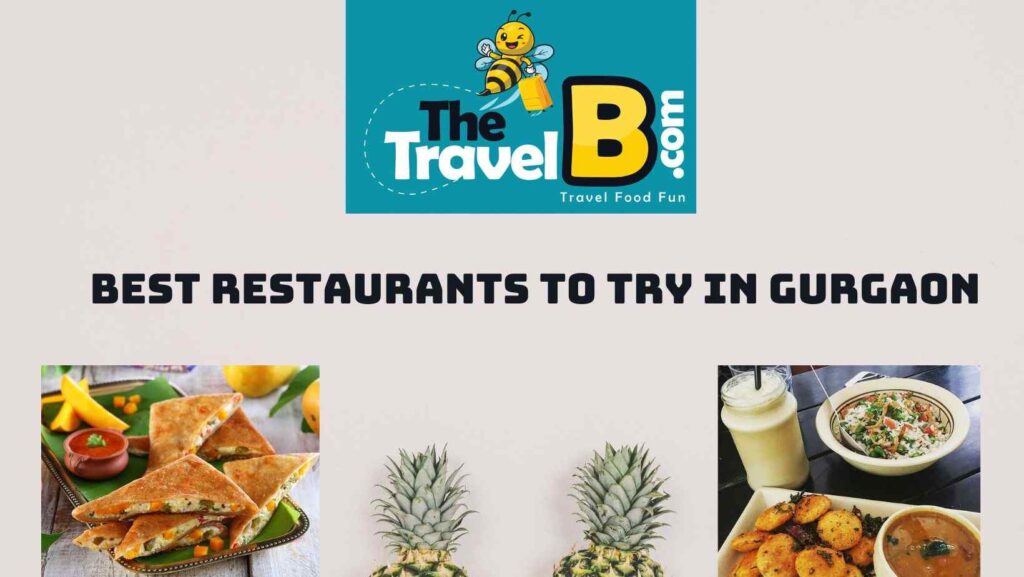 If you're a food lover, you'll want to check out Gurgaon! This city is known for its fantastic food options, from street food to fine dining. The city has a variety of best Restaurants in Gurgaon, cafes, and street food vendors that offer a wide range of cuisines. Whether you're looking for a quick bite or a leisurely meal, Gurgaon has something to offer. From traditional Indian cuisine to international fare, there's something for everyone in Gurgaon. So, if you're looking for a food paradise, look no further than Gurgaon! Here are some of the best places to explore for food in Gurgaon.
Rajdhani Thali
If you're in the mood for some traditional Indian cooking, head to Rajdhani Thali in Gurgaon. You'll find all your favourite Rajasthani vegetarian dishes made with fresh ingredients and plenty of love. Served in the thali system, they start with local Rajasthani starters and the main course which includes dal baati churma, with vegetables, curries, roti, rice, and dal.
It's all tasty and delicious. The thali is a great way to sample a little bit of everything, and the staff is always happy to make recommendations. Whether you're a spice or a sweet lover, you'll find something to enjoy at Rajdhani Thali.
Location: Ambiance Mall, Gurgaon (There are other branches too)
Timings: 12 noon-3.30pm and 7pm-9.30pm
Must Try: Dal bati churma and Chaas
Cost for two: Rs 900
Apna Desi Thaat
With simple decor and bright ambience, foodies who love parathas must visit Desi Thaat. It is a paradise for tandoor parathas. The white Makhan (white butter) served alongside is a must add-on. The restaurant is known for its tasty food and good service. Here, you'll find all sorts of mouth-watering dishes to choose from Indian to Chinese, each more delicious than the last. Whether you're in the mood for a hearty Indian meal, starters, or just Chinese, it has got you covered. It is also one of the best Restaurants in Gurgaon for lunch with family and friends.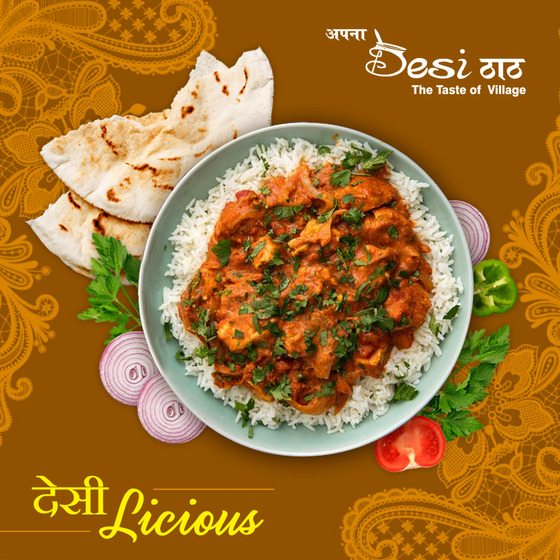 Location: Ghasola Fasiipur Chowk, Sector 49 main road
Timings: 8:30 am – 1.30am
Must Try: Aloo Pyaaz Paratha, Soya chaap, Chaas
Cost for two: Rs 600
Dicchen House
If you're looking for a new cuisine or new places to eat in Gurgaon, Chinese food is the best way to go. With its unique flavours and variety, Dicchen House serves you the best Chinese dishes and aromas you cannot resist. The authentic Chinese spices and preparation with friendly owner and staff make it a memorable experience. Even though the place is limited with restricted seating capacity, we assure that you won't be able to stop after one meal.
The momos prepared with the owner's secret recipe are distinctive and outstanding. You can also find a variety of rolls, bowl meals, noodles, and fried rice.
Location: Rodeo Drive Ground Floor, Sector 49
Timings: 12 noon – 11 pm
Must Try: Kotthey Momo, Chilli Panner, Thukpa
Cost for two: Rs 1200/-
Thyme Restaurant – The Umrao
The first thing you will notice when entering the Thyme restaurant is its fantastic interiors. The decorative lights, clean space, and well-organized restaurant is a treat to the eyes. It is the perfect place to go for a special occasion or just when you're looking for classic Lunch Places in Gurgaon or an unforgettable dining experience.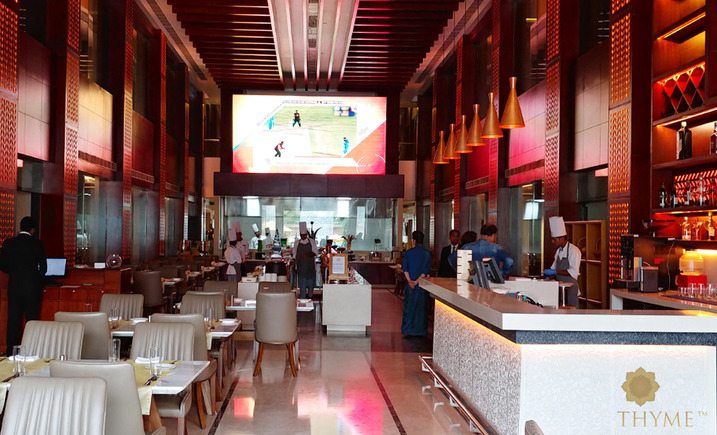 The buffet offers a wide variety of Indian, Chinese, and international dishes, all prepared with unique ingredients and recipes. The staff is friendly and hospitable, ensuring you get what you need.
Location: National Highway 8, Delhi-Gurgaon road
Timings- Open 24 hours
Must Try- Salad, Manchurian, Fish
Cost for two- Rs 2400/-
Courtyard by Marriot
The Marriott by Courtyard Gurgaon is a spectacular addition to the already bustling city. The hotel offers stunning skyline views and is centrally located, making it easy to get around. Offering impeccable service and food, it is one of the top 5-star restaurants in Gurgaon that you must plan to visit next. They also serve delicious and extensive lunch and dining experiences along with a wholesome breakfast spread.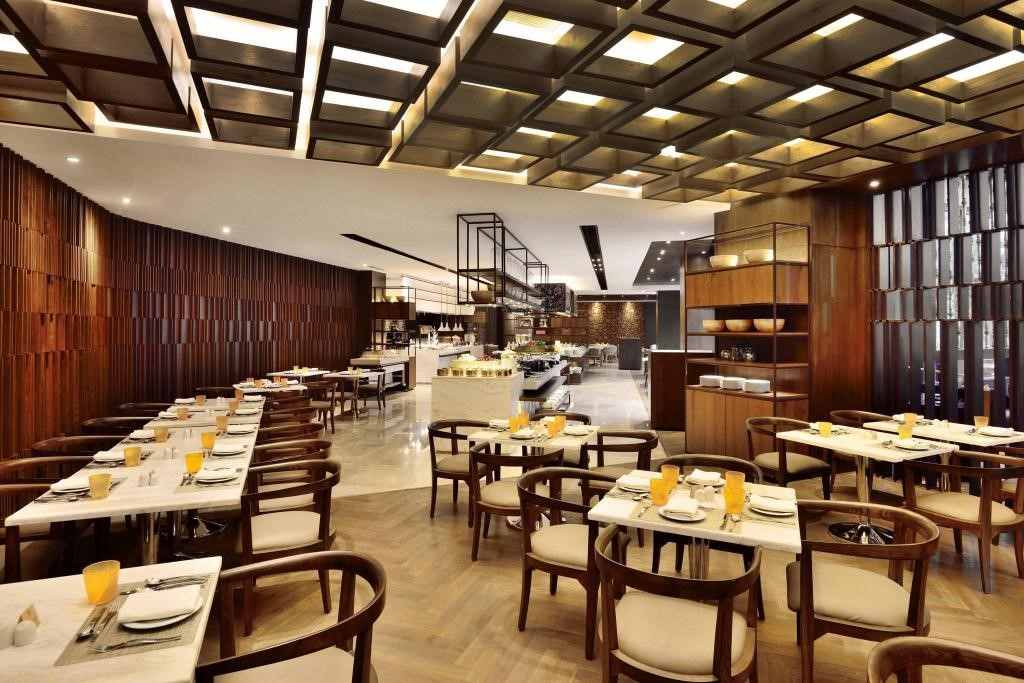 The Marriott Courtyard in Gurgaon knows how to start your day off right with a delicious and nutritious breakfast. The spread includes fresh fruits and juices, cereals, bread and pastries, hot and cold items, and more. Whether you're looking for a quick bite or a leisurely meal, the Marriott Courtyard has you covered.
Location: B Block, Sushant Lok Phase 1, Sector 27
Timings: 24 hours
Must try: Indian Cuisine, waffles
Cost for two: Rs 3000 (approximately)
Roots Cafe Gurgaon
The Roots Cafe Gurgaon is a cosy little spot nestled in between the gardens. It's the perfect place to relax and unwind with a cup of coffee or tea and a good book. Majorly crowded by fitness enthusiasts and families in the morning, their healthy dishes starting from early morning are guilt-free and nutritious.
They offer various fresh salads, appetizers, and an all-day-long tasty menu. You can enjoy sitting outside under the open sky or choose a table inside. Their friendly staff is always happy to help you find the perfect meal or snack to suit your mood.
Location: Leisure Valley Rd, Sector 29
Timing- 8 am -8 pm
Must try: Beetroot cutlet
Costing for two: Rs 1500/- (approximately)
Street Food
Gurgaon also offers some incredible street food popular and affordable options for many residents and tourists. Do not miss to visit Sector 39, near CyberPark or Sector 29 near Huda metro, Vayapar Kendra tastes some relishing parathas, soya chaap, Maggi, samosa, noodles, kachori, sweets, or cold coffee.
You can also find some unbelievable Interstate dishes like vada pav from Mumbai and roll from Kolkata. There are many such street spots in Gurgaon. All you need is to identify your favourite.
Gurgaon is one of the most suitable places for foodies and there are many more food joints you might be interested in depending on your taste buds and mood. With so many different Top Restaurants in Gurgaon to choose from, there is something for everyone. Whether Indian cuisine or Chinese, Japanese or South Indian, it surely touches your heart and soul. So, what are you waiting for? Go out and explore Gurgaon's food scene!
Know More: Odisha's Favourite Snack Chaul Bara Recipe