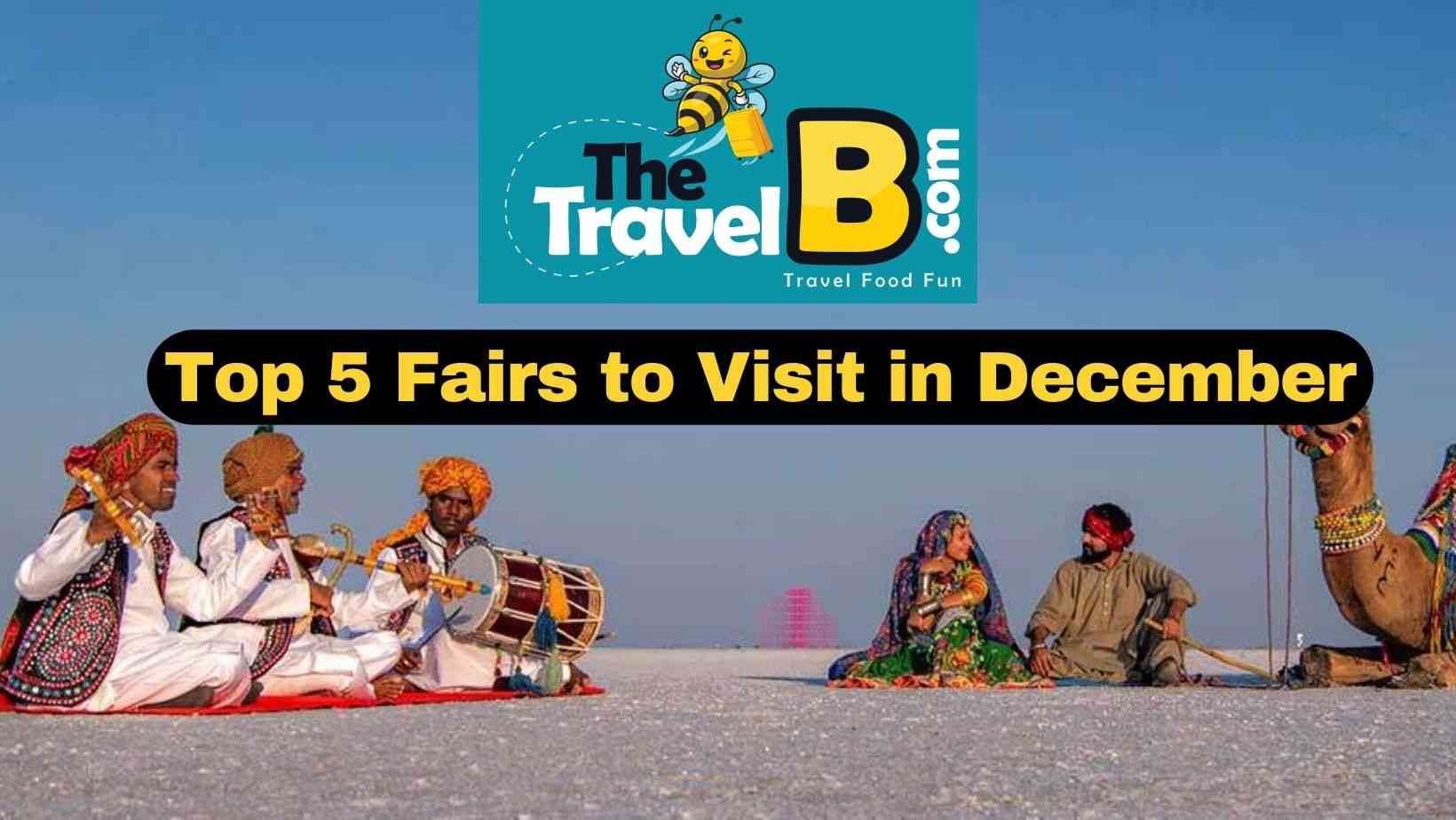 India is a land of diversity which is reflected in the numerous fairs and festivals celebrated across the country. These festivals allow people from different regions and religions to come together and celebrate their unique traditions. Also, the last few months of the year are a time when several local fairs and festivals are held in different parts of the country. These top local festival season in India is a time for people to enjoy the special celebrations and fests and happily bid adieu to the year.
Here are 5 Top Fairs to visit in India
Rann Utsav, Kutch
Rann Utsav, Kutch is an annual festival that celebrates the local culture and traditions of the Kutch region in Gujarat, India. Known as one of the best festivals in December in India, it is organized for a few months and attracts tourists from all over the world. Rann Utsav is a great opportunity to experience the traditional lifestyle of the people of Kutch and their unique art and crafts. The festival is organized and celebrated right between the deserts where you can enjoy camping and activities together.
Date: 26th October 2022 – 20th February 2023
Activities to enjoy here:
Adventure activities like camel riding, horse riding, archery, and para-motoring are all amidst the desert.
Cultural activities like music and dance performances.
Enjoy cuisines and feasts.
Hornbill Festival, Nagaland
The Hornbill festival is a celebration of the rich culture and tradition of the Nagaland people. It is one of the top local festivals in India in December, a unique time for the community to come together and celebrate their heritage. It is celebrated in Kisama, a village located 12 kms from Kohima. The festival features traditional music, dance, food and crafts from the region. It is a unique event and festival in December 2022 in India that allows visitors to experience the vibrant culture of Nagaland.
Dates: 1st December 2022- 10th December 2022
Activities to enjoy here:
Enjoy the dance performed by the local tribal warriors.
Have fun at the Hornbill national rock concert organized during these days
Visit the night market and explore the local products
Ride the local car and bike adventure sports
Participate in local games
Relish the local rice beer and local cuisine of Nagaland
Galdan Namchot, Ladakh
The Galdan festival is a grand celebration marking the Tibetan New Year and the birthday of the Tsongkhapa Tibetan Saint. The festival witnesses absolute joy and special activities around the monasteries. As a part of the tradition here, you can find people distributing scarves as an expression of happiness. So, when you get one, simply take it and be the lucky one.
Date: 18th December 2022
Activities to enjoy here:
Activities around monasteries
Exhibitions by the monastery
Dance performances by locals and monks
Enjoy the fairs all over the town
Relish special feasts
Explore More: How Does a Day in Ludhiana Look Like
Magnetic Fields Festival, Rajasthan
Every year, thousands of people come from all over the country to attend the three-day event organized for artists around the world. A popular festival in December 2022, you can enjoy camping here with different musical and dance performances organized during the fests. It also showcases Rajasthan's best heritage and culture, with a buffet of delicacies from the local kitchen. You can also be a part of the thrilling adventure sports organized here.
Dates: 9th December to 11th December 2022
Activities to enjoy here:
Games like treasure hunts and sports in the desert
Participate and win in the kite flying competition
Learn music and other cultural activities from the workshops
Stay healthy with the yoga workshops
Enjoy camping, stargazing, and other events amidst the desert
Sunburn Festival, Goa
It is one of the most happening annual music festivals held in Goa, India. The festival is one of the largest electronic dance music (EDM) festivals in Asia and attracts thousands of tourists from all over the world. The three-day event features some of the best international and local DJs and includes a variety of other activities such as beach parties, pool parties, and workshops.
Individuals from all over the globe visit the festival to witness extraordinary performances and celebrations.
Date: 28th December 2022 to 30th December 2022
Activities to enjoy here:
Your favourite national and international music artists
Unlimited shopping from flea markets
Bonfires with large groups
After parties and scenic attractions
The holidays are a great time to get out and enjoy some of the most thrilling local festivals and fairs in India. They are organized for people to come together and enjoy the cultural exchange. It is also a time for people to relax, enjoy themselves, and add excitement to their lives. So, what are you waiting for? Look for your favourite festival and place, and experience the best event of your life.
India is blessed with many attractive destinations and it is not that difficult to choose one for your next vacation. However, instead of picking the routine destinations, this time take your loved ones to any unexplored location and enjoy each moment. TheTravelB.Com is your best guide to select underrated destinations across India. Reach us @ https://thetravelb.com/contact-us/ or send an email to contactthetravelb@gmail.com to share your experiences or for any suggestions.
Explore More: 5 Underrated Winter Destinations to Visit in India