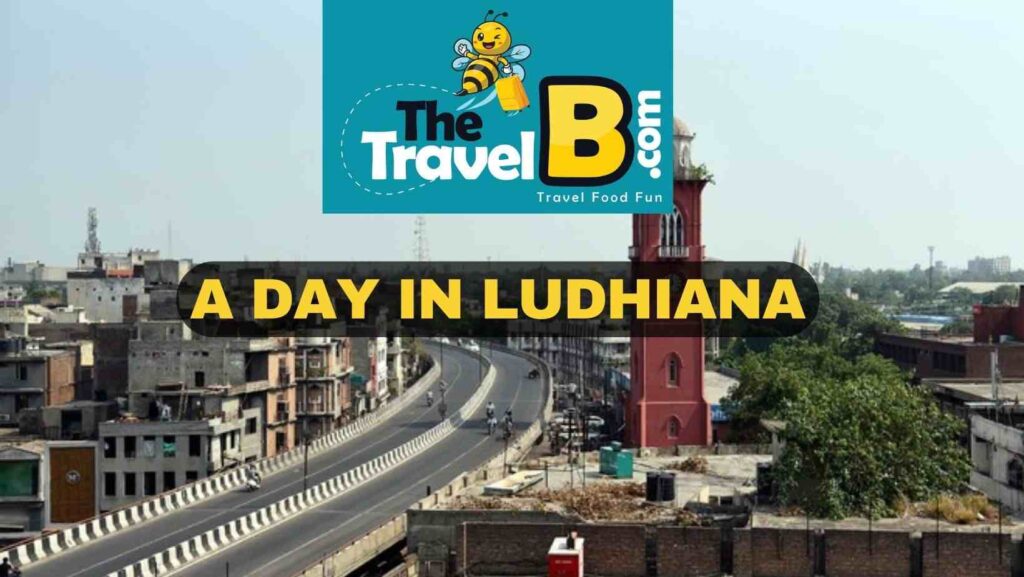 Let us ask you a simple question: "Why do you travel?"
Most of you are going to say "to explore new places, learn about the people and culture of different places, how they live, what their daily life looks like, and many more such things."
But what if we tell you that to know about all the above mentioned things you won't have to travel now, would you believe us?
No?
Well, that's what we are going to talk about here. In this new series we will be taking a few places across India and discussing how life at a specific place would look like.
In the first section of this series, we will be talking about the textile Manchester of Punjab, Ludhiana.
Morning Life in Ludhiana
Morning life is usually the same in Ludhiana like any other city, some people rush towards Rose garden to get their morning walk done, while some get ready to hit the gym.
Not just that if you hit the city roads you will also notice the vendors in Ludhiana are getting ready to pick up vegetables, fruits, and the stuff they had to sell on the day from the grains market and clock tower market.
If you are visiting areas like Model town, & Sarabha Nagar you would be able to visit the elite class of Ludhiana and notice how they are living their life in those big mansions.
Breakfast
Once the people of Ludhiana are back from their workout or morning routines, breakfast is the most important thing for them before going to offices and their workplaces. Well, if you are visiting Ludhiana and want to know a few spots from where you can get amazing breakfast, then the one and only option is Basant Sweets on Dandi Swami Road.
Here, you will be getting chole bhature with a big glass of lassi. But make sure to visit that place early because they have a limited stock and once the stock is finished, they don't serve new customers for the day.
Although if you ask us about the most eaten breakfast in Ludhiana, then it's stuffed parathas. The second-best place to have your breakfast is on the same Dandi Swami Road, the name of the place is Natural 2.
At this place you will get poori and aloo, the best part is these pooris are purely made up and cooked in ghee, that offers an exceptional taste.
Cafes to work
By the time you have your breakfast, your time to visit your office will come and you can directly visit your office from there by taking cabs or auto rickshaw rides. In case if you are checking for quiet places to work from, you can visit Punjab University Library on Fountain Chowk road opposite Pavillion Mall.
In this library you can create a monthly pass, with the help of which you can visit this place daily and get your work done peacefully.
There are a few subways, KFC outlets, cafes like Uncle Jack and more from where you can do your office work.
Lunch scenes
It's lunch time now and the best place from where you can order your lunch is Sagar Ratna restaurant situated on Ferozpur Road. The best food item you can have as lunch from Sagar Ratna is their veg thali.
The veg thali comprises a few food items like a dal, vegetables, roti, rice, raita, and gulab jamun in desserts.
Although if you get good enough time to have your lunch then you can also visit Pandit Ji De Parathe nearby clock tower to have parathas which are considered as the best in Ludhiana.
Explore More: Top 5 Markets in Delhi for Shopping
Exploring Ludhiana
Once your work is done it's time to explore Ludhiana. If you want to get the traditional vibe of Ludhiana then we would suggest you to visit old Ludhiana which is nearby clock tower road. There are a number of places around the clock tower which were built hundreds of years ago and they still exist.
You can explore these places and get that amazing vibe. In case if you want to do shopping or explore a few new places then you can visit Pavillion Mall, it's the biggest mall of Ludhiana.
Within this mall you would be able to find almost every new to old outlet for clothes, tech products, groceries and many more.
Nightlife in Ludhiana
The best place in Ludhiana from where you would be able to enjoy and get the actual vibe of nightlife in Ludhiana is Kipps Market in Sarabha Nagar. Here at Kipps market, you would be able to get all the fun places to enjoy your night, there are food outlets, you can do shopping at this market, you can just sit there as there are proper arrangements for sitting at Kipps Market and enjoy your life.
If you want to have great ice cream then there is Ice Cream Studio near Kipps Market you can visit that place and have customised ice creams.
Dinner
As it's the end to such an amazing day then it's mandatory to have something non-veg for dinner. If you are looking for the best butter chicken or afgani chicken then "Baba Chicken" is the place you should visit.
Baba Chicken is one of the oldest stores from where you can get authentic Punjabi style butter chicken. Not just that they have been using their old recipe to cook outstanding butter chicken and afgani chicken.
You can have their chicken with naan or roti.
In case if you are looking for something to eat in veg then you can visit Basant restaurant at Fountain chowk. Every food item is amazing and has an authentic taste.
Here ends the day in Ludhiana and people hit their homes to relax for the day.
India is blessed with many attractive destinations and it is not that difficult to choose one for your next vacation. However, instead of picking the routine destinations, this time take your loved ones to any unexplored location and enjoy each moment. TheTravelB.Com is your best guide to select underrated destinations across India. Reach us @ https://thetravelb.com/contact-us/ or send an email to contactthetravelb@gmail.com to share your experiences or for any suggestions.
Explore More: Best Malls to Explore in Chandigarh