People love various subjects, some love English, some love history, there are also a few people who love math as well which is like a nightmare for most of us. Then there are people who love science.
If you are someone who loves science, then this post is specifically for you.
Here we are going to talk about one such destination which is completely linked with science and you can check out a number of new things in science and innovation at this place.
It is Pushpa Gujral Science City in Jalandhar.
All About Pushpa Gujral Science City
We must have visited a lot of museums till now, but today we are going to virtually move around a science museum.

Mostly, it is called "Science City" and there are a few reasons behind calling it that.

The first and foremost reason is, this science museum is spread across a large area. Hence that's the reason it is called the Science city.
The second major reason is, it does not focus towards one section of science only. Once you visit here, you would be able to notice that science city has covered a number of different sections.

Some of those sections are all about earth, dinosaurs, you will also notice items like the sun clock which helps you know the time using sunlight and many more such interesting things.
This place is situated in Kapurthala, Jalandhar.
The makers of the science city have not only focused on entertaining the audience, but along with that they have created a large climate change auditorium that can help students know more about our earth and atmosphere.
Various Sections at Science City
As we have already discussed, Science city does not focus on just one thing, they have various sections around science to talk about. Let us have a look at few sections:
You would be able to visit a separate section in Science City where there are going to be a number of equipment and games. One of the most famous physics-based games is a rocket machine, in which you would have to sit in a stimulator with a screen which gives you a real experience of the rocket.
But actually, you are just sitting in a physical hydraulics-based machine. If you are traveling upward in the roller coaster ride, you will feel that you are traveling upward.
As we have already discussed, there is a special theater which is built in the shape of our earth and the best part is, it's a 3D theater where you would be able to learn a lot about earth, atmosphere and how it was built.
Every time you visit Science city, make sure to visit this theater.
Not just that, you would be able to notice a separate ground where there will be various artifacts of dinosaurs.

You would be able to find a number of dinosaurs and can learn about them easily. The textures, colors, size and everything will look real to you.
There is a special room for all those who love laser shows and innovating technology. In that room there is a laser show every day, you would be stunned to see the effects.
The quality of that show is amazing, as it makes you feel that everything is real and in 3D.
Once you have moved out and you are around the reception or the exit area of the Science city, you would be able to notice a lot of aircrafts hanging and placed there. In this area you can learn a lot about aerodynamics.
Food Items Available Nearby
If you think that you can find food outlets nearby Science city then you are wrong, as this place is situated in between agricultural land and it does not have anything around it. But if you want to have some food, then there is a cafeteria in the science city only.
You would be able to get a variety of food items and soft drinks here.
Accommodation Nearby

There are no hotels near Science City, at least for 4-5 kilometers. If you want to find hotels then you would have to move towards the city area or Jalandhar. Also, we would suggest you to visit Science City in the morning or afternoon area, as you are going to face the most traffic in the evening here.
Tips For First Time Travelers To Pushpa Gujral Science City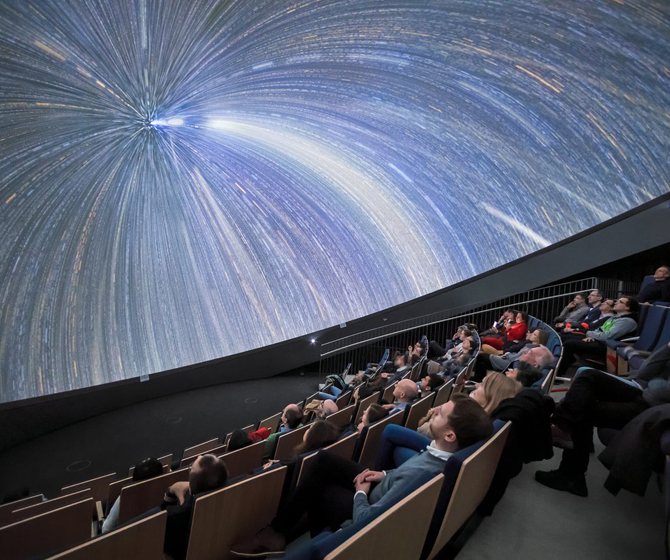 Let's, firstly talk about how you can visit Pushpa Gujral Science City. The first task for you would be to reach Jalandhar by bus, car, and train as well.
Once you have visited Jalandhar, you need to take a bus to Kapurthala or can also book a car or directly visit there by your car.
Science City is around 15 Kms away from Jalandhar while traveling towards Kapurthala. In case if you are traveling via bus, make sure that you are letting your bus driver know that you have to stop at Science City, and they will stop the bus on the spot.
Once that is done, you need to take the tickets at Science City, the ticket price is different for everyone from kids to adults.
Here are a few tips that you should keep in mind as a first-time traveler to Pushpa Gujral Science City:

1. Make sure that you are not touching any restricted thing. Also, there are a few restricted areas, make sure that you are not visiting those places.
2. Whenever you are traveling within the science city premises make sure that firstly you have bought a ticket, secondly you should have your ticket with you always, as they can check it at any place.
3. The visiting hours of the science city is 9 am to 6 pm.
Conclusion
Wanted to visit a place filled with science and innovation? Pushpa Gujral Science City, Kapurthala is here. Apart from knowing the crucial information about the subject, all the family members can enjoy the visit and feel the thrill with various activities at this Pushpa Gujral Science City.
Know More: Visit Nawabganj Bird Sanctuary in Lucknow, a Safe Haven for Birds