Aundha Nagnath Temple is an ancient Hindu religious place dedicated to Lord Shiva. Situated in the Hingoli district of Maharashtra, this temple is the eighth of the twelve Jyotirlingas.
Spread over an area of 60,000 sq. ft, Aundha Nagnath temple stands 60 ft tall and covers an area of 7200 sq. ft. There are various other things to witness around which are of religious importance.
This beautiful temple in Maharashtra is built in Hemadpanti architecture style. On the religious occasion of Vijayadashami and Maha Shivaratri, many travellers visit this temple to take blessings of Lord Shiva.
History
This Aundha Nagnath temple believed to build by the Seuna Yadava dynasty in 13th century. The first temple is said to be constructed by Yudhishthira, eldest of the Pandavas during their exile. According to historians, the temple structure was seven-storeyed before it was destroyed by Aurangzeb.
The temple is firmly connected with the lives of holy people like Saint Visoba Khechara, Saint Namdev and Saint Jnanesvar. Saint Namdev went to Jnanesvar temple where he was told to visit Aundha Nagnath Temple to look for a guru.
There in the temple he found Saint Visoba Khechara, who was laying his feet on the lingam, seeing this Saint Namdev rebuked Saint Visoba and let him know that he had offended Lord Shiva. Then, at that point, Visoba requested that he put his feet elsewhere, and any place he kept Saint Visoba's feet a linga came up. This way, with his yogic powers, he filled the whole sanctuary with Shiva lingas. Thus, he showed Saint Namdev omnipresence of God.
How to reach
It is just 24.4 kms away from the Hingoli and from Aurangabad, the temple is 199.4 kms. Easy way to reach is to take private buses or cabs from Hingoli and Aurangabad for convenience.
Local cuisine / Accommodation
One can stay at the local hotels in the Hingoli town. Though, there is no unique food of this place, you will find the local Maharashtrian food to eat.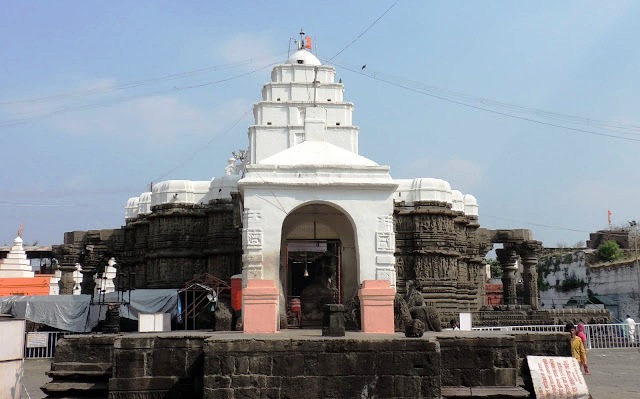 Do's & Dont's
Consistently in the Hindu month of Magha, a fair is held close to this temple which is visited by various pioneers and devotees. The fair endures till the start of the Hindu month of Phalguna. The temple opens at 04:00 am and closes by 09:00 pm, while on the long stretch of Shravana the sanctuary closes by 10:00pm.
Best time to visit is during monsoons and winter i.e., June to April.
Conclusion
Being one of the twelve jyotirlinga -Aundha Naganath temple is a must visit place for religious travellers. This Jyotirliga sanctuary is one of the five Jyotirlingas situated in Maharashtra which is accepted to be developed by Yudhisthir – the eldest of Pandavas.
India is blessed with many attractive destinations and it is not that difficult to choose one for your next vacation. However, instead of picking the routine destinations, this time take your loved ones to any unexplored location and enjoy each moment. TheTravelB.Com is your best guide to select underrated destinations across India. Reach us @ https://thetravelb.com/contact-us/ or send an email to contactthetravelb@gmail.com to share your experiences or for any suggestions.
Explore More: Enjoy Wine Tour, Luxurious Stay at Sula Vineyards in Nashik