As children, didn't we all wish that we could fly like birds? Well, because we don't have wings, the best and closest to the flying experience lies in paragliding. In Maharashtra, Kamshet is a place where you can marvelously try this sport. Touted as one of the best paragliding centers in the country, this location is a paradise for adventure junkies. Kamshet has picturesque beauty, fun activities, and good local cuisine. There is so much to do in Kamshet that we have put together the best guide for you:
Discovering Kamshet
Kamshet, mainly part of the district of Pune, is situated on the beautiful Western Ghats, between Pune and Mumbai. The terrains of Kamshet contain a number of traditional villages, as well as a number of Buddhist caves that bear sculptures/images of Lord Buddha that are a testimony to this area's heritage.
Kamshet appeals to many paragliding enthusiasts every year. It is the perfect place for paragliding in Maharashtra because of its high elevation, favorable winds, and experienced guides.
Paragliding in Kamshet was first operated by Sanjay and Astrid Rao in 1996. The duo has owned land in Kamshet since 1994. They recognized the potential of paragliding training in the hills of this region and founded Nirvarana Adventures in 1997.
How to reach Kamshet
At a height of 2200 feet above sea level, it is just 48 kms (around 1.5 hrs.) away from Pune city and about 100 km (around 2.5-3 hours) from Mumbai. You can either travel by road or catch a local train to reach Kamshet.
Whether by road or by train, Kamshet is just 30 minutes away if your base is Lonavala or Khandala.
Accommodation and food options
Kamshet has fewer lodging options, so tourists usually stay at Lonavla or Khandala. Resorts and paragliding tour operators also offer convenient accommodation options.
A number of tour operators offer dorms and tents at nominal rates.
Roadside cabins and dhabas in Kamshet offer a limited variety of staple foods.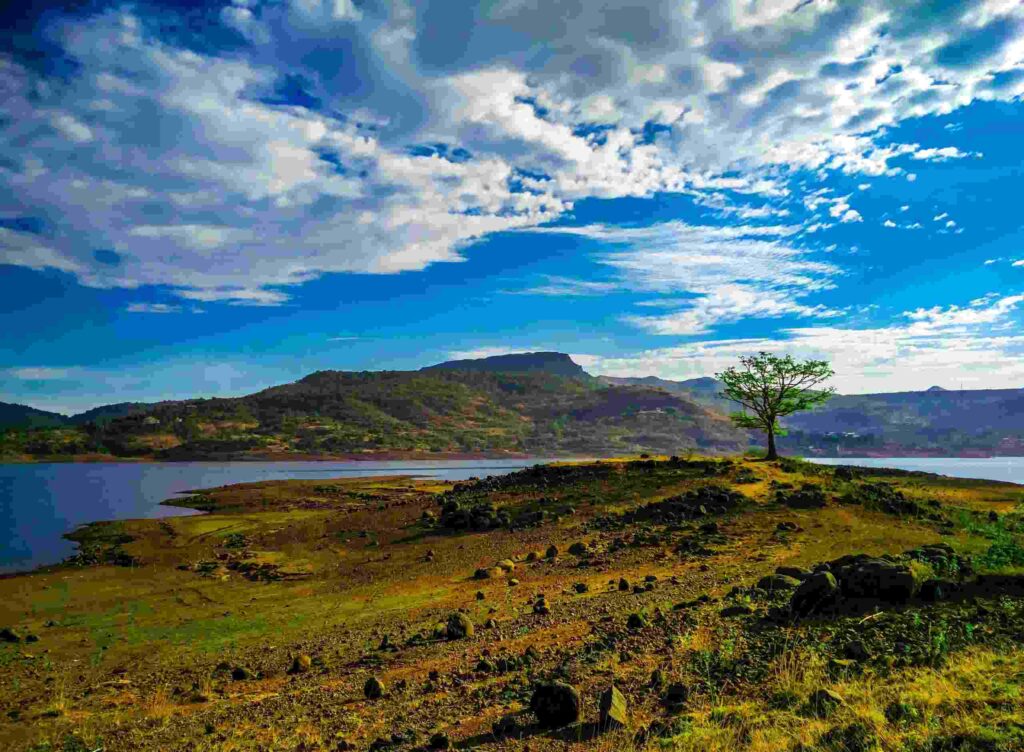 Attractions in Kamshet
Paragliding: Those from Mumbai and Pune who want some excitement over a weekend tend to flock to Kamshet. There are many paragliding schools in Kamshet for beginners.
The Paragliding courses are normally for 2 to 5 weeks. There are a number of operators here, with experienced pilots and trainers.
Nirvana Paragliding is one of the oldest, and probably the BEST place to learn paragliding.
Pawna lake: Within close proximity to Kamshet is Pawna Lake. Nothing is more beautiful than catching the breathtaking views of the crystal-clear waters surrounded by well-aligned, tall mountains from the sky. The site is a must-visit for nature lovers making it a perfect picnic spot.
Tikona Fort: Tikona fort also known as Vitandgad fort is one of the most picturesque forts in Maharashtra. The fort stands at the top of a mountain and, as its name indicates, has a triangular shape. You can see beautiful views of Pawna Dam, Kathingad, and Lohagad on the hike. It takes about an hour to reach the fort from Tikona Peth village
Bedsa Caves: Built during the 1st century, these caves are a group of Buddhist rock-cut structures. Bedsa caves also offer various vantage points for paragliding with views to die for. You will need to trek to this point before you go paragliding and that will give you an additional thrill.
Bhairi Caves: Bhairi Caves is the best place for paragliding in Kamshet if you love flying above the clouds. A sacred spot for the locals and tribal people around Kamshet, Bhairi is the highest point in the area.
Bhaja Caves: Bhaja Caves are a group of 18 caves carved out of a rock built around 200 BC and are 14 km away from Lonavala hill station. The main attraction of these caves is the 14 stupas, five within and nine outside the caves. There is a monsoon waterfall near the last cave of the Bhaja caves where we can see a lot of tourists every summer.
Kondeshwar Temple: A well-known ancient elephant temple of Shri Kondeshwar is located at Pohara near Kamshet. The temple is dedicated to Lord Shiva. Hindu pilgrims come to visit this famous temple during the festival of Mahashivratri.
Best Time For Paragliding In Kamshet
The best time for visiting Kamshet for paragliding begins just after the end of the monsoon and conflicts with the kite flying season. It is a natural fact that paragliding is unfavorable during the rainy season, so it is closed during that time.
Kamshet is thus best for paragliding in the mid-late winters and summers. The best time to go to Kamshet is October to May.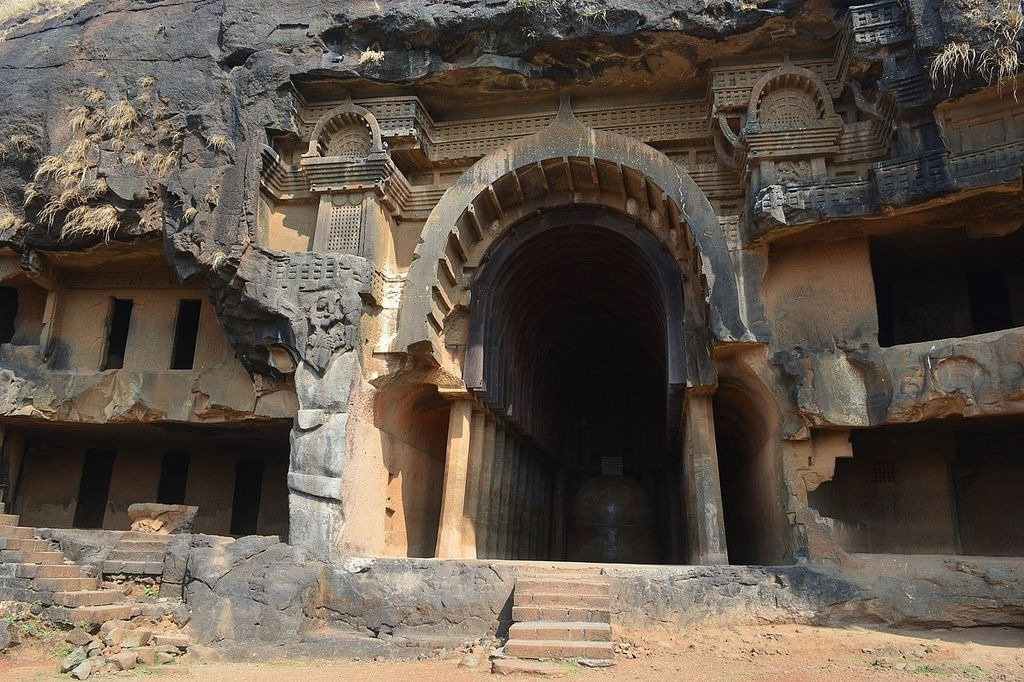 Price for Paragliding:
For beginners who are just looking to enjoy the flight without the stress of controlling the wing, the "Classic Tandem" package is available at around INR 2,500. Fly time is about 8-10 minutes.
Approximately INR 3500-INR 4000 is what the "Instructional Tandem" package costs. This package lets you control the flight yourself, and a guide will accompany you and provide instructions for navigation. Fly time stretches between 10-15 minutes.
If you want to feel your adrenaline levels shoot heaven-high, then the "Acro Tandem" package is just for you. You will be taken to higher altitude levels and made to perform acrobatic moves. This package costs between INR 5000 and INR 7000. Fly time ranges from 15-20 minutes.
Essential Tips for Kamshet Paragliding
Please follow the instructions carefully given by the trainers.
Wear body-fitting but comfortable clothes.
Wear sturdy sports shoes or trekking shoes.
Carry a water bottle while trekking.
Wear gloves to avoid frostbites.
Avoid going upright after eating. It is better to wait at least 2 hours.
Apply a fair amount of sunscreen, as your skin will probably be exposed to sunlight up there.
People with respiratory-related medical problems, heart disease, dizziness, or breakdowns should seek medical advice before engaging in this activity.
Follow COVID-19 guidelines.
Also Read: Valley of Flowers National Park Uttarakhand