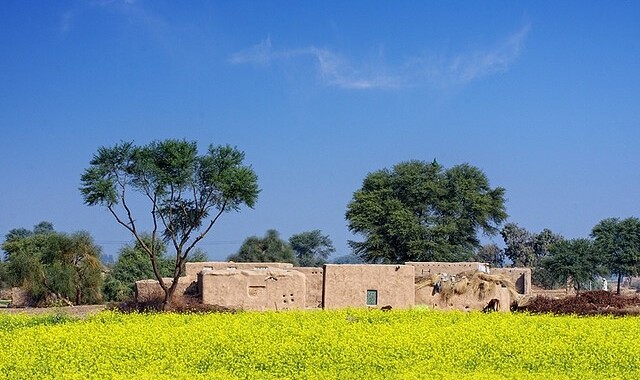 Are you ready to explore a "Secret Village" in Punjab?
Well, if you are here to know some strange facts like alien invasion in a village and you think we are going to talk about such topics then it's not the case.
This blog will change your complete perspective towards villages in Punjab and how the online world looks at them.
Before heading forward, we would like you to do a small activity. Move to Google and search for "Things to explore or activities to do in a village in Punjab."
Yes, it shows nothing. Which means it states there is nothing to explore or do as an activity in a village in Punjab.
Let's discuss it precisely in the coming sections.
Discovering "Secret Village" in Punjab
Just imagine you are traveling to a village in Punjab to visit a friend's house. Right after visiting the village, you would be able to notice the openness of that place, all the big houses with farming areas all around.
The best part is you would be able to live closer to nature for a few days and secondly all the fresh air in the village is going to put back your lungs to the eco-friendly mode.
Not just that, you will also notice the humbleness of the people from the village. Whenever you visit a village in Punjab, every single person would be ready to meet and greet you.
Everyone will call you at their home for tea or food, this shows how positive the environment of a village is.
Now let's talk about a few places that you can explore in a village in Punjab:
You can explore a number of farm areas of different vegetation, that would be a once in a lifetime experience for you if you have lived in a city your whole life.
In a village there is a place called "Sath" which is a common ground for every village person. You would be able to notice that every evening people of the village or the old aged people to be specific visit that place, talk with each other, tell them how their day went.
This would make you feel nostalgic, because even in this modern era where everyone has smartphones, those people from the village still believe in meeting face to face.
One conclusion that you will come around after visiting a village in Punjab and meeting the people there is, everyone is so pure and kind hearted. You will hardly see someone with bad intentions there.
At some villages you will be finding some of the most historical places in Punjab, such as old castles from the Mughal times, gurudwaras, and many more such things. Hence when someone says that there's nothing you can explore in a village in Punjab, they probably don't know much about villages.
This is the overview of villages in Punjab that you will get by directly visiting those villages, and if you search for them on the Internet, you will be suggested that there's nothing to explore and do in villages in Punjab.
This fact makes the villages of Punjab "Secret Villages".
You learn about them, you get nothing. But when you visit those villages in person you get completely different and mind-blown outcomes.
In the coming section we are going to talk about a few villages which will sound like secret villages to you, as there's no information about those villages on the internet, but you get to see a lot of new things there when you actually visit them.
Explore More: Experience Sikh Heroism at Banda Singh Bahadur War Memorial
Must-Visit Villages in Punjab
Qila Raipur
Anandpur Sahib
Longowal
Toosa
Dadhi
Chogawan
Baba Bakala
Will be covering all these villages in our coming blogs. But if you want to know about any village from the list above in priority, you can comment down its name in the comment section below.
Conclusion
Every village in Punjab is going to be a secret village for you, if you are gathering information about them online and not actually visiting those places. Try traveling to those villages and get that once in a lifetime experience. Let nothing become a secret place for you ever.
Explore More: Why is it called 'Diwali Amritsar Di', Let's Find Out