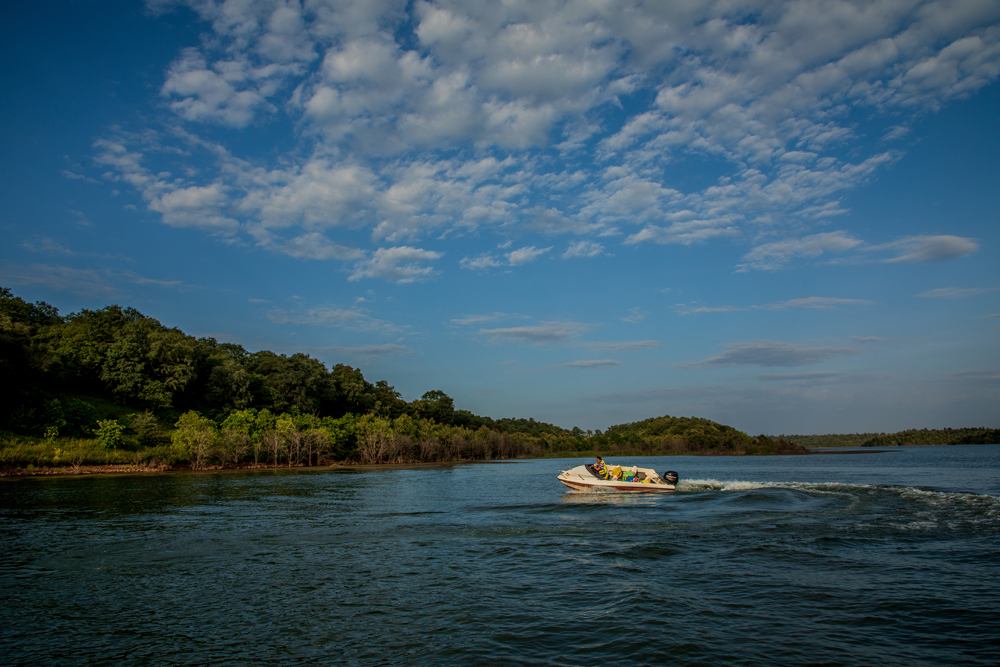 Everyone's perspective on travel is distinct; some people travel to get away from their daily lives, others to take family vacations, and yet others partake in it to find spiritual peace. Travel is the best way to put oneself to the test. It forces you to step outside your comfort zone and pushes you to test your boundaries.
The Heart of India – Madhya Pradesh offers you unique staycation possibilities, of which Sailani Island is one such destination.
Sailani Island is one of the most adventurous water tourism destinations in Madhya Pradesh. Located near the Omkareshwar Dam and River Narmada in the Khandwa region, Sailani Island is close to the Omkareshwar Jyotirlinga.
Sailani Island Resort is a peaceful getaway for staycation at this beautiful location. The area is 5 acres in size and is bordered on three sides by the revered Narmada River.
In the Omkareshwar Dam's backwaters, Sailani Island is home to hundreds of bird species. Though this island is also known to occasionally receive wild visitors like leopards and wild boars at night, you can hear the birds chirping.
Activities to do at Sailani Island
The remote Sailani Island in Madhya Pradesh is full of natural beauty and aquatic activities, far from the city's hustle and bustle. One may always try out thrilling water-based recreational activities.
The most famous activities done at Sailani Island are:
Speed boating
Surfing
Paddle boating
Cruising
All these water activities are accessible at the destination, in addition to spending quality and quiet time at the opulent resort. The activities at Sailani Island will fire up your spirit for sure.
The atoll, built on the banks of the Narmada, is the ideal destination for vacations in a tranquil and refreshing atmosphere. This is one of Madhya Pradesh's most distinctive and unmatched water sports tourist spots, offering visitors a restful yet exciting getaway.
While enjoying the beautiful day on Sailani Island in Madhya Pradesh, you can also visit Sangam Ghat (1 km) and Sidhwarkut Jain Temple (4 km). People adore this property's fantastic location and hospitality the most.
Where to Stay
The island boasts attractive lodging options, including several cottages with waterfront views. The boat excursion is included in the stay package if you spend the night at the Sailani Island Resort. The price will range from Rs 4900 to Rs 7500 (approximately).
Best Time to Visit Sailani Island in Madhya Pradesh
Getting to Sailani Island depends on what time of year you go. You will take a boat to the island if you visit in the summer or before the monsoons, but if you come during or after the monsoons, you will drive on a small connecting road, which is exciting.
Where to Eat
Sailani Island Resort offers multi cuisine that would definitely trigger and satisfy your tastebuds. Enjoy your day beautifully by choosing from a variety of options available. Cross beautiful empty roads and reach island just for lunch!
How to Reach
You can make your trip to Sailani via air, train, or road depending on your accessibility and preferences.
By Air: Devi Ahilyabai Holkar International Airport is the closest airport to this location (84 kms).
By Train: One can travel to the MPT Sailani Island Resort in Khandwa from places like Omkareshwar Road Railway Station (12 kms) and Indore (81 kms).
By Road: One can go to Sailani Island in Madhya Pradesh by road from Omkareshwar and Indore.
Conclusion
Plan a journey to soak in the splendour of this beautiful location in Madhya Pradesh, which offers tourists a restful and exciting respite. If you also like to explore spiritual places, don't forget to visit Omkareshwar, which is only 5kms away from Sailani Island.
Also Read: Enjoy the Colors of Punjab at Rangla Punjab Haveli