Introduction
A place full of greenery without anyone to disturb with a monument beside it, wouldn't it be a little filmy? If you are looking for a filmy moment, then Dilkusha gardens and Kothi is the best place for you.
Dilkusha Kothi is an 18-century designed house in the English style in the still and quiet Dilkusha area of Lucknow, Uttar Pradesh. Situated in the northeast of Raj Bhavan, in the Lucknow cantonment region is the notable and exceptional Dilkusha Palace.
The Dilkusha Kothi was a significant piece of the Revolt of Lucknow in 1857. Nonetheless, today there are just remaining parts of this amazing Kothi in terms of dividers and peaks, and gardens which is a wonderful spot for travelers, evening strolls, recreation, and relaxation.
History of Dilkusha Garden and Kothi
It was in 1800, Nawab Saadat Ali Khan alongside his British companion Major Ouseley planned to develop Dilkusha Kothi to use it as a hunting lodge. Later, this location was used as a mid-year relaxing spot for the Nawabs. Situated on the banks of River Gomti, this is a tall construction and overall different from regular Indian designs.
However, the Palace was destroyed at the hour of the Lucknow revolt and on each divider, there were discharge marks that yelled and the sacrifice of brave freedom fighters. In November 1857, Sir Colin Campbell, then Commander-in-Chief, assumed control over the castle with the assistance of British powers.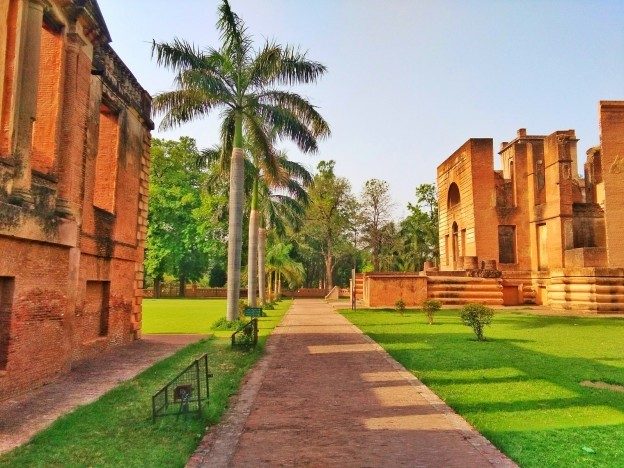 How to reach
As mentioned earlier, Dilkusha garden and Kothi are situated in the cantonment area of Lucknow. Therefore, it is quite easy to reach this place. The best way to reach here is by your travel convince it could be a scooter or a bike or even a car.
The other way to reach this destination is by local transport. Buses do not run in that part of the city. But, one can hire a taxi, auto, or even rent a vehicle according to your travel plans.
The cost of travel will depend upon from which place you are traveling to Dilkusha garden and Kothi. A rough idea of the travel cost for you is that it could be anywhere from Rs.40 to Rs.150.
Local Cuisine
The food of Lucknow has its particular uniqueness and personality. The usual food of Lucknow was greatly patronized by the Mughals accordingly giving it an exceptionally royal touch.
The most renowned dishes of Lucknow are Kormas, Kaliya, Nahari-kulchas, Zarda, Sheermal, Roomali Rotis, and Warqi Parathas.
In addition, the ingredients are unique mostly depending on the masters' hands and how they are presented. The commonly popular varieties of Kebabs are Kakori Kebabs, Shami Kebabs, Boti Kebabs, Patili-ke-Kababs, Ghutwa Kebabs, and Seekh Kebabs.
If you have traveled to Lucknow and didn't try the mouth-watering cuisine then your journey is incomplete.
Accommodation
The best places to make your stay in Lucknow comfortable are listed below:
Premium Hotel – Radisson hotel
Price – Rs.4050/ per night (approximately)
It is situated in the core of the business region, Radisson Lucknow City Center puts you near places like Bara Imambara, Rumi Darwaza, and Hussainabad Clock Tower.
Breakfast included
Gym
Free Internet
Spa
Deluxe Hotel – The Grand Orion Hotel
Price- Rs. 1205/ per night (approximately)
Free Internet
Air Conditioning
Power Backup
Doctor on call
The location is easy to find. The hotel is near old Lucknow which makes it convenient for the guests to travel.
Budget Friendly – Hashtag Traveler's Dorm
Price – Rs.600/ per night (approximately)
Clean shared quarters bed
Lounge and kitchen available
Accessible Cafeteria
It's an ideal spot to remain to partake in the city of Lucknow.
Suggestions
If you are someone who likes to visit some peaceful yet photogenic places then Dilkusha gardens and Kothi is the right place for you.
It is best to visit this place in the evening during summer and in the day during winter.
If you are a traveler who likes to do or get a photoshoot done it is one of the best places for you. As not many people visit here.
Remember to carry snacks and water with you as you might not be able to find them there.
Looking for a place to shoot your travel vlog without any restrictions Dilkusha gardens and Kothi is again the best place for it.
Conclusion
Dilkusha gardens and Kothi might not be that popular now, but travelers who like exploring visit these places. As it is situated away from the hustle-bustle of the city and is a perfect place for travelers to explore. If you want to know more then make sure this spot is on your travel destinations list when you are in Lucknow. One can get a royal feel by seeing the remains of the Dilkusha Kothi.
Also Read: Patalkot Valley in Madhya Pradesh