If you are a weekend traveller and looking out for a much-needed break. Here is a town that offer everything from adventure, spiritual enlightenment, sightseeing, and relaxation.
Narsinghgarh Town in Madhya Pradesh is one such destination that offers you unique sites where you can turn your boring weekend into a memorable one.
The state of Madhya Pradesh is rich in natural beauty and resources, including rocky landscapes. The lush forests, rushing rivers, and rugged terrain drew monarchs from the ancient dynasties to build kingdoms in the heart of India.
In Madhya Pradesh, each fort represents the culture of the era it was built and has its own story to tell. Narsinghgarh Town also has such places to tell you mysterious stories.
INTRODUCTION
Narsinghgarh Town is in the Rajgarh district of Madhya Pradesh, located on Malwa Plateau. The town is known as 'Kashmir of Malwa' because of its ample natural beauty.
Narsinghgarh Town is 72 km from Bhopal and 120 km from Indore. The town is situated between Kota and Bhopal on the Jaipur-Jabalpur National Highway.
You can plan a road trip to Narsinghgarh Town Madhya Pradesh, from Bhopal or Indore. Ideally, you can plan a two-day trip to explore Narsinghgarh Town thoroughly. The town is surrounded by Satpura Range and has three lakes.
MAJOR ATTRACTIONS
There are many temples, forts and sites to explore in Narsinghgarh town; the main attractions which you must explore are:
NARSINGHGARH FORT
Narsinghgarh Fort is a historical landmark built 300 years ago. The Fort used to be the residence of rulers of Narsinghgarh state. It is the third biggest Fort in the Madhya Pradesh state after Mandu and Gwalior.
The Narsinghgarh Fort in Narsinghgarh town reflects the architecture of Rajputs, Mughals, and Malwa. This Fort is surrounded by lush greenery in monsoon and gives an outstanding view. It is a picturesque destination where you can capture the beauty and calmness in yourself and your cameras.
Narsinghgarh fort is presently a wildlife sanctuary known as 'Narsinghgarh Wildlife Sanctuary.' A walk in the cover will take you to natural caves with prehistoric paintings, a pillared structure called Solah Khamba, the Haji Wali dargah, Bada & Chhota Mahadev enshrining a shiva linga.
2. JAL MANDIR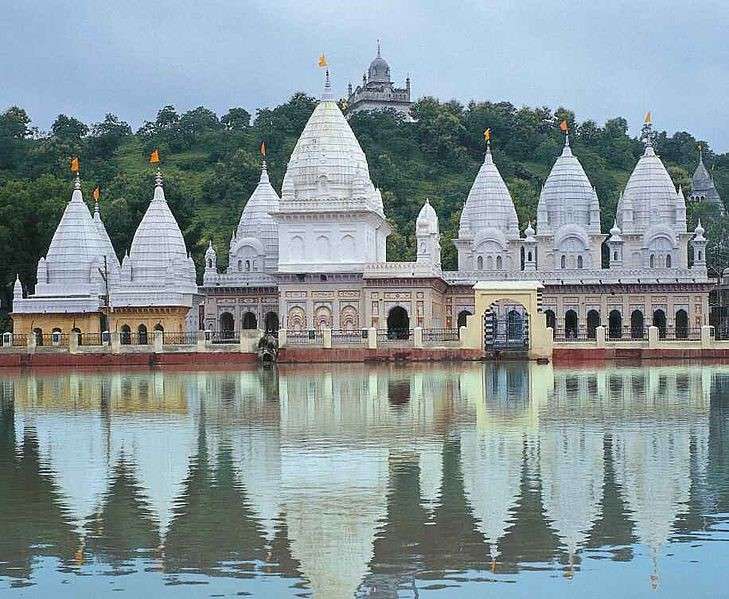 Jal Mandir or Water Temple is located in the Parsuram Sagar Lake, seen from Narsinghgarh Fort. It is a glorious temple of God Shiva surrounded by water and hills, which looks stunning.
On your trip to Narsinghgarh Town, you will gain positivity from the temples in the town. The temple can be seen from the Narsinghgarh Fort. On your trip to Narsinghgarh Town, you will gain positivity from the temples in the town.
3. CHIDIKHO WILDLIFE SANCTUARY
Chidikho Wildlife Sanctuary of Narsinghgarh Town is among one of the 35 sanctuaries of Madhya Pradesh established in 1978 under Forest Division Rajgarh Social Forestry. The sanctuary was built in ancient times for hunting purposes by the rulers.
Chidikho Lake is one of the major tourist attractions in Narsinghgarh Town, Madhya Pradesh. It has a unique appearance due to which the local people named this Lake "Chidikho Lake". State bird Dhoodh Raj is mainly seen in the sanctuary.
Chidikho Sanctuary is named as "Paradise of Peacock." If you are an enthusiast traveller, this place offers you trekking and adventure.
Apart from these three, Narsinghgarh Town's main tourist attractions are Bada Mahadev Mandir, Chota Mahadev Mandir, Gupteshwar Mahadev Mandir, Nadiya Pani, Kodu Pani, Badi Hanuman Gadi, Choti Hanuman Gadi, Hinglaj Mata Temple, Pratap Bhawan, Wazi ki Dargah, Ramlala Mandir and more.
You can explore all these nearby places and enjoy your weekend retaining the energy and calmness. This trip surely gives you adventure, spirituality, historical attraction and more.
HOW TO REACH
By Air: Raja Bhoj Airport in Bhopal is the nearest. The Narsinghgarh town is 72 kms from Bhopal.
By Train: Biaora Railway Station is the nearest. The other main nearest railway station is Bhopal Junction.
By Road: Regular buses are available from Narsinghgarh Bus Stand. You can go by bus from your nearest destinations.
WHERE TO STAY
In Narsinghgarh town, you can search for the nearby hotels according to the place and distance you choose to stay. You can quickly get a standard, deluxe, and premium range of hotels to stay in Narsinghgarh Town.
ROYAL CUISINE OF NARSINGHGARH TOWN
Many traditional dishes have evolved in the town; people mostly prefer to have fast food. There are plenty of restaurants that offer you authentic taste. There is no specific cuisine of the place; what is being served is ultimately a royal cuisine.
Conclusion
If you are a traveller who enjoys traveling and exploring to relieve yourself and love utilizing your weekends with family and friends, Narsinghgarh town is a must visit place for you. The panoramic view of the picturesque hamlet of Narsinghgarh Town from the fort's pavilion will forever linger in your memories if you are a wildlife enthusiast, history buff, or simply a beholder of natural beauty.
Also Read: Dilkusha Garden and Kothi in Lucknow