Patalkot Valley in Madhya Pradesh is one of the less explored destinations in Madhya Pradesh. This beautiful valley is in the Tamia block of the Chhindwara district. It is around 70 km from Chhindwara and 20-22 km from Tamia. One can also plan a trip to Tamia Hill Station near Patalkot Valley, which would let you cover two beautiful destinations of Madhya Pradesh in one go.
Patalkot Valley is home to several villages that live amidst the jungle. The dense green hills are inhabited by more than 2,000 tribes spread across 12 villages. These villages are located at a distance of 3 to 4 km. Patalkot Valley covers 20,000 acres of the land. There are ways inside the valley to commute inside and outside these villages.
The natural beauty of this valley leaves you stunned and gives you exposure to tribal living. If you are one who is interested in knowing more about tribes, you can interact with the Gond and Bharia tribes here.
Patalkot Valley in Madhya Pradesh is known for its medicinal uses of the local flora. The people of the village make the best use of these medicinal plants and herbs. Patalkot is formed like a horseshoe. Many hills surround this valley, with a deep gorge in the middle and the river Doodhi flowing into it. One can spot villages like Rated and Chimtipur from the valley's top.
Let's know the tale behind Patalkot Valley
We have listened to too many stories related to Patal Lok. Ancient Indian lore talks about Patalkot, and it is a belief about the valley that Meghnath, after worshipping 'Lord Shiva,' had gone to Patal-Lok through this way. Also, it is believed that Patalkot is home to demons and Nagas. However, all these stories in Hindu Mythology appear to be accurate when you visit this place in real life.
Patalkot has been known for retaining its original culture and customs for ages. Until a few years back, it was a world on its own with no influence from the outside but now, to reverse the process of deforestation and forest degradation by positioning ecotourism as a joint product, the government has taken steps to promote Patalkot tourism.
How to Reach:
Patalkot Valley is located in the North West of Chhindwara at a distance of 78 kms and North East of Tamia at some 20 kms away.
• Flyers can reach Patalkot by landing at Jabalpur or Bhopal airport and hiring a taxi.
• One can reach Chhindwara Station from Bhopal/Jabalpur via Patalkot Express.
• From Chhindwara, a road transport like a hired cab or your vehicle will bring you directly to Patalkot.
Must Try Cuisine in Patalkot Valley
Patalkot Valley is one the must go places in Chhindwara and "Patalkot Ki Rasoi " is where you can eat the local cuisine. Since Chhindwara is known as the Corn City, local tribes Bharia and Ghond of Patalkot Valley prepare local cuisine and travellers/visitors must try the local cuisine "Makki Ki Roti ".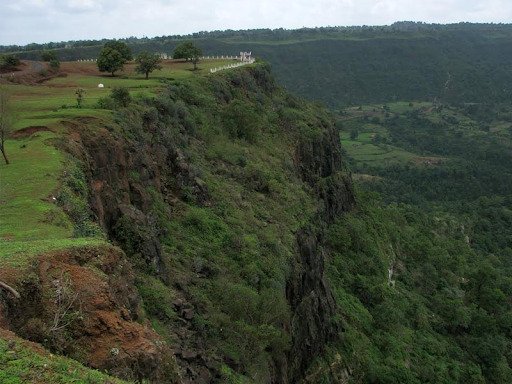 Things to do in Patalkot?
Patalkot Tamia valley has so much for its visitors. But to help you prepare your itinerary, here's a list of things you can do in Patalkot:
1. Satpura Adventure Sports Festival
A yearly festival called "Satpura Adventure Sports Festival" is organised in October. One can experience the adventure activities like parasailing, paragliding, rock climbing, trekking, bird watching, and water sports.
2. Hiking, Trekking & Camping
Hiking or Camping in Patalkot will surely rejuvenate your mind and fill you with more energy. How about enjoying riverside trekking, camping & river rafting at the Doodhi river, or walking on the pugdundee through the narrow mountain path leading to a dense mango grove. The track showcases the hidden lures of Patalkot like Raja Kho, Zingaria Waterfall.
3. Tamia – Patalkot Visit
Tamia-Patalkot's visit will give you an overall tour of the place and its people. An initiative by Motel Tamia & Tribescape gives a closer look at tribal life to the tourists from urban neighborhoods. The USP of Tamia – Patalkot visit is 'Tribal interaction' & 'Patalkot ki Rasoi, a tribal food feast. What can be more fun talking about tribal food cooked by the tribals from farm-fresh vegetables? Hilltop breakfast and high – tea at sunset will also give you sights to behold.
4. Meet the 'Medicine Men'
A treasure trove of rich flora, Patalkot is a habitat to tribal communities of Gond and Bharias who are skilled in making herbal medicine out of pulps and extracts from forest plants. 'The medicine men' selling these natural remedies to the visitors is a typical scene in Patalkot. If not buying, you can still spend some time learning about the medicinal plants and their usage.
5. Explore Famous Chhind Art and The Artisans
Chhind art or Khajoor art makes handicrafts with leaves of wild dates. These artifacts make use of wood and bamboo. The artisan of the tribal communities, Bharias, make beautiful artifacts with utility and aesthetic value. You can shop for home decor, traditional jewelry, brooms & baskets, or several other handicrafts as a keepsake from Patalkot.
Accommodation in Patalkot
Since Patalkot is a less commercialized valley, you will have to stay in Tamia Block. Here are some of the resorts and hotels you check for a comfortable stay in Tamia.
• Serendipity Lakes & Resorts – Serendipity Lakes and Resorts is one of the luxurious resorts to which gives you a perfect holiday in Tamia and Patalkot.
• Wild Valley Resort – Wild Valley Resort is located at some top Hill in Tamia which gives you a mesmerising view of the valley.
• Motel Tamia – Motel Tamia is located just off Tamia Village and one can have a beautiful view of Tamia from this site.
Conclusion
If you are an enthusiastic traveler who loves to find hidden treasures of Nature, Patalkot Valley Madhya Pradesh is a must explore the place for you.  Being not that commercial, Patalkot is known to retain its culture and custom for a long time. This place will let you know the authentic culture of the tribes that live there. So, buckle up travelers, pack your bags and go out of your comfort zone and spend some time with nature and folktales.
Also Read: History of Golden Temple in Amritsar