India's first ever open-air art district with paintings by more than 50 artists is the Lodhi Art District. It is located in the Lodhi Colony of New Delhi. The Lodhi colony bears a rich history in Delhi's course of events for its famous design.
Indeed, this spot isn't just about paintings and art, with subjects going from Indian folklore to displaying the existences of an everyday person in the city, pondering on the National Flag, a criticalness to safeguard the environment, here, you'll find everything depicted through gorgeous varieties, figures, and paints!
You can visit it anytime and every time whenever you wish to. The place is open and hence has no restrictions or timing for the visit. Try to visit the place when there is light as the paintings can clearly be seen.
History
The idea of street art which is popular all over the world can be now seen in Delhi. All because of St. Art India Foundation, a non-benefit foundation that is working determinedly towards making street art well known across Delhi. They started by inviting popular street artists to create the Art District in 2015.
With the assistance of CPWD, NDMC, Swachh Bharat Mission, the inhabitants (RWA) of Lodhi Colony, and Asian Paints, St. Art India cooperated with nearby and global artists to carry the art nearer to the general people.
Generally dull, and plain walls of government-claimed structures in the Lodhi Colony are wonderfully changed into an attractive area as a result of the yearly Lodhi Street Art Festival.
How to reach
For exploring the Lodhi Art District first you need to reach there. Traveling to Lodhi Art District is easy. The nearest metro station to Lodhi Art District is Jawaharlal Nehru Stadium (JLNU) stop. Metro is easily accessible and convenient all over Delhi.
From the JLNU metro station take an auto rickshaw to Lodhi Art District. The auto will cost you around Rs. 50 and drop you in the center of the art district from where you can start exploring.
Other than the metro, you can also hire a cab and travel to the Lodhi Art District.
Locals also prefer exploring the art in the comfort of a/c by sitting inside their cars and roaming around the Lodhi colony. As the roads are wide this does not cause any jams or inconvenience to others.
Explore More: Know More About Sikhism at Virasat E Khalsa Heritage Museum
Local Cuisine
The capital's affection for food can take you from little congested roads to famous eateries, from pocket-accommodating varieties of these well-known food choices to going overboard in high-end dining halls.
The streets of old Delhi where sellers blend various flavors. The packed markets of local and south Delhi where the smell of food can pull you in from kilometers away or the expensive cafés from all around Delhi that gloat about their credibility, there is a ton for food epicureans to make up for lost time when in Delhi.
In the cooking of this city despite the fact that a portion of the treats that it offers have been influenced by Punjabi, Mughlai, Tibetan, and Chinese foods, Delhi has figured out how to embrace the flavors just like its own and assisted those dishes with turning into the must attempt throughout the long term.
Some famous food dishes you should try when in Delhi are:
Parathas
Chaat
Kebabs and rolls
Kulfi
Butter Chicken
Biryani
Accommodation
Places you should consider staying while visiting Delhi are:
Premium Hotel (Park Inn by Radisson)
Price – Rs. 4300/per night (approximately)
Deluxe hotel (Lemon Tree Premier)
Price – Rs. 1400/per night (approximately)
Budget-friendly hotel (Hide-In Hostel)
Price – Rs. 870/ per night (approximately)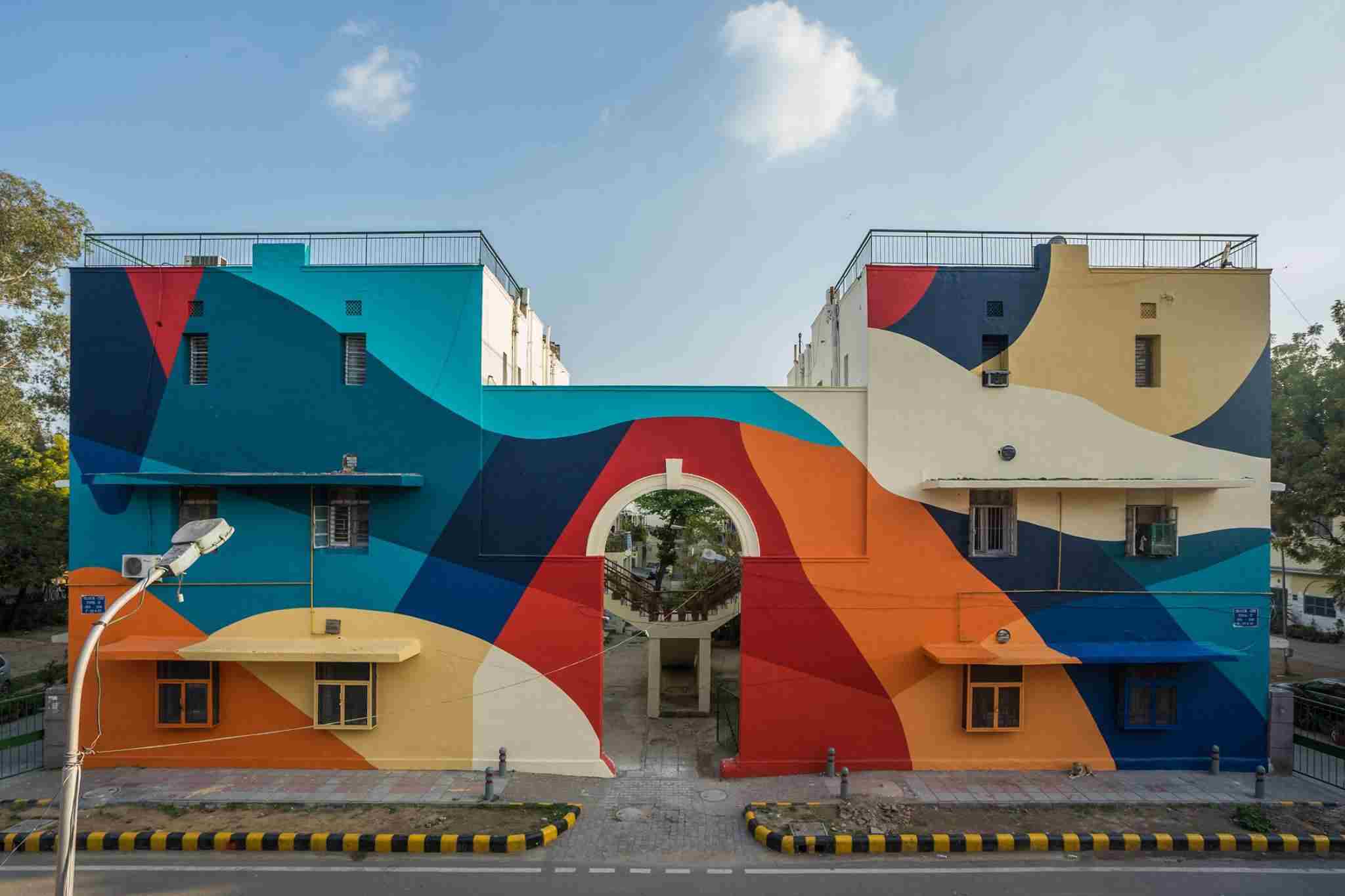 Suggestions
Take necessary precaution while visiting this place in summer
Carry a water bottle.
Wear comfortable footwear. You have to walk a lot.
Can be visited anytime. No restrictions on timing.
Definitely, carry your camera to capture memories.
Carry cash, as the auto-rickshaw drivers rarely accept online payment when going to the art district from the metro station.
Conclusion
Lodhi Art District is for children, young and old people. Everyone can visit and explore the art there and enjoy it. This place is so different from all the other places and offers such beautiful wall paintings. Being amazed and not gazing at these paintings is not going to happen. If you are lucky enough, you might find an artist working on a painting and get a chance to see how they work.
Buying tickets and going to an air-conditioned museum is what everyone does. Try something different and enjoy the weather while walking around the streets of Lodhi Art District. Who knows which wall art might catch your attention? Do visit this lively wall art district whenever you visit Delhi.
India is blessed with many attractive destinations and it is not that difficult to choose one for your next vacation. However, instead of picking the routine destinations, this time take your loved ones to any unexplored location and enjoy each moment. TheTravelB.Com is your best guide to select underrated destinations across India. Reach us @ https://thetravelb.com/contact-us/ or send an email to contactthetravelb@gmail.com to share your experiences or for any suggestions.
Also Read: Experience the Scenic Beauty Around Kerwa Dam in Bhopal