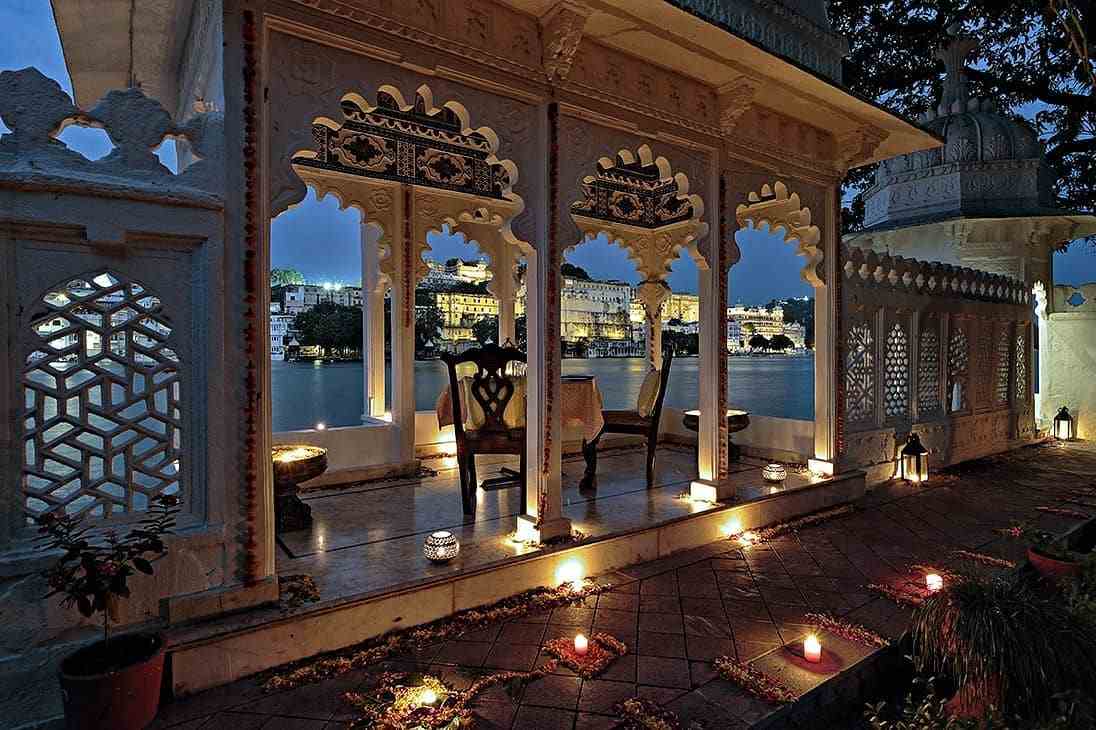 Known for its magnificent palaces, sparkling lakes, and beautiful streets, Udaipur is the dream destination for any traveler. In addition to the area's wonderful architecture and culture, Udaipur also offers excellent cuisine. There are dozens of restaurants in Udaipur to choose from, making the sheer selection of delicious options overwhelming. Here are some of the best restaurants to visit here.
Ambrai-Amet Haveli
Amet Haveli, a heritage hotel built in the 1730s, is home to the Ambrai Restaurant, a famous restaurant located next to Pichola Lake. It is one of Udaipur's most visited restaurants because of its sophisticated ambiance, excellent food, and a bar that complements the table. This romantic al fresco dining experience offers fascinating views of the City Palace and the lake as well as a romantic candlelight dinner for two.
Location: Naga Nagri, Outside Chandpole, Udaipur
Timings: 7.00 am – 10.30 pm
Must-try: Beetroot Malai Kofta, Tomato Shorba, Laal Maas
Cost for two: ₹1700 approx.
Jheel's Ginger Coffee Bar
A tranquil ambiance and amazing views of Lake Pichola make Jheel's Ginger Coffee Bar the ideal place to relax and enjoy your beverage in silence. This no-frills café is perfect for solo travelers or couples, and the food is delicious and no-fuss. It's the best place to watch the sun set slowly while having sandwiches and coffee here at the end of the day.
Location: Gangaur Ghat, Near Bagore Ki Haveli, Udaipur
Timings: 8:00 am – 09:30 pm
Must-try: Nutella Frappe, Paneer Tikka Sandwich, Veg Lasagna,
Cost for two: ₹600 approx.
Upré By 1559 AD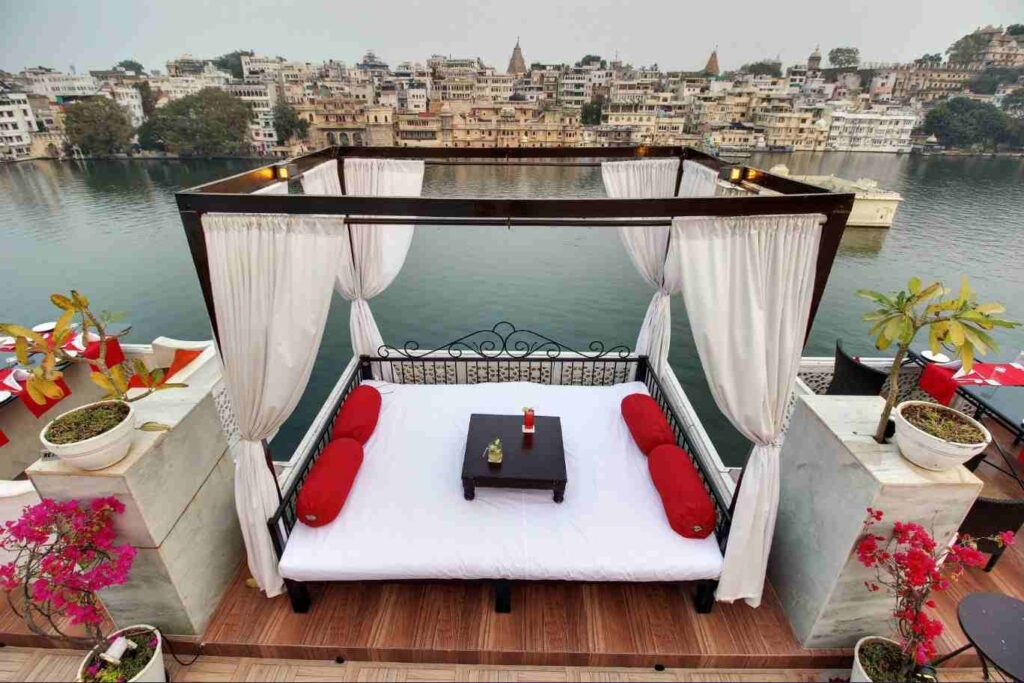 A charming (and thankfully secluded) restaurant on the Fateh Sagar Lake, Upré By 1559 AD is named after the year Udaipur was founded by Maharana Udai Singh II. Known for its relaxed atmosphere, stunning lake views and a variety of Indian, Thai and Continental cuisines, this restaurant has a great cocktail menu that complements the food well.
PS: With their gauzy curtains, you can even select a cabana for your own (slightly) private space!
Location: Outside Chandpole, Pichola, Udaipur
Timings: 12.30 noon- 3.30 pm; 6.30 pm – 10.30 pm
Must-try: Laal Maas, Cocktails, Ker Sangri, Lamb Biryani
Cost for two: ₹1900 approx.
JAGAT NIWAS Palace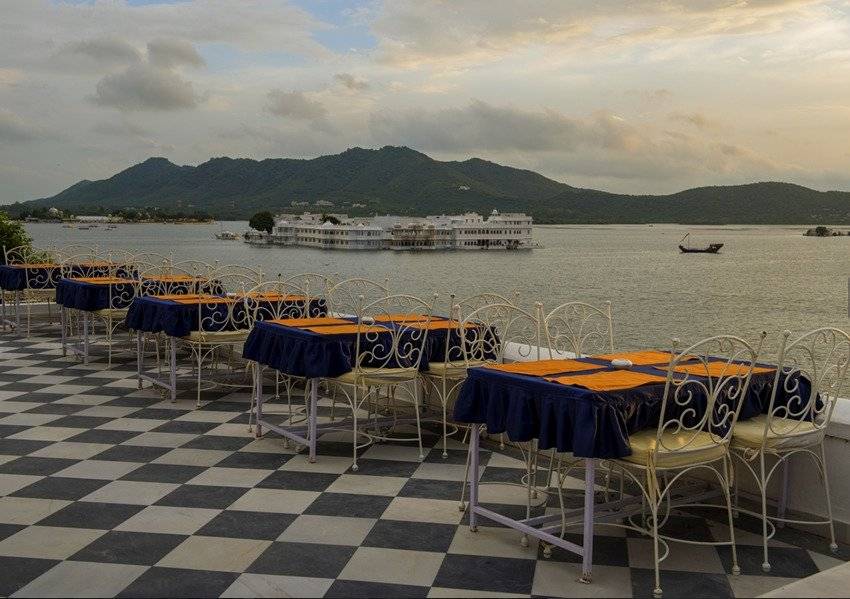 Chandni and Jharoka are the two restaurants at Jagat Niwas. With its spectacular view of the Pichola lake and the horizon beyond, Chandni is simply breathtaking. Under a twinkling night sky, it offers a regal ambience that envelops you. A romantic touch to your day is the ambience at Jharoka. A pristine blue lake contrasts starkly with the vibrant décor of the restaurant. Enjoy your delicious meal in this beautiful setting and add a romantic touch to your day.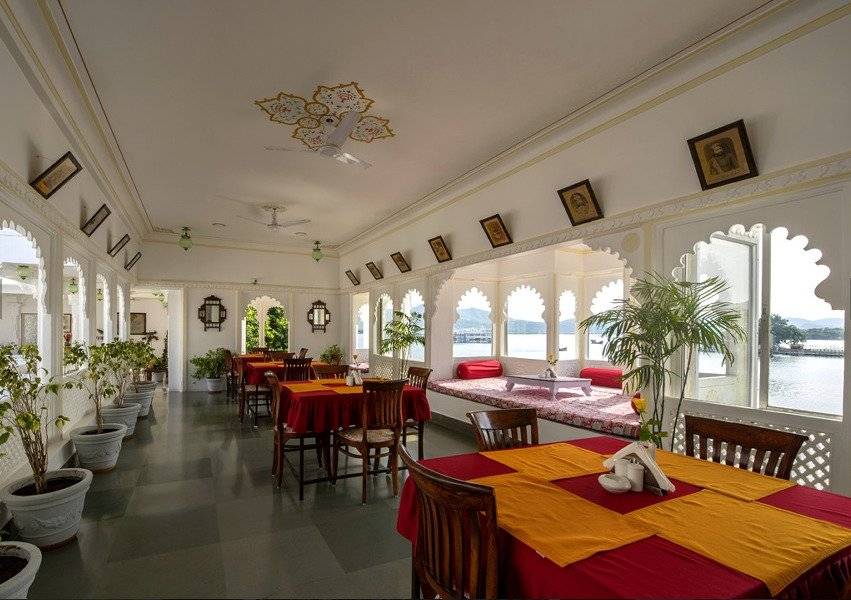 Location: Jagat Niwas Haveli, Lal Ghat, Udaipur
Timings: 7 AM to 10.30 PM
Must-try: Bharwa Aaloo kebabs, Yakhni Pulao, Grilled stuffed chicken
Cost for two: ₹1800 approx.
Charcoal by Carlsson
Do you want something different from all the traditional Rajasthani food? A barbecue heaven, Charcoal is also one of the best priced restaurants in Udaipur for its extensive menu. It's up a flight of stairs, so it's a fair climb, but once you get up there, you'll get stunning views of the city and lake. After a day of sightseeing in the Lake City, you can rest your feet here and enjoy a drink from the extensive drinks menu.
Location: Lal Ghat, Behind Jagdish temple, Udaipur
Timings: 08:00 am – 11.00 pm
Must-try: The mezze platter and the Olive Naan, Tandoori Chicken, Chicken Roulade, Veg BBQ Plate, Souvlaki
Cost for two: ₹1000 approx.
Millets Of Mewar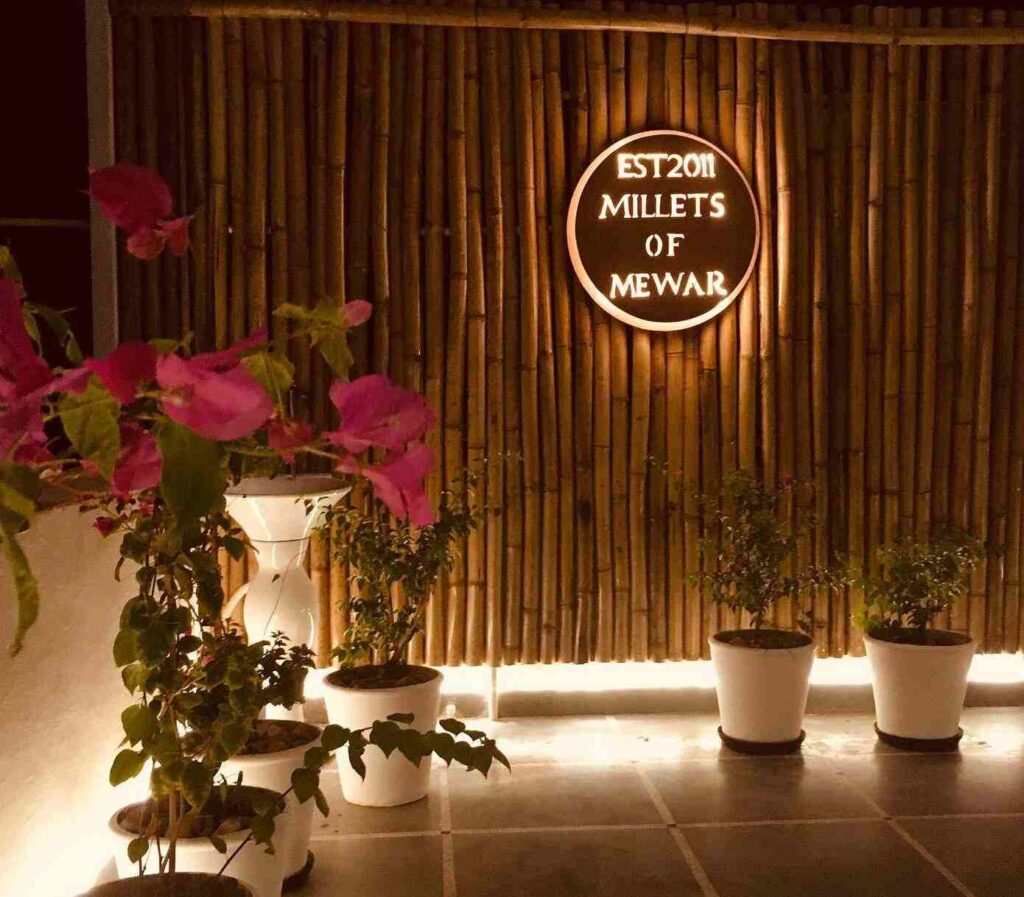 As the Garden City's first healthy food eatery, Millets of Mewar is a surprise in the midst of the rich, decadent Rajasthani cuisine. This must visit restaurant is known for its sustainable, slow food concept. Most ingredients are sourced locally (always organic), and millets are substituted for grains to make the meal healthier and gluten-free. You need to try their Chapati pizzas, sandwiches and pastas.
Location: 25, Sajjan Vihar, near Monsoon Palace, Udaipur, Rajasthan.
Timings: 8.30am -10.30 pm
Must-try: Chapati Pizza, Mewar Rajasthani Thali
Cost for two: ₹600 approx.
Royal Repast
Owned by the renowned Bedla family, which has previously impressed numerous royals and celebrities with its culinary abilities, Royal Repast is one of the most elegant restaurants in Udaipur. As royal as it sounds, Royal Repast is nestled in a plush, ornately decorated home. They serve absolutely delectable traditional dishes such as murg dahi bootha, creamy mutton mitti ki handi, and luscious makkai ka meetha to end your meal.
Location: Bedla House, Chetak Marg, Panchwati, Udaipur
Timings: 11 am to 10:30 pm
Must-try: Machhi Kabab, Murg Dahi Bootha,, Karan Shahi Dal
Cost for two: ₹800 approx.
Tribute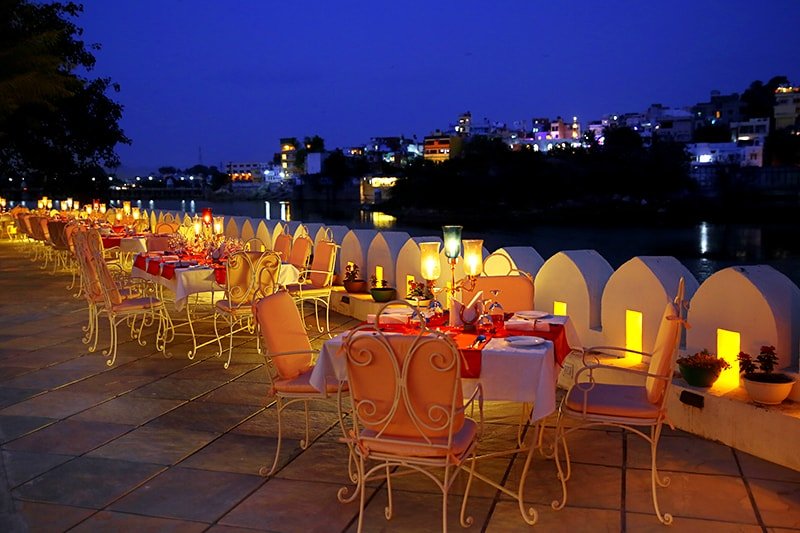 Featuring an equestrian décor theme, Tribute is a lakeside restaurant devoted to the legendary horse Chetak of Maharana Pratap. Located near Fateh Sagar Lake, this restaurant allows you to dine in the candlelight ambiance, overlooking Rang Sagar Island. During winter, this island is visited by migratory birds. There are exotic Rajasthani breads served with spicy sides at this restaurant, along with ethnic and international cuisine. Those looking for delicacies and savories with a stunning view should consider this restaurant.
Location: Ambamata Temple Road, Fateh Sagar, Udaipur
Timings: 11:00 am – 10:30 pm
Must-try: Maans ke Sooley, Dungar Maas, Gatta curry, and Flontin Cardamom
Cost for two: ₹1500 approx.
The city of Udaipur is known for its abundance of restaurants. There are also a lot of other noteworthy places you should check out in Udaipur, including the very hip Udai Art Café, run by a Greek photographer who was so attracted to the city she decided to move there and start a coffee shop; Pan Asian – Wok By The Lake for the signature Sui Mui; the Garden Restaurant's thali-only offerings; and Sheesh Mahal at the Leela Palace for an absolutely romantic dinner next to Lake Pichola.
You should also try the city's to-die-for street food, such as mircha bada, kachoris, jalebis, daal-baati-choorma, kulhad coffee, and dabeli.
So, what are you waiting for?
India is blessed with many attractive destinations and it is not that difficult to choose one for your next vacation. However, instead of picking the routine destinations, this time take your loved ones to any unexplored location and enjoy each moment. TheTravelB.Com is your best guide to select underrated destinations across India. Reach us @ https://thetravelb.com/contact-us/ or send an email to contactthetravelb@gmail.com to share your experiences or for any suggestions.
Explore More: Hyderabadi Double Ka Meetha Recipe