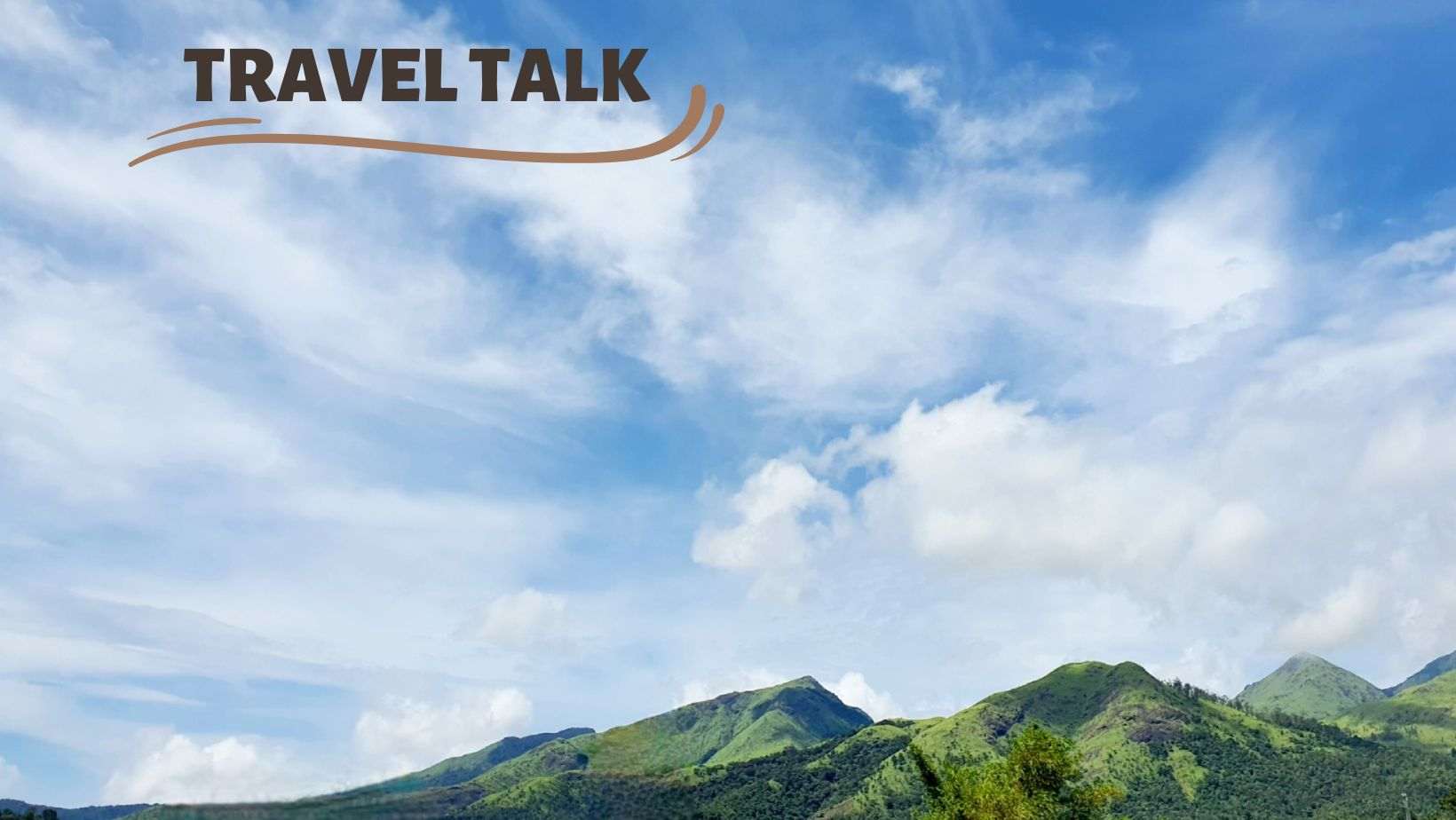 On an October morning, I woke up to a slight drizzling sound, chirping of the birds and found that it was not my usual bed or the room. Oh! I was not at home!
I slowly opened the main door only to see this breath-taking view of the infinite waters, through the mist, with odd islands and at the end of the waters I could see the clouds touching them. It was a million-dollar view and couldn't stop gazing at it for really good time. The view only got better with the white clouds at the end of the waters started vanishing magically and replacing with huge lush green mountains. It is truly priceless and unbelievable for someone from the 'Urban Worlds'. This only needs to be experienced and can't be described any further in words.
I am not exaggerating here as I was in the God's own country at Wayanad, the green paradise of Kerala. The breath-taking view is from a Villa, where I stayed, a few kilometres from Banasura Sagar dam
It's quite an enticing and enthralling getaway from Bangalore even if you are tight on time just like me. I could only spend one night there. If you have around 3 days and 2 nights to spend you could do a bit more, though you will never be fully satisfied. After all it's a Paradise. That's how, I believe, it should be, as you always want to be there again.
How I Got There
I drove all the way from Bangalore to Wayanad which is at a distance of around 330 kms. There are at least two routes you could choose from, one through Nagarhole forest and the other through Bandipur. I chose to go through the Bandipur Tiger reserve, via Gundlupete. The roads are pretty good on this route and you are sure to enjoy the drive.
However, in my return journey the maps suggested the route from Nagarhole, which I failed to spot and had a tedious drive through the potholes of Nagarhole forest road. I would suggest you to avoid this route.
The Drive
We started as early as 4.30 am as this drive was supposed to be more of enjoying the journey than the destination itself. More importantly, I wanted to avoid the Bangalore traffic woes by starting early. Bangaloreans will understand this!
On the way we had a brief stop at Mysore palace to take some clicks, had a quick breakfast little later. You will find quite a few small as well as big hotels on the way.
Once we crossed Gundlupete, in few kms, we entered the Bandipur forest road. This part of the stretch was with lot of expectations and it did live upto them, with some breath-taking scenes of nature all the way. We could spot some wild life in the form of deers, antelopes, and of course a lot of monkeys. The only disappointment was we couldn't spot an elephant which is also a possibility if you are lucky enough. Nevertheless, it was awesome.
Explore More: 3550 Tirumala Steps – A Trek to Divinity
Places Visited
Given the shortage of time, I shortlisted just three places and chalked out the route before hand to save time. Also, we visited on a weekday so there was hardly any rush but do expect crowd during weekends and public holidays.
This is a tourist destination in Ambalavayal in the district of Wayanad. It is a natural metamorphic rock formation resembling a human skull, and thus is known as Phantom Rock.
No Entry Fee
At the first sight me and my family thought, why did we take all the pain to see just this rock. But our perception changed in seconds, when we turned left and had a glimpse of the spectacular view of the valley deep down, the far across mountains and the towns.
It was already 2 pm and we were starving. There were some eateries on the way and we chose a random restaurant (Wayanad Royal Grand) to have our lunch and it was a decent one.
A beautiful place to hangout with friends and family. Enjoyed the serene and peaceful ambience and captured some beautiful pics.
It is said to be a natural freshwater lake nestling amid evergreen forests and mountain slopes at an altitude of 770 meters above sea level. It is 15 kms away from Kalpetta. It is the smallest and highest altitude freshwater lake in Kerala.
It is also said to have the Shape of India map in aerial view.
Entry Fee: Rs.40 for adult and Rs.30 for child
Parking: Rs 50 for car parking and is around 300 to 400 meters away.
Timings: 9am to 6pm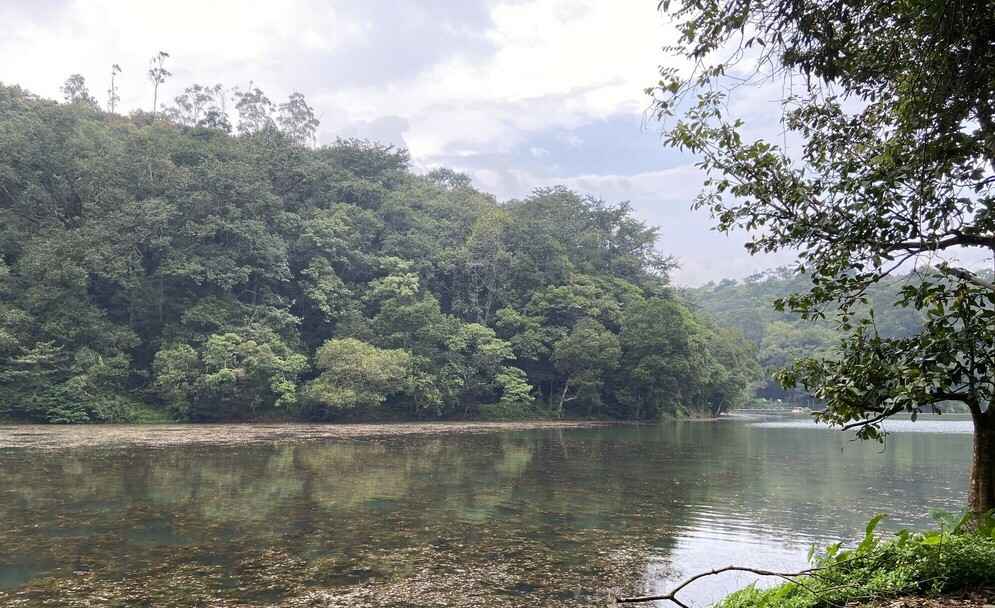 Activities available:
Boating, Kayaking
Cycling
Fish spa
Children's play area
Handicrafts stores
We spent about an hour here and it was around 5pm by the time we left the lake.
We bought some souvenirs and spices on the way to the stay we booked for our night stay.
The next day we had to, reluctantly, leave behind the spell bounding scenic stay to continue our journey. We started as early as 8 am as we had breakfast plans before we visit the next attraction.
Located at the foot of Banasura hills, it is said to be the largest earth dam in India and the second largest of its kind in Asia. The dam is made up of massive stacks of stones and boulders.
It is 21 kms from Kalpetta, in Wayanad District of Kerala in the Western Ghats.
Again, a spellbinding place and a picturesque hotspot. It has got extensive natural beauty with beautiful flora and fauna, majestic hills and never-ending waters. The Banasura Sagar is a photographer's delight. Banasura hill peak is hailed as one of the most challenging treks.
For adventure enthusiasts there are thrilling activities like boating, trekking etc.
Entry fee: Rs. 40 for Adult and Rs 20 for Child
Parking: Rs. 40 for car parking and is 200 meters away from entry gate
Timings: 8.30am to 5pm
Activities:
Bumper cars
Scary house
12D ride
Boating
Zip line
Note: The walk, of around 1 km, up to the dam could be tiresome for elderly people, as it involves a walk and some climbing of stairs. There are van rides provided at extra cost, which can be booked at the time of buying entry tickets.
Nearby Attractions to Visit
Chembra peak (famous for the heart shaped lake)
Meenmutty waterfalls
Lakkidi Viewpoint
Edakkal Caves (there's a lot to walk and stairs to climb, not recommended for elderly)
Our Accommodation
Property: Airfresh Villas
Location- Padinjarathara, Wayanad, Kerala (Google maps can take you there precisely)
It is around 5 kms from Banasura Sagar dam
Cost: Can keep varying. Please check their app for latest prices
Description:
They have 2 independent villas, one 2 BHK and the other 3 BHK villa.
Don't expect hotel like amenities, but they provide just enough amenities like bed linen,
towels and soap. Parking facility and Geyser are also available.
Pros:
Economical compared to other villas around
Spacious: 2 BHK can easily accommodate 6 persons
Private kitchen available with stove and some utensils. If you prefer, you can cook by yourself
This is the best part, the enticing scenic view. To enjoy the view there is a big Verandah/sit-out
Cons:
The villa looks a bit old, you can see some stains on the walls, odd spiders.
There is no kitchen operated by the villa owners, so you need to go out for food or cook yourself or order from the nearby restaurant.
In spite of the cons, I don't hesitate to rate it over 4/5, especially for the terrific view!
Conclusion
Wayanad, the green paradise and the only plateau in Kerala has a lot to explore and a must visit.
When you think of visiting this place, depending on the time you can spare, please do decide on the places you want to visit, where you are going to stay, activities that you want to try, etc. Doing this homework beforehand can save you a lot of time and energy while exploring the location and getting a better experience.
Explore More: Mallela Theertham Waterfall – Perfect Weekend Getaway from Hyderabad