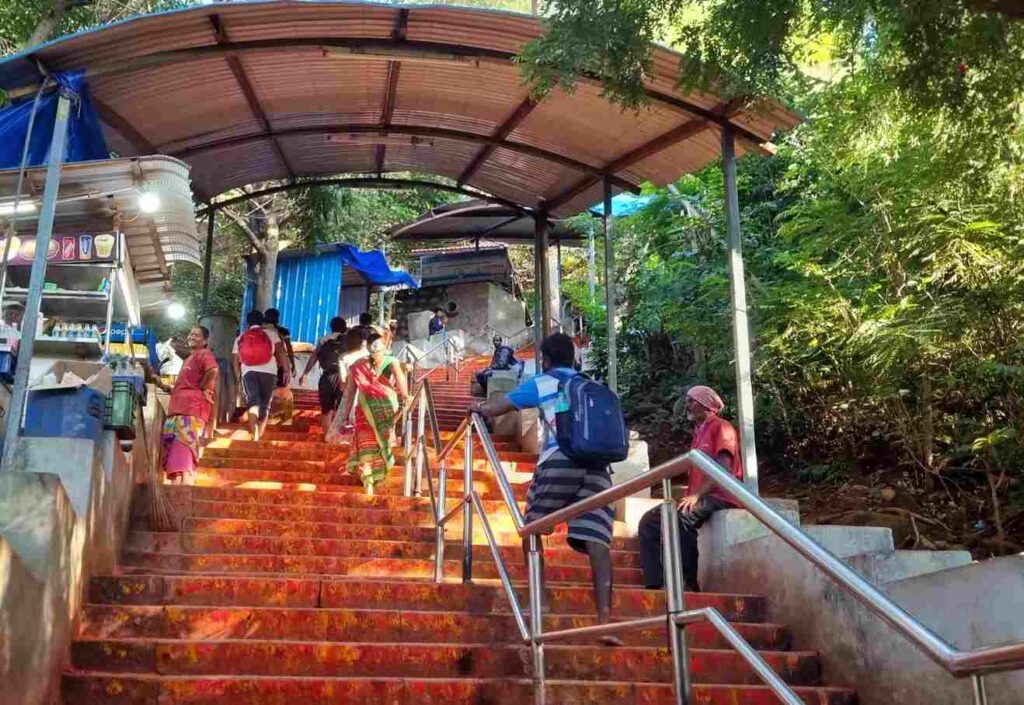 Tirumala is a world-famous spiritual town in Tirupati district of Andhra Pradesh. Sri Venkateswara Swami Temple (Balaji Temple), the abode of Lord Venkateswara or Balaji, is situated in this hill town. Located at 3,200 ft above sea level, Tirumala is surrounded by seven peaks of Seshachalam hills namely Seshadri, Neeladri, Garudadri, Anjanadri, Vrushabadri, Narayanadri and Venkatadri.
The main temple of Lord Venkateswara is on the seventh peak, Venkatadri. Not to be surprised, before the covid 19 pandemic, around 50,000 to one lakh devotees used to visit Tirumala every day. The restrictions over pandemic, however, reduced the footfall to 35,000 to 60k devotees who are having darshan of Lord Venkateswara, a form of Hindu God Lord Vishnu.
Trek to Tirumala
A good number of devotees reach Tirumala on foot to fulfill their vows. There are two paths to trek to Tirumala – one from Alipiri, at the foot of the hills and other is from Srivari mettu which is in Chandragiri, 12 kms from Tirupati, not many would prefer this trek though.
In this article, I am taking you to a trek to Tirumala through Alipiri Mettu largely used by the pilgrims. Alipiri is 5 kms away from main bus stand in Tirupati. One can reach Alipiri from any part of Tirupati by auto or buses. Free bus facility is also available from Tirupati railway station and bus stand to Alipiri.
3550 Steps to Reach Tirumala
The Alipiri trek to Tirumala is around 11 kms consisting 3550 steps to climb and a few stretches in-between to walk. Tirumala Tirupati Devasthanams (TTD) which manages the Tirumala temple has provided all the necessary facilities for devotees who choose to reach Tirumala on foot. This includes free darshan and free food.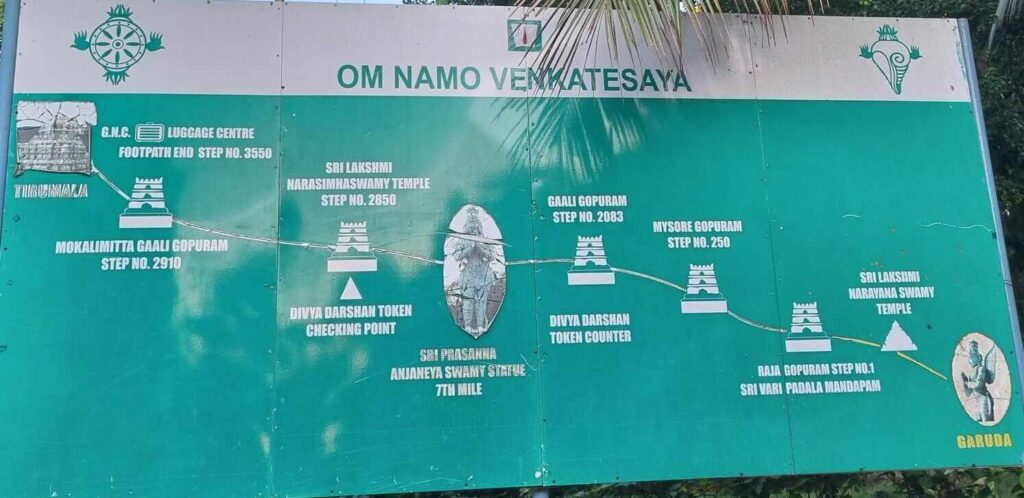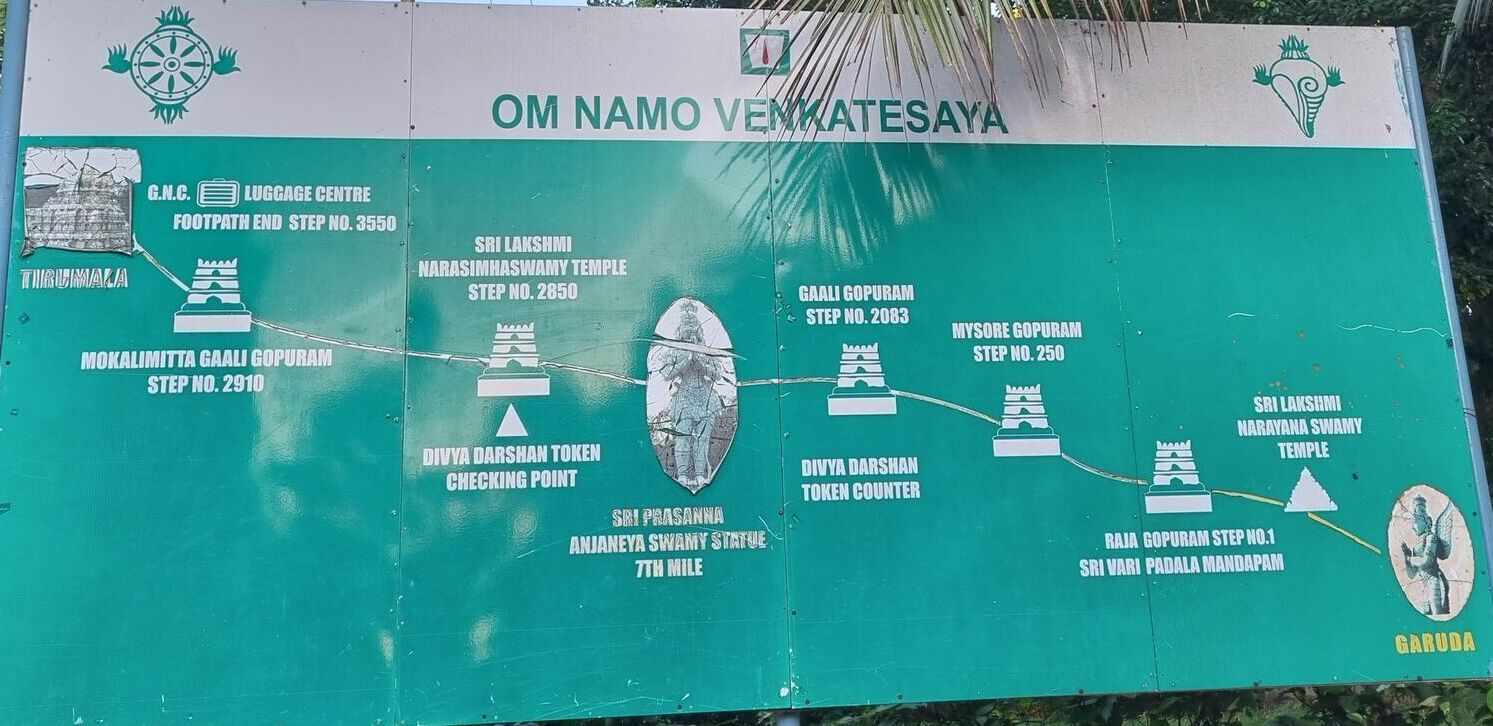 Pilgrims coming from far off places can deposit their luggage at the designated counters in Alipiri and can collect them after reaching the Tirumala. This will definitely ease the physical stress to carry heavy luggage during the trek.
Devotees start their devotional trek from step no 1, Padala Mandapam by taking blessing of Lord Venkateswara at a small shrine here. Having taken his blessings, let's start our trek. Not to forget, the initial 2083 steps till you reach Gaali Gopuram, are the toughest. These steps are very steep and will definitely spike your heartbeat a great deal. We recommend not hurrying up to complete the trek, take breaks and start again only when you feel comfortable.
The entire stretch is roofed properly and you can enjoy the view around to relax yourself. Devotees can sit and relax on either side of the steps without causing much trouble to fellow pilgrims. There are proper railings to take support while climbing the steps.
No doubt, the initial steps will test your physical and mental strength. Don't wonder, if you see the God and loved ones in your thoughts while climbing these steep steps.
Don't be worried, you will not be the only one gasping for breath, there will be many pilgrims of different age groups panting for air. Take inspiration from the elderly devotees and continue the stretch. Chants of 'Govinda Govinda' will reverberate during the entire trek and this will subconsciously ease the strain.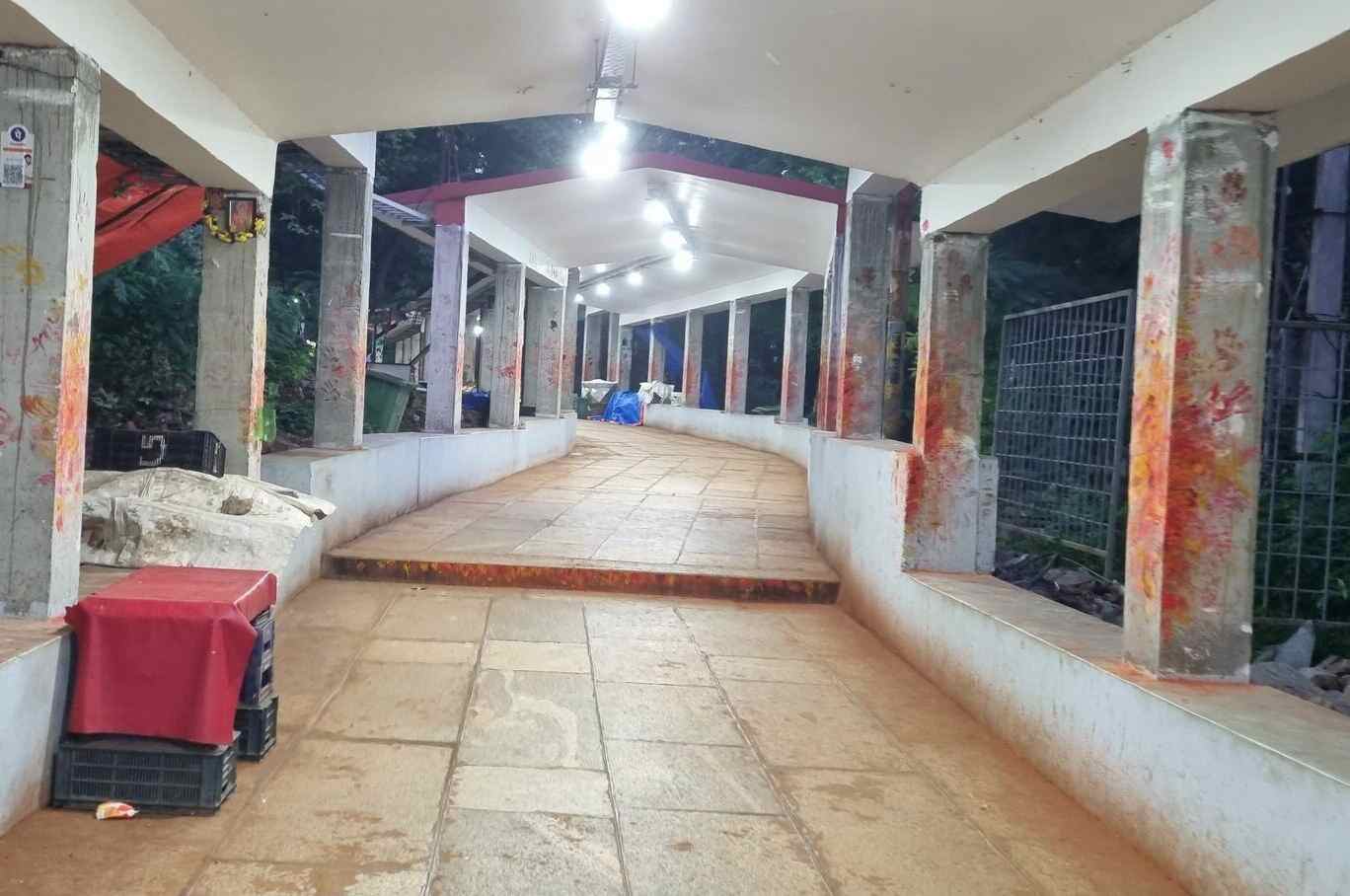 Gaali Gopuram
At step no 2083, you will reach Gaali Gopuram and before moving forward, turn back and enjoy the beautiful view of the city through the mountains. This picturesque view along with the cool breeze makes your physical and mental strain disappear. There will be good number of shops here selling refreshments and tiffin. If you are bone tired, take a good break here and relax a while.
From this point, the trek will be smoother till step number 2910 (Mokkalla Parvatham or Mokalimitta Gopuram). This stretch will mostly be flat and one can casually walk. Devotees can collect Free Darshan tickers at Gaali Gopuram provided TTD issues them. TTD might cancel this facility on Saturday, Sunday and Thursday depending on the crowd.
After walking for few kms from Gaali Gopuram, devotees can find a statue of Sri Prasanna Anjaneya Swamy (Lord Hanuman) at the 7th mile. After crossing this, one can find deer park on either side of the footpath. Enjoy the view of deer in the vicinity and one can feed them with the food available at the shops there.
Explore More: Go on a Spiritual Adventure at Jharni Narasimha Swamy Temple in Bidar
Mokalla Parvatham (Mokalimitta Gaali Gopuram)
It is considered as the last lap of the trek and the trek turns steep from this point at step number 2910. These steps are considered as the steepest of the entire trek. There are around 400 steps which end at the entrance of Tirumala which marks the finishing line of this devotional trek.
Many devotees climb this Mokkala (knee) parvatham on their knees as a vow they have made to Lord.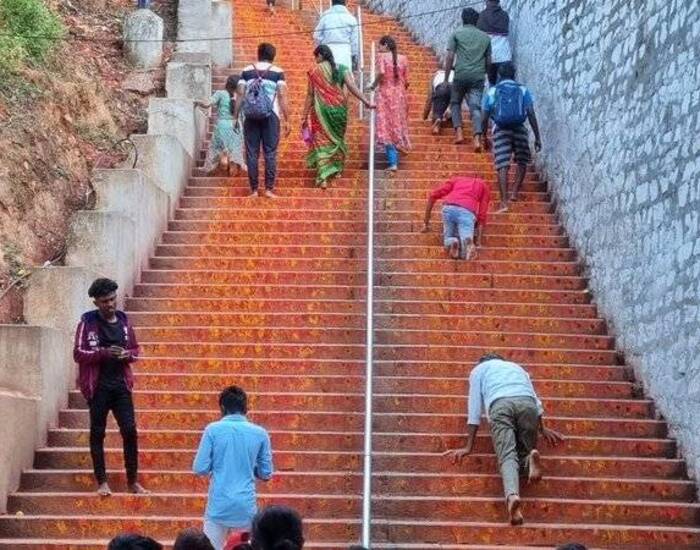 Important Points to Remember
Always check the TTD portal or book darshan and accommodation tickets in advance so that you will have a smooth trip.
Patients who have BP issues, asthma, lungs problem are advised to think twice before taking the trek.
There is an emergency dispensary at Gaali Gopuram (step number 2083). Also, you can find TTD volunteers to help the devotees.
Plastic is banned on Tirumala. Therefore, carry water or any food items in steel or glass bottles/containers.
Advised to start the trek early in the morning when your energy levels are high and the cool breeze help regain your energy.
Keep yourself hydrated during the entire trek.
How to Reach Tirumala
One can reach Tirumala easily either by road or by foot. Devotees have to travel to Tirupati before travelling to Tirumala.
By Air: The nearest airport is in Renigunta, 15 kms from Tirupati. There are direct flights to this domestic airport from all major cities across India.
By Rail: There is a railways station in Tirupati and it is well connected to other major cities in India. There are all necessary facilities available at this railway station for all age groups.
By Road: There are direct buses to Tirumala from Tirupati for every 5 minutes. Local taxis, jeeps on shared basis are also available from Tirupati to Tirumala and vice versa.
Conclusion
The entire trek of 3550 steps will definitely be a memorable devotional trip. One can feel relaxed and enjoy more if travelling in groups with friends and family. This devotional trek itself is a life lesson. Don't give up seeing the initial bumps; the road ahead will be smooth ending with a fruitful result.
India is blessed with many attractive destinations, and it is not that difficult to choose one for your next vacation. However, instead of picking the routine destinations, this time take your loved ones to any unexplored location and enjoy each moment. TheTravelB.Com is your best guide to select underrated destinations across India. Reach us @ https://thetravelb.com/contact-us/ or send an email to contactthetravelb@gmail.com to share your experiences or for any suggestions.
Explore More: Many Languages, One City – Enchanting Mangalore aka Kudla