Introduction
Ever wondered about being able to view a range of snow-capped mountains from somewhere near Mussoorie? Yes, it is possible from the George Everest Peak or George Everest House, and surprisingly, without having to trek for many hours.
It is a secluded and peaceful location with a 360-degree view from where snowy mountains can be seen on one side and the twinkling city of Dehradun on the other side.
George Everest is the best place if you are planning to go camping as it offers various grounds to camp around the virgin forests near Mussoorie.
History
The George Everest Peak is named after a man known as Sir George Everest, who calculated the height of Mt. Everest. At his house, George mostly spent his time watching the beautiful mountains.
Fortunately, Sir George Everest's home still stands and is now with the government of Uttarakhand.
This historical house is open for travelers round the year so that the guests can get a shuddering and a captivating feel of the past.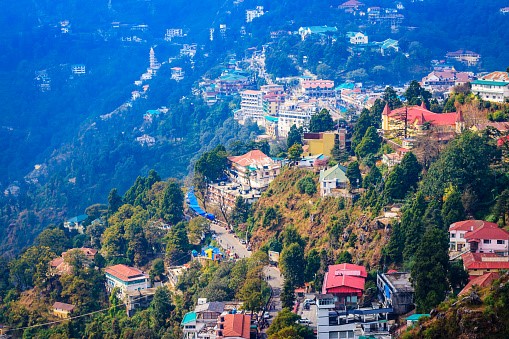 How to reach
There are many ways to reach the George Everest Peak.
If you are traveling from Dehradun to George Everest Peak you have many options available. You can hire a taxi or rent a vehicle for a day. As it is just a day-long trip.
It will require around 2- 3 hours if you travel on your own and a little bit longer if you travel by bus or public transport. No direct public transport is available from Dehradun to George Everest peak, you might have to travel to Mussoorie and then from there to George Everest which is quite a time taking a journey.
If you are in Mussoorie and want to visit the George Everest Peak, you might first visit the Sir George Everest house which is 6 km from the main market.
You can reach there easily by hiring a cab. The other way in which you might have some adventurous experience is by trekking. After reaching the house it is just 500 meters to the top of the peak. One can go there by only trekking and no other means of transport is allowed.
Accommodation
Premium Hotel (JW Marriott)
Price – Rs.24,000/ per night (Approximately)
It is one of the leading luxury resorts and spas with all high-class facilities available in Uttarakhand. The balcony of each room is the viewing spot of the city of 'Queen of Hills'.
Deluxe Hotel (Fortune Resort Grace)
Price – Rs.8100/per night (Approximately)
The resort has a special discount offer available for ITC members. It is one of the top resorts for business conferences and body treatment.
Budget-Friendly (Zostel Plus Hostel)
Price- Rs.899/per night (Approximately)
It is a pocket-friendly hostel for both males and females. It has separate dorms for males and females with some spectacular views.
Do's and Don'ts
Do carry some snacks as there are no shops on the top of the George Everest peak.
Don't carry heavy stuff while going to George Everest. You might not be allowed to carry your stuff forward from the George Everest House.
Do carry some necessary things like a bandage, torch, tissues, and some altitude sickness medicine with yourself.
Don't go on unknown paths while trekking as the route is not very smooth.
Don't stay at the top till late after sunset if you are not camping. As it might be risky to trek down alone in dark.
Suggestions
Explore Sir George Everest's house completely as it has some amazing things and beautiful décor.
Some parts of the house have been renovated keeping the old designs intact so don't touch anything while roaming around.
The view of the Doon valley from the premises of the house is surreal spend some time there.
Reach the top of the peak before the sunset starts as you might not want to regret it later.
Visit during the spring or autumn season to enjoy the breathtaking scenery fully.
Wear warm but light clothes as you have to walk a lot and it might get tiresome.
George Everest is a popular place for hiking, paragliding, camping, and other things. If you are an adventure lover, definitely try some of the popular things there.
Conclusion
If you are planning a trip to Mussoorie, keep George Everest's planning on your travel list. Want to go camping or hiking this weekend somewhere near Dehradun, you already know where to go. In reality, George Everest peak is one of those less explored and peaceful places where you can spend quality time with a spectacular view.
Also Read: Magical Fort City Mandu in Madhya Pradesh