Rani ki Vav situated in Patan, Gujarat is the largest stepwell in India. Queen's stepwell or Rani ki Vav is situated on the banks of the river Saraswati. The stepwell is 64 meters long, 20 meters wide, and 27 meters deep and is in the form of an inverted temple.
Rani ki Vav is the supremacy of complex techniques along with great details and proportion. The Rani ki Vav is built in Maru-Gurjara architectural style which is divided into seven levels with sculptures on it.
Almost, two decades back the whole stepwell was opened for the public to visit. In 2001, after an earthquake, some areas of the stepwell were marked dangerous and the public was prohibited to enter. In 2014, Rani ki Vav was added to UNESCO's world heritage sites for illustrating rich art. After which it is protected as a national monument under the Archaeological Survey of India.
There is a water festival held in Rani ki Vav every year in December-January. It is also known as the Rani ki Vav festival. It is the major tourist attraction time there. The time to visit is from 8 am to 6 pm. The entry fee for Indian visitors is Rs 15 whereas for Foreigners it is Rs 100.
History
Rani ki Vav has its origin back to the 11th century when the Chalukya Dynasty was in power. I. A collection of Sanskrit stories named Prabandha Chintamani, compiled in the 14th century, has references to Rani Udayamati building the stepwell.
As years passed, the River Saraswati adjusted its direction and this stepwell was flooded and greatly damaged. Due to floods and river sediments, the enormous design of the stepwell got damaged and was nearly covered under the sand.
The stepwell was found in 1940. In the late 1980s, the Archaeological Survey of India started excavation. Gradually, it was restored to its current structure.
How to reach Rani Ki Vav?
The easiest way to reach Rani ki Vav is to travel to Patan and then go to the stepwell. Otherwise, one-day trips to Rani ki Vav are also very popular.
Buses and rented taxis are available from every city to Patan. You can also choose to directly travel to Rani ki Vav. But it is only possible if you rent a taxi. No direct bus services are available.
In case, you are traveling by train. The nearest railway station is Mehsana. From there you can take a cab and reach the Rani ki Vav.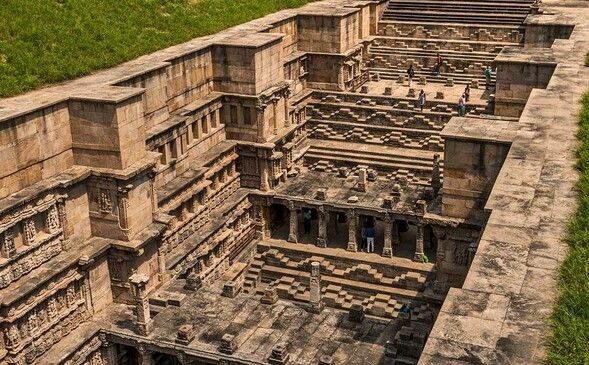 Foods to try
Patan is famous for its monasteries, temples, and courtyards. It is known as the city of art. Very few people know that it is also a place for foodies who like exploring. The same place that is home to temples and monasteries is also home to eateries from breakfast to dinner to drinks.
Some places where you can try the food are:
Try the traditional Newar sweetmeats like Lakhamari, Balbara, and other food items like jeri-swari and barfi from the alleys of Patan.
Nepali food can also be found there. From small marble-shaped momos to Tibetan momos and gucha momos you can find all types of Dumplings there. Whereas, Patan is famous for Jhol momos which are served with a tangy soup dip.
Homemade rice liquor is known as thwo. It is one of the oldest eateries in Patan.
Explore More: Explore Aundha Nagnath Temple During Religious Tour of Maharashtra
Accommodation
Here is a list of places you can look for staying in Patan.
Premium hotel (Hotel CarreFour)
Price – Rs. 2000/per night (approximately)
Deluxe hotel (The Grand Raveta)
Price – Rs. 1600/ per night (approximately)
Budget-friendly (Hotel Navjivan)
Price – Rs. 800/per night (approximately)
Facts about Rani Ki Vav
Rani ki Vav was awarded as the 'Cleanest iconic place' at the Indian Sanitisation Conference (INDOSAN) in 2016.
There is a secret tunnel at the end of the stairs in Rani ki Vav which opens near Patan.
The city of Patan is famous for its iconic patola sarees.
The new note of Rs. 100 has the structure of Rani ki Vav on its rear side.
The stepwell is known for its seven-storied structure and complexly carved sculptures.
The management of Rani ki Vav is completely the responsibility of the Archaeological Survey of India.
Conclusion
Rani ki Vav is a great example of exemplary architecture and art. The stepwell has witnessed so much in the past and is still standing. The stepwell houses 500 principal structures and thousands of minor structures. Most of these structures are a representation of Lord Vishnu in its various forms. It is a great place for history buffs, spiritual followers, and travel enthusiasts. It is also one of its types of stepwells to have been listed in UNESCO's world heritage site for excellent art.
If you are planning a trip to this beautiful stepwell, well try to visit it during the water festival to enhance your travel experience.
India is blessed with many attractive destinations and it is not that difficult to choose one for your next vacation. However, instead of picking the routine destinations, this time take your loved ones to any unexplored location and enjoy each moment. TheTravelB.Com is your best guide to select underrated destinations across India. Reach us @ https://thetravelb.com/contact-us/ or send an email to contactthetravelb@gmail.com to share your experiences or for any suggestions.
Explore More: Explore India's Most Beautiful Stepwell, Adalaj Ki Vav in Gujarat