While talking about Assam tourism, one can never miss out on Kaziranga National Park. It is often regarded as the best wildlife destination to visit in India. Located by the banks of river Brahmaputra, this park is shared by two districts in Assam, Nagaon and Golaghat. While a lot has been said and written about this park, it still remains undisturbed by human presence, and its natural ecosystem is unmodified.
The Kaziranga national park is best known for being home to almost two-thirds of the world's population of one-horned rhinoceros. So, if you wish to see a rhino casually walking in front of you or grazing in their natural habitat, this is the place!
Kaziranga National Park, a UNESCO World Heritage Site, was established in 1904. The story can be traced back to the time when Mary Curzon, the wife of then Viceroy of India, Lord Curzon of Kedleston, visited the area. Like today, the region was still known for rhinoceros, but the lady couldn't spot even one on her visit.
It is then that she persuaded her husband to do something for the protection of these animals. This is how the national park came into existence. In 1985, Kaziranga was declared a World Heritage Site by UNESCO for its unique natural environment.
Kaziranga national park is also home to many mammals, including tigers, elephants and bears. Apart from rhinos, this park also houses the world's largest populations of Asiatic water buffalo, Asian elephant and Eastern swamp deer (also known as Barasingha).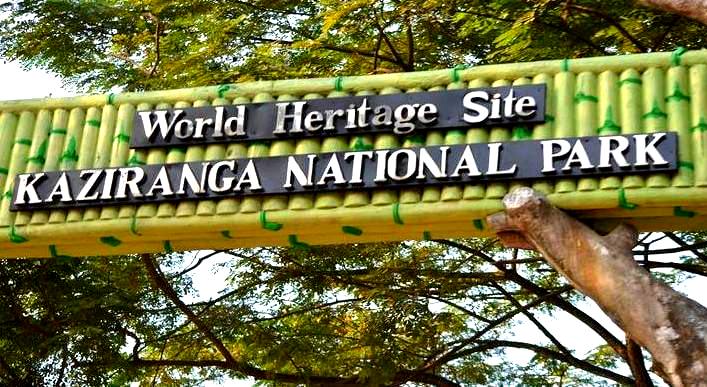 And if this is not enough, you will be delighted to know that this park is one of the best bird-watching places in the country. Not just resident birds, but thousands of migratory birds visit this park every year. So, if you want to be mesmerised by the elegance of hornbills, or want to witness the beauty of endangered species of birds like Bengal Floricans, Kaziranga is the best stop.
Also Read: Walk Along the Scariest Bamboo Trek in Meghalaya
Activities at Kaziranga National Park
Jeep Safari: The visitors can enjoy the beauty of the wilderness of Kaziranga National Park through a jeep safari. These safaris are taken out in two shifts, one in the morning, and the other in the afternoon. The zones covered in these safaris are best for wildlife sightings.
Elephant Safari: Elephant safaris bring you a step closer to nature than jeep safaris. It is only done in the early mornings. It will let you enjoy Kaziranga's natural beauty through a different and unique perspective. The adventure and feeling of riding an elephant and looking deep into the forest is something that cannot be put into words.
*Note: Though safari timings are usually between 5:00am to 7:30am and 3:00pm to 4:00pm, it is advisable to look up for accuracy as it might change due to weather conditions or other reasons.
Bird watching: As said earlier, Kaziranga National Park is rich in its population of birds. So, if you are keen on spotting some beautiful and endangered bird species, you better get hold of your binoculars and start your journey. Photographers can be gifted with their best wildlife picture in this wildlife heritage.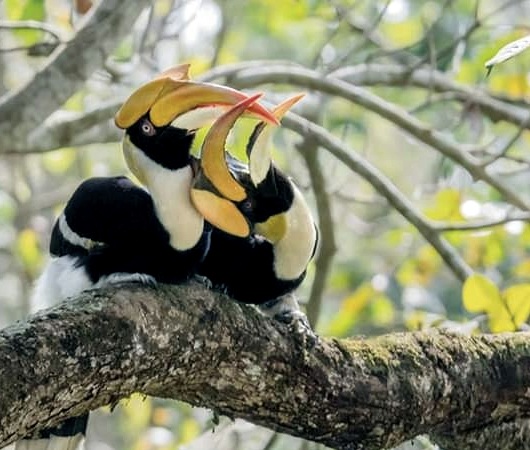 Nearby Attractions
The Kaziranga National Orchid and Biodiversity Park is just 2 kms from the Kohora zone of Kaziranga National Park, and is the largest orchid park in India. Spread across an area of 6 acres, the park is home to almost 600 varieties of orchids, and is a must visit spot.
Hollongapar Gibbon Sanctuary:
Home to 106 hoolock gibbons, this sanctuary is not to be missed. It is to be noted that hoolock gibbons are only found in the northeastern region in India.
Tea lovers can definitely pay a visit to Hathikuli tea estate where you can try different varieties of Assam tea while enjoying the beauty of the far-fledged tea gardens. Well, if you are lucky (or not), you might see elephants that usually come to the area.
How to reach:
By flight:
The nearest airport to Kaziranga is Jorhat, which is at a distance of a little over 114 kilometers. Apart from bus services available from Jorhat ISBT, you can easily hire a taxi for the same.
The next best option is to land in Guwahati airport (LGBI airport), which is at a distance of over 208 kilometers. From here too, buses, taxis and cabs are easily available to Kaziranga.
By train:
The nearest railway station to Kaziranga National Park is Furkating, which is approximately 80 kilometers away. Trains to Furkating are available via Guwahati, and Guwahati is well connected with the rest of India.
By road:
The Kaziranga National Park is well connected to the rest of Assam by road and can easily be reached by cars, taxis or cabs. The journey is another thing of beauty with luscious tea gardens spread out over large areas on both sides of the highway, providing a view that is sure to leave a mark for the visitors.
Where to stay in Kaziranga?
As this area is a tourist place, there is no shortage of places to stay. From government arrangements to private tourist lodges and resorts, Kaziranga provides the visitor with comfortable accommodation options. One can easily book a stay of her choice through the internet.
And with so many options for lodging, food is also not left behind. There are food joints in and around the area that provide a wide range of food options, from fast food to traditional Assamese and other cuisines.
Best time to visit Kaziranga National Park:
The best time to visit Kaziranga National Park is between September till December, when the climate is pleasant. The park is heavily flooded in monsoons that makes it inaccessible (July-September). Summers see little to no fauna activity and the park is hence closed to the public.
Do's and Don'ts:
Avoid wearing bright coloured clothes
Abide by the rules set for the protection of wildlife in the park
Do not carry munchies or chips while going on a safari
Respect the guide or security person and never ignore his instructions
Always be on alert, always be careful of your surroundings
Conclusion
The Kaziranga National Park is a world heritage site and deserves a visit. The thrill of looking at a one-horned rhino, peacefully living its life in its wilderness is inexpressible. And knowing that you are one of the very few people who would ever get a chance to see this majestic animal in its natural habitat, it is the best feeling ever!
India is blessed with many attractive destinations and it is not that difficult to choose one for your next vacation. However, instead of picking the routine destinations, this time take your loved ones to any unexplored location and enjoy each moment. TheTravelB.Com is your best guide to select underrated destinations across India. Reach us @ https://thetravelb.com/contact-us/ or send an email to contactthetravelb@gmail.com to share your experiences or for any suggestions.
Explore More: When in Kaziranga of Assam, Visit the Largest Orchid Park