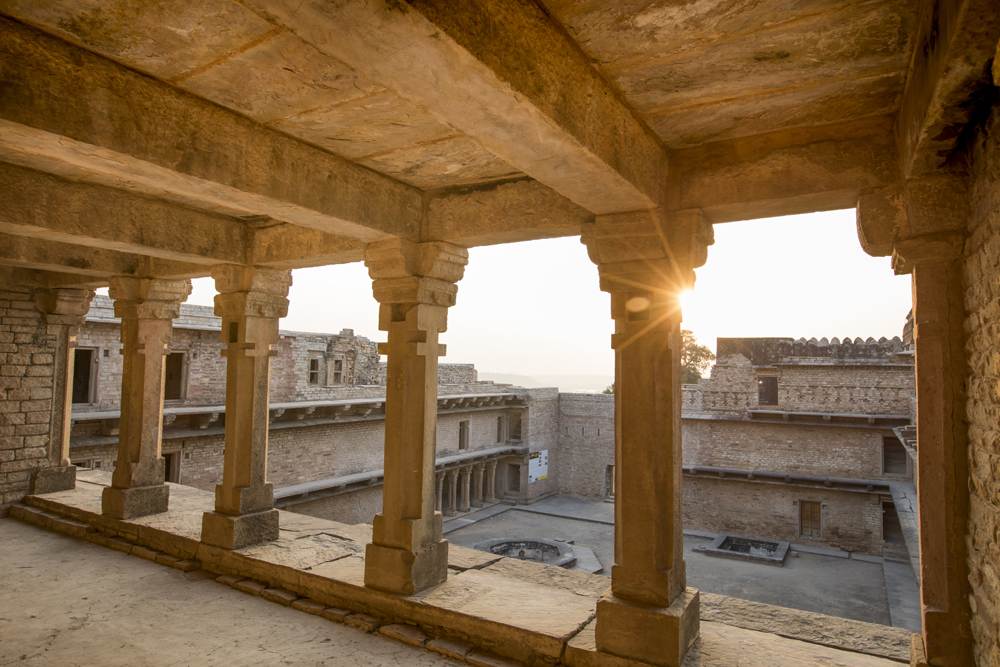 Chanderi is a fort town in Madhya Pradesh, India with the Chanderi Fort located on top of a hill, at a level of 71 meters above the town, and was built during the Mughal period. Chanderi in Madhya Pradesh is famous overseas for its special, distinguishable, and finely woven traditional handloom sarees made of silk and cotton.
The Chanderi fabric has been known for centuries for its transparency, the famous handwoven Buttis, a lot of zari work, and its sheer texture, besides other special features that have been included over time.
Historical Background
Chanderi, strategically due to its height and fortifications, was originally constructed by the Hindu king Kirti Pal in the 11th Century. It has been invaded and destroyed by the Mughals and others several times and reconstructed each time. Over time it also developed into a historical fort town with many temples, mosques, gardens, and palace structures that can be seen even today.
Places to Visit in Chanderi Madhya Pradesh
Chanderi Fort
Babur's Mosque
Khuni Darwaza
Chanderi Museum
Badal Mahal, Singapur Mahal
Jogeshwari Temple
Kati Ghati Gate
Shahzadi ka Rouza
Parmeshwar Tank, etc.
These places are best considered and recommended to explore Chanderi History.
Things to Do in Chanderi
Visit Chanderi Madhya Pradesh and explore the natural beauty of its stunning hills, lakes, and forests and enjoy the soothing climate of Chanderi.
Visit handloom factories to see how the outstanding handwoven Chanderi sarees are created using silk and cotton.
Take some time and visit the Jain temples of Chanderi, which are a great part of Chanderi Tourism. Explore the rich culture of the Parwar Jain community, who built several temples in the area like Shri Chobisi Jain temple, Shri Khandargiri Jain temple, and Shri Thobonji Jain temple
Some of the prominent Jain centers that one can visit are Gurilagiri, Aamanchar, Bithala, Bhamon, Khandargiri, Thuvanji, and Bhiyadant
Enjoy boating in Tigra Dam, a freshwater reservoir on the Sank River.
Festivals in Chanderi
If you are very keen on buying the famous Chanderi sarees and similar fabrics that the place is known for, visit the town during Chanderi Silk Festival, which takes place almost every year.
Visitors can buy a wide range of items at this festival like designer Chanderi sarees, suits, fancy sarees, dupattas, and more. They can even get fantastic prints like bagh, bamboo, kalamkari, rapid, etc is the specialty of Chanderi Madhya Pradesh
Local Cuisine to Try in Chanderi
Try succulent North Indian, South Indian, Punjabi, and Chinese cuisine served at popular restaurants.
Also, satiate your hunger with kebabs, bhutte ki kees, mawa-bati, khopra pak, and malpua, served at many food joints in the city.
Where to Stay
There is absolutely no problem with accommodation in Chanderi; in fact, one can have good accommodation facilities throughout the city. You can stay in lodges, guest houses, and hotels. Chanderi offers tourists a comfortable stay.
Some of them are listed below
Tana Bana-MPTDC
Hotel Shri Kunj
Amraee Guest House
PWD Guest House
Circuit House Rooms
Shopping in Chanderi
Many shopping centers in Chanderi sell incredible Chanderi silk sarees, salwar Kurtis, brocades, and muslin cloths. Many traders, designers, and Chanderi silk lovers visit this fascinating destination to buy their favorite fabric, which is found nowhere else in India. Some shops you can visit during your exploration in Chanderi include Anupam Collection Store, Nirupam Gift Center, Matheran Market, etc.
Explore More: Manuabhan Tekri – A Beautiful hilltop in Bhopal
How to Reach
By Air: The nearest airports to reach Chanderi are Bhopal, Gwalior, and Khajuraho, which are 220 kms, 250 kms, and 250 kms, respectively, from Chanderi. These airports are connected to many metropolitan cities of India.
By Train: The nearest railway station to reach Chanderi is Lalitpur, approximately 40 kms on the Bina-Bhopal track. One can hire a direct taxi to reach the hotel in Chanderi from the railway station.
By Road: Chanderi is well connected with other major cities like Bhopal, Gwalior, Khajuraho, and Delhi. Tourists can take either a bus or book a taxi to reach their desired destination in Chanderi.
Best Time to Visit
Madhya Pradesh has become an important tourism region in India and is visited by many domestic and foreign tourists. Chanderi plays a great role in the heritage tourism of India and is more of a rocky destination with desert-like areas, historical monuments, and archaeological sites. Royal palaces, temples, etc. are some of the major attractions of Chanderi Madhya Pradesh that can be best visited in winter between October and April as the climate remains pleasant and good.
Conclusion
If you also love to visit historical places and love handlooms, you must visit Chanderi in Madhya Pradesh. There is a lot to shop and explore at this beautiful destination.
Also Read: Orchha – A Must Visit Hidden Gem in Madhya Pradesh