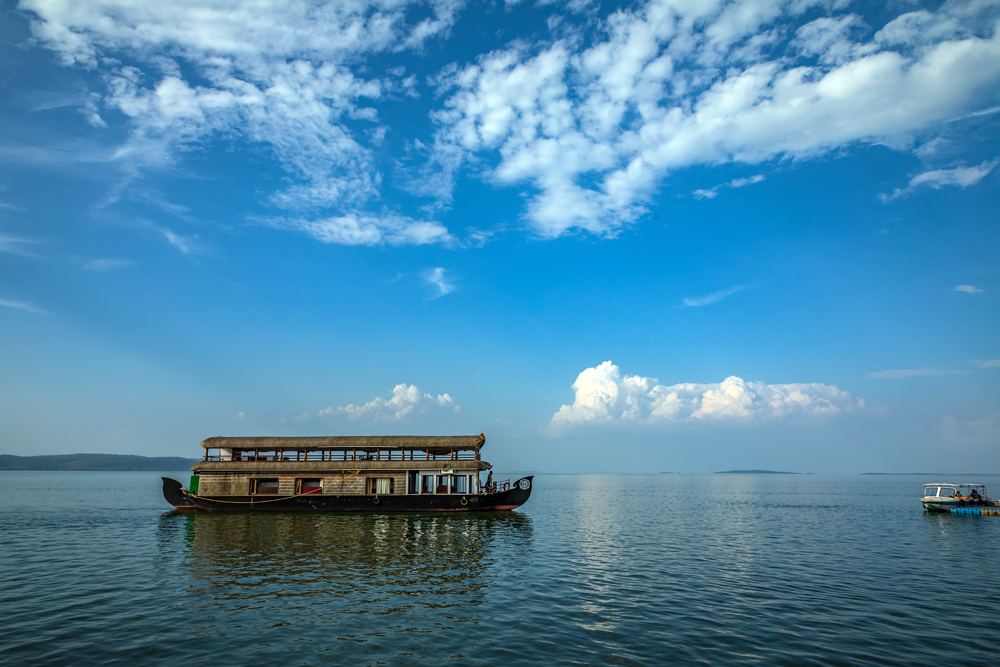 Hanuwantiya Island is one of the top tourism destinations in Madhya Pradesh. This island is developed and managed by Madhya Pradesh Tourism Development Corporation. The unexplored and untouched Hanuwantiya Island is located on the backwaters of the Narmada River and has been transformed into a small city.
It is located at a distance of 137 km from the Indore mainland. The island was named after a nearby village in the Khandwa district.
Madhya Dweep is a group of islands in the Indira Sagar Dam, including Sailani islands (another adventure tourism destination in the works) and Hanuwantiya, located near the dam's bank. During "Jal Mahotsav " this place offers a variety of water sports in addition to abundant natural beauty.
Every year, Hanuwantiya hosts India's only and largest water carnival, Jal Mahotsav. This grand event is a heaven for adventurers, art lovers, foodies, and city dwellers tired of the chaos.
There is something for everyone, from a relaxing sailing cruise to speed boating and other water activities. With a half-day tour to Boriyamal Island, you can trek to explore the rich flora and fauna.
Activities to do on Hanuwantiya Island
The ferocious water of Indira Sagar is ideal for Jet Skiing. The combination of the flowing wind and the speed of the motor will be a thrilling experience. The Jet Ski usually costs around Rs. 750, and the exciting adventure is well worth it.
Snorkeling will allow you to explore the vibrant and colourful life that the river offers.
Scuba diving is your activity if you want to explore the water and its colourful life comfortably. Scuba diving in the water near Hanuwantiya island will enchant you, and you will be astounded by the colourful and diverse fish and plants that live there.
Another activity you could try on Hanuwantiya island is water zorbing. You'll be crammed into a large airball and left to float on the water. This is an intriguing and exciting concept that you should try.
The big cruise is for those who want to spend some quiet and peaceful time on a boat while admiring the magnificent beauty of this place. The cruise floats peacefully on the water around the Hanuwantiya island, where you can sit back, relax, and enjoy the magnificent view of the water and the island.
Water parasailing is for people who want to enjoy the water and the air. This is for those who want to be daring and participate in an exciting activity. You'll feel as if you're flying through the air. Water parasailing is typically priced around Rs. 1000.
If you're not a pro at surfing but want to give it a shot, Water Surfing is your activity. This will be completely safe because the surfboat will be attached to a motorboat, and all you have to worry about is staying balanced. The average cost of water surfing is around Rs. 1500.
If you don't want to participate in any water activities, you can take a hot air balloon ride for a bird's eye view of the entire area. The hot air balloon ride will give you the sensation of flying through the air and will undoubtedly be a pleasurable experience.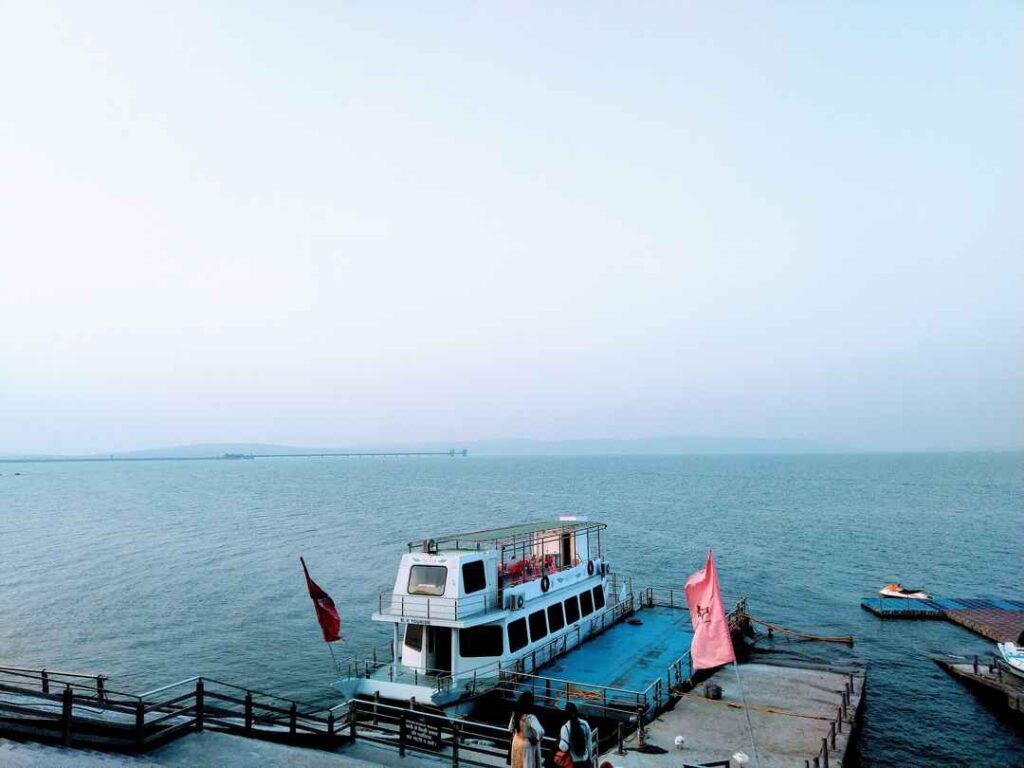 Best Time to Visit Hanuwantiya Island
Hanuwantiya Island in Madhya Pradesh is a year-round destination because the weather is generally pleasant. However, visiting between July and April is ideal if you want to enjoy yourself to the fullest.
Other Tourist Attractions Near Hanuwantiya Island
Whenever you plan a trip, you always try to cover multiple destinations in one go. Yes, it is a good practice though and here we are with other famous tourist attractions that you can explore when you are in Hanuwantiya Island.
Shri Sant Singaji Dham
Sant Singaji Dham, located only 10 kms away from Hanuwantiya island, is a well-known pristine location. Many people come to the temple to seek blessings. This temple is located on an island surrounded by clear blue water, making the location appear even more pious.
The Indira Sagar Dam is a must-see because it offers a spectacular view of the surrounding area. The dam, surrounded by green trees and filled with blue water, is quite a sight to behold. The dam is a must-see if you want to unwind and relax.
Shri Dadaji Darbar is a temple dedicated to a figure known affectionately as Dadaji. He is said to have performed miracles and healed the sick. He gained many followers, and this temple is visited by a large number of devotees each year who come to pray and seek blessings.
Boriyamal Island is located near Hanuwantiya Island and is a must-see due to its scenic beauty and abundance of wildlife. The island is teeming with lush green forests, animals, and brightly colored chirping birds. Spend a day exploring the beauty of this location and get lost in its tranquillity.
Jal Mahotsava is a lively annual event that lasts ten days. The government celebrates it to promote tourism in the state of Madhya Pradesh. The Jal Mahotsava is a fun event that includes various water activities and competitions.
Beautiful tents with excellent facilities are set up for travelers to stay in. You can even go night camping, zip-lining, and participate in various indoor and outdoor activities designed specifically for children.
Kite flying is also organized, making the entire sky look colorful. Craft bazaars are also set up, offering picturesque and quaint handicraft items for travelers to purchase as souvenirs. This carnival is popular with children and adults and should be visited at least once.
Cuisine to try in Hanuwantiya Island
Though Hanuwantiya Island was established years ago by the Government, it does not have any specific cuisine. But, Indore is near Hanuwantiya and visitors must-try food in Indore. Indore is well-known for its Indori Poha and Imarti.
Pani Puri, Vadas, Idlis, Dosas, Sabudana Khichdi, Bhel Puri, Poha, Chaat, Kachori, Samosas, Dal Bafla, Chole Bhature, and a wide variety of traditional salty snacks called Namkeen round out the essentials.
There are also a variety of sweets to enjoy, including Jalebi, Malpua, Gulab Jamun, Rabri, Faluda Kulfi, and others. Jal-Jeera and Lassi are two popular traditional beverages.
How to reach Hanuwantiya Island
By Air: The nearest airport to Hanuwantiya is Indore Airport, which is well connected to major Indian cities. Hanuwantiya is 150 kms away and is easily accessible by car rental.
By Rail: The nearest railway station to Hanuwantiya is Khandwa which is at a distance of 50 kms. There are numerous rental car agencies near the railway station to take you to Hanuwantiya.
By Road: Hanuwantiya is only 150 kms from Indore. You can either rent a car or drive your car on a scenic road trip to get here. Some private and public buses run from Indore to Hanuwantiya.
Best Resorts in Hanuwantiya
MPT Hanuwantiya Resort, Hanuwantiya
Radisson Blu Hotel
Indore, Sayaji
Indore Fairfield by Marriott
Conclusion
If you are an adventure seeker, nature lover, and a water sports person, this destination is a perfect pick for you this summer. What else do you need if you can enjoy the water, and soothe your soul with mesmerizing natural beauty in summer? Vacations are on the way and so you should to the lesser explored, exciting and thrilling Hanuwantiya Island in Madhya Pradesh.
Also Read: Tehri Lake: Perfect Destination for Adventure Lovers