Of all the blessings that nature has showered upon Assam, Majuli has to be one of the best. Known as the largest river island in the world, Majuli is inhabited by over 98,000 people. This pristine island is formed by the mighty Brahmaputra River and its tributaries. The picturesque and pollution-free environment invites a lot of domestic tourists to the place. These days, however, few foreign tourists have also found their way to the island. For people who are looking to enjoy nature in its best form, Majuli appears to be very promising.
Not just natural beauty, but Majuli island is the best place to learn about Assam and Assamese culture. It has been known as one of the most important cultural centers in Assam since the 16th century. Rightly so, you will find many monasteries constructed by the Assamese Saint – Srimanta Sankardeva, still surviving and depicting the culture of Assam. In fact, Majuli, which is known for these monasteries (locally called Satras), attracts hundreds of devotees every year, who come here on a pilgrimage.
Apart from these Satras, Majuli is also known for its rich art and craft culture. From handmade face masks to its famous religious theatrical performances (Bhaona), this island has attracted eyes from in and around the state for a long time, and gradually, even spiritual foreigners are finding their way into the island.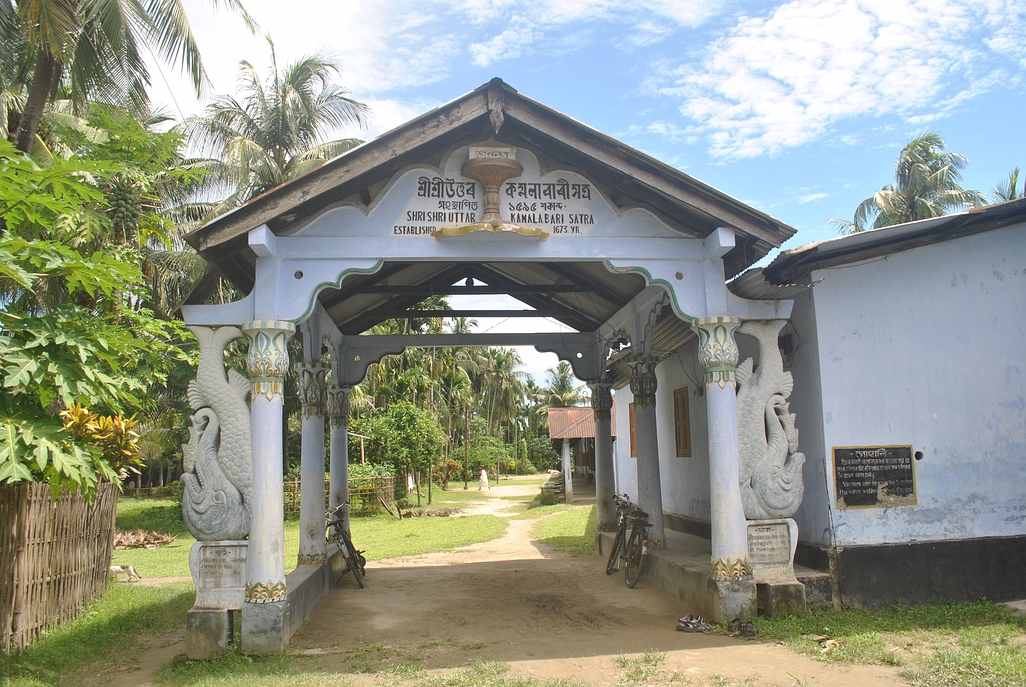 Not just the rich cultural heritage, but the inhabitants of Majuli will also win hearts. Their humble nature and simple way of life, which is often knitted together with nature, will definitely be a strong reason for a tourist to visit the island.
Places to visit in Majuli:
As mentioned, Majuli is known for its historic Satras, dedicated to Lord Vishnu. These Satras are a centre of prayer, study and performing arts for the residing monks. When in Majuli, make sure to visit these Satras to delve into the religious fervour of the place. Some of the most important Satras are Kamalabari Satra, Dakhinpat Satra, Auniati Satra, Tengapania and Garmur.
Things to do in Majuli:
Visit satras, definitely!
Drink the local rice beer. You can easily find rice beer all over the northeast. It is homemade, delicious, cheap, and a great way to interact with the locals and to know the place even better.
Cycle around the countryside. The fresh air, pollution free environment and almost empty roads will give you the perfect cycling experience. So, pedal along and explore the area!
Make sure to experience the craft of mask-making. Not everywhere will you find people making these special masks. The best place to explore the beauty of this craftsmanship is at the Samaguri Satra, where you can meet the craftsmen, see the process of mask-making and also buy some souvenirs. Nutan Chamaguri Satra is also another place where you can enjoy the beauty of this art.
Watch birds! Majuli island is home to numerous local and migratory birds, and winters are the perfect time to spot them!
Experience the breathtaking sunrise or a sunset on the island! Or both!
Eat 'Kumol Saul' (Soft rice, or sometimes called the 'magic rice', Kumol Saul requires no cooking! It is often served with curd and jaggery. Have it for breakfast and relish the taste for the entire day!)
The best time to visit Majuli:
The best time to visit Majuli is between September to March. Needless to say, monsoons are the worst time to visit Majuli as it is prone to floods during this season. So, avoid visiting Majuli between April and July. Summers are hot and it makes travel to the island a little difficult.
The famous Raas Utsav is celebrated annually during the months of November-December. If you wish to enjoy live performances of a number of artists depicting the life of Lord Krishna, you should make sure to visit the place accordingly. The artists wearing handmade masks and costumes, singing and dancing to the tune of local instruments is a must-see!
Explore More: Sambalpur: The Heart of Western Odisha
How to reach Majuli:
The easiest way to reach Majuli is through Jorhat. While you can fly to Jorhat from any part of the country, flying to Guwahati is comparatively easier, and cheaper. From Guwahati, you can take a bus or private transport to reach Jorhat.
From Jorhat ISBT or airport, you can either opt for local transport (tempos or autos), or hire a taxi that will drop you off at Nimati ghat.
From Nimati ghat, there are quite a good number of ferries that leave for Majuli. The ferry ride over the mighty Brahmaputra would take almost an hour.
(Tip: Prefer shared tempos to travel to your destination in Majuli. Taxis charge a lot!)
Accommodation in Majuli:
Though tourism in Majuli is gradually gaining momentum, there are no luxury accommodation options on the island. But there are many homestays, guest houses and cottages that will make sure that you have a beautiful stay at the place. You can also find some lodges and hotels at Kamalabari. These are pocket friendly stays with commendable hospitality that will make your visit to the place worthwhile.
Food options in Majuli:
Just like any other small city, Majuli provides a number of food options to its visitors. From traditional Assamese cuisine, to fast food, Majuli has a lot to offer. Depending on the area you are in, a variety of food options will always be available.
Other places to visit near Majuli: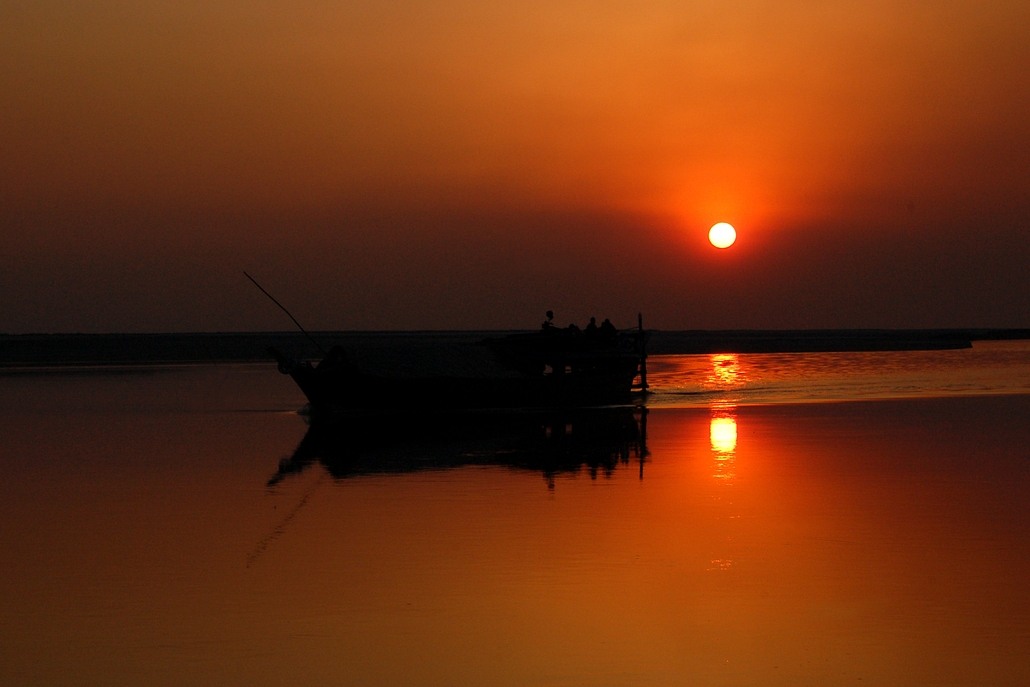 Majuli is an island and it will require you to cross the Brahmaputra to reach any other location. There are many spots nearby, but you might want to finish your stay at Majuli first, then move on to the next. However, after reaching Jorhat, other historical places like Sivasagar, Jorhat, Kaziranga, Tezpur and Guwahati become more accessible.
Dos and Don'ts in Majuli:
Though it was once called the largest river island, Majuli is gradually decreasing in size due to soil erosion and floods. Therefore, as much as the island relies on tourism for its survival, a little concern from the visitors will also be of great help. There are no hard and fast rules on the island, but travelling responsibly will do no harm!
Cars and bikes can be carried to the island, but it is way better if you can rent a bike.
As mentioned, there are many eateries that can provide you with snacks or meals, so packaged food can be avoided!
If possible, focus on buying momentos or souvenirs from local outlets as the artisans on the island belong to a humble background.
Currently, Majuli is probably running back in time. But surveys say that the island may disappear in the near future. The island that once held the Guinness World Record for being the largest river island, may soon be washed away by the mighty Brahmaputra. It has already shrunk by over 60% till date! From over 1,000 kms of land, all that is left today is barely 400 kms!
Out of almost 64 Satras, there are only 22 satras remain on the island today. We can get a hint here as to how rapidly the island is shrinking in size!
Conclusion
The trip to this beautiful island will not be just a leisure holiday, but it will also help the locals. Residents of Majuli are mostly agricultural people, but their livelihood depends a lot on tourism. So, visiting the island and contributing to their financial well-being can be one way of improving their livelihood. Apart from this, the island will not disappoint its visitors in any way! So, what are you waiting for!
Explore More: Uncharted Natural Tourist Spots in Shillong, Meghalaya