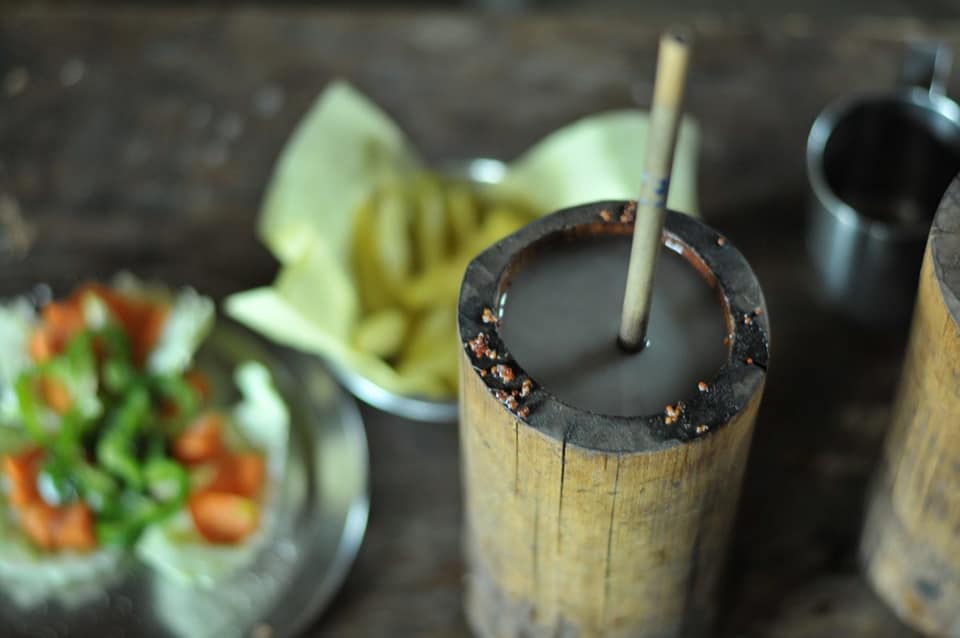 We have already listed out multiple reasons for you to visit the unexplored places in the northeastern part of our country. If that wasn't enough, I am sure this article will definitely motivate you to plan a trip ASAP! The locals here brew amazing rice beers, made of rice (obviously!), mixed with other natural herbs.
What's even better? These beers have medicinal properties too! But as it is said, excess of everything is bad. So, make sure you visit the place and quench your thirst for rice beers, but also be responsible while doing so!
Apart from bringing down stress levels, these traditionally brewed beers are considered to be natural antioxidants. They also protect you against gastronomical problems and help in treating infections. Reportedly, these rice beers have a positive effect on mood and anxiety-like symptoms. It is also associated with hospitality and is sometimes served as a welcome drink.
In some tribal communities, babies are fed a few drops of the traditionally brewed rice beer post-birth! The process of fermentation of rice, to make it into beer, enhances nutrition and also infuses them with a dose of probiotics.
Not to forget, these traditional beers also play a very important role in religious functions. Made with herbs that are local to the communities, the rice beer is a very important beverage to carry out various rituals to please the spirit of their ancestors or any supreme power that the locals believe in. No celebration, ritual or even funeral is complete without rice beer.
Let us know more about them:
Lau Pani in Assam:
This is a type of rice beer that is basically brewed by the Ahom tribe in Assam. Lau pani is prepared by first mixing cooked rice and some particular dry herbs. This mixture is then let to sit on an earthen pot to ferment for a few days. The naturally produced water is then strained and consumed as beer. Lau Pani is used in celebrations like marriage ceremonies, and also as an offering to the dead ancestors. The first serving of beer from this pot is called Rohi and is sweet in taste.
Judima from Assam:
The traditional Judima rice beer of Assam's Dima Hasao district is the first beverage from the Northeast to receive a GI tag. Needless to say, this rice beer is one the most celebrated and popular beverages in the region. The Dimasa community hosts a festival, called the Judima festival, to popularize this indigenous drink.
Apong from Assam and Arunachal Pradesh:
Apong is a traditional rice beer made by the Mishing tribe in Assam and the Adi people of Arunachal Pradesh. The mixing of local herbs, drying, smoking the earthen pot, fermenting and filtration of this beer takes almost 3 months. It is known for its sweet malty taste and is also quite popular as a potent drink.
Chuwak from Tripura:
Served in earthen pots, this rice beer is also known as Langi. It is known for its unique taste and also as one of the costliest rice beers in Tripura. This signature beverage in Tripura takes three to five days to brew. This beer is specially used on auspicious occasions.
Chhang from Sikkim:
Usually drunk in winter months, this hot beer is famous in Nepal and Tibet. However, certain northeastern communities like the Sherpas, Tamang etc, brew this beer locally. Unlike the other beers which are stored in earthen pots, Chhang mixture is stored in bamboo barrels called 'Dhungo'. So, whenever you need a drink, you pour hot water into the mixture and let it sit for a while. The alcohol content in Chhang is relatively lower than the rest of the rice beers.
Zutho from Nagaland:
The Mao and the Angami tribes brew this white-coloured rice beer. It is made from sprouted rice grains and is available in different levels of potency, based upon the level of the fermentation process. The fruity aroma and sour taste give this rice beer a unique identity.
Bitchi from Meghalaya:
Found only in the garo Hills of Meghalaya, this rice beer is known for its sweet and smoky flavour. The brown and golden coloured beer gets its flavours from local fruits. Bitchi is a necessity in almost all religious ceremonies of the Khasi and Jaintia tribes in the state.
Kyat:
Another popular beer from Meghalaya is Kyat. It is preferred by the locals because of its relatively low alcohol content, which leaves the drinker with a nice buzz. It can probably be said that Kyat is the most famous form of rice beer in the state. Almost all eateries serve this beer, and locals often stock the drink in their houses.
Yu from Manipur:
Prepared by Manipur's Meithi community, Yu is one of the smoothest rice beers of the northeastern region. It is also made by fermenting rice using traditional methods. This sweet and bitter tasting beer takes about four days to be ready for consumption. Yu is also offered to deities and is considered beneficial for medicinal purposes.
Sujen from Assam:
Sujen is brewed by one of the oldest settlers in North Eastern India, the Deori tribe in Assam. Sujen is a mixture of rice and local herbs, ground together in a special traditional wooden grinder. It is then fermented for about 5 days and distilled before consumption.
Opo from Arunachal Pradesh:
The Adi-Galos tribe in Arunachal Pradesh prepare Opo. A mixture of rice, local herbs powder, and some leftover Opo from an earlier batch is used to brew this beer. It takes around 20 days before it can be distilled and consumed.
Health benefits of Rice Beer
It is enriched with probiotics
It is a rich source of nutrients
It is a natural antioxidant
It is a perfect antidote to boost strength, remove fatigue and relieve pain
It also helps to prevent gastronomical disorders and to treat infections as well
Conclusion
This article just presented a few of the long list of local rice beers that are available in the North Eastern region of our country. Apart from wonderful sceneries, fresh air and spellbinding natural beauties, the region has a lot to offer to tourists. So maybe next time, when you are planning a trip to this amazing land of unified diversity and culture, make sure to taste these raw mother nature's elixirs! It will definitely add a cherry to your vacation cake!
India is blessed with many attractive destinations and it is not that difficult to choose one for your next vacation. However, instead of picking the routine destinations, this time take your loved ones to any unexplored location and enjoy each moment. TheTravelB.Com is your best guide to select underrated destinations across India. Reach us @ https://thetravelb.com/contact-us/ or send an email to contactthetravelb@gmail.com to share your experiences or for any suggestions.
Explore More: Godly Amarkantak – The Spiritual Soul of Madhya Pradesh