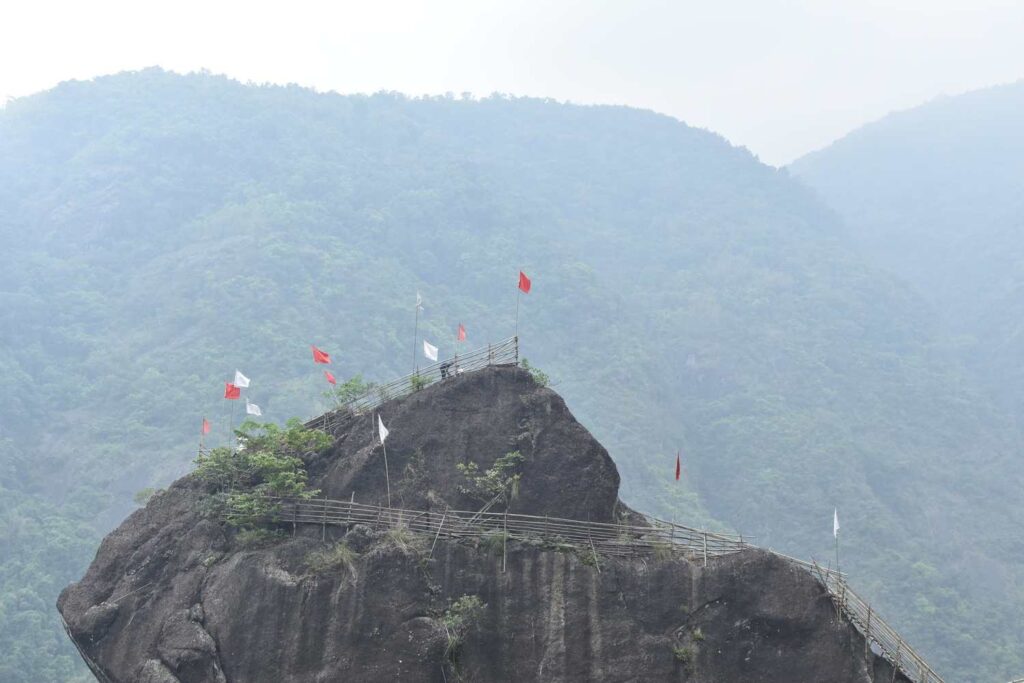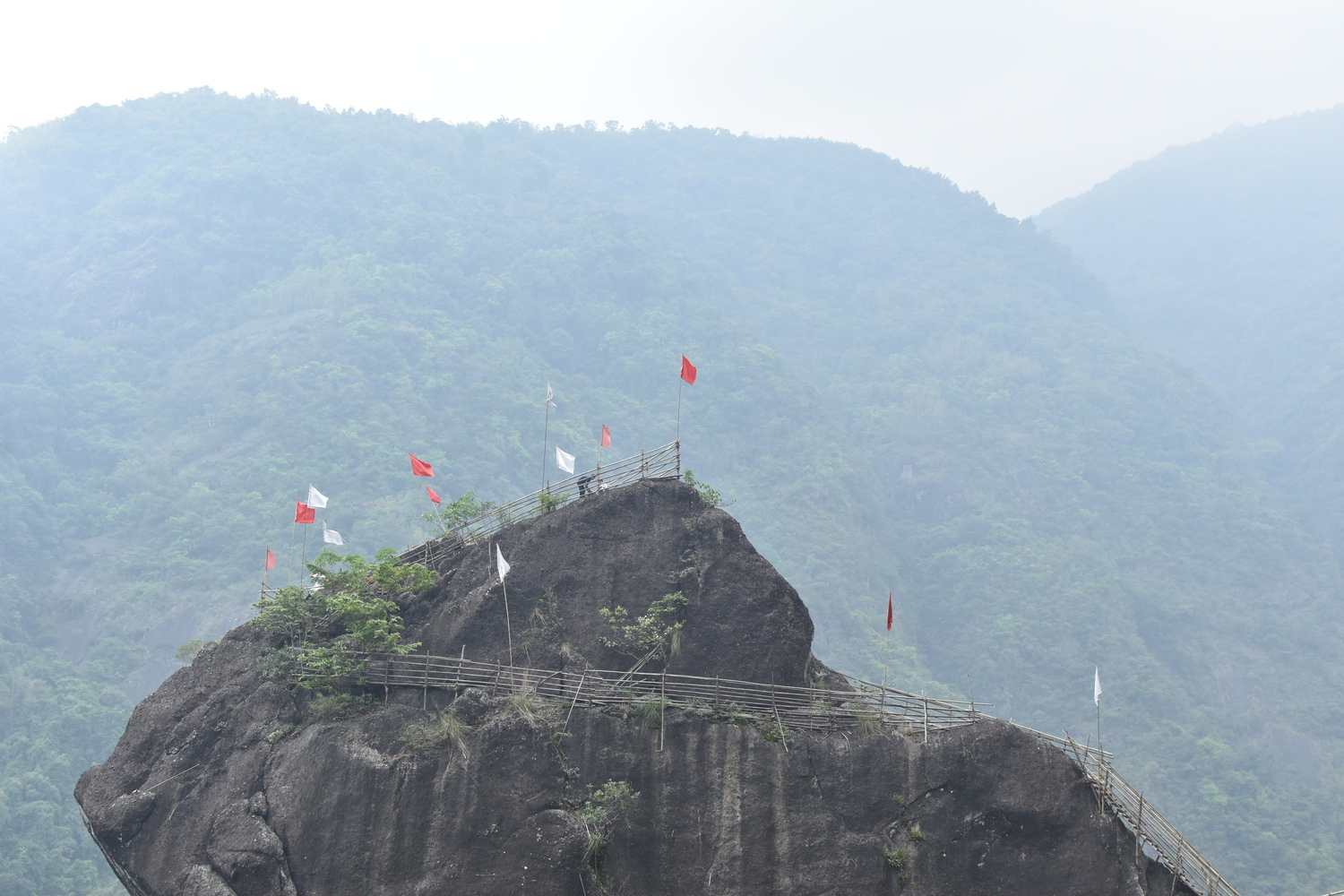 Apart from Shillong and Cherrapunji, Meghalaya has a lot to offer. Though a number of places in the state have gained popularity among travelers, a lot of it also remains unexplored.
One such destination is the Mawryngkhang trek. Wondering how to pronounce the name? Well, you can call it the Bamboo trail, or bamboo trek. There are a number of trekking trails and adventure activities in Meghalaya, but this trek is one of its kind.
It is said to be the scariest bamboo trek in the state, and I think it is rightfully called so! The latest addition to the adventure activities, this man-made bamboo trail runs along a mountain cliff, offering travelers sights that will never be forgotten.
This thrilling trek begins in the village of Wahkhen in the East Khasi Hill district of Meghalaya. It lies on the popular Shillong-to-Dawki route. It is just 48 km from Shillong and over 52 km from Cherrapunji. The endpoint of this trek is on top of a huge rock called U Mawryngkhang, which literally translates to 'King of stones'.
Story of Mawryngkhang:
According to a Khasi legend, there was once a great battle between stones, and Mawryngkhang emerged as the mighty winner, who was later declared the King. He then fell in love with 'King', who was also loved by another stone named 'Mawpator'. This resulted in a fierce fight between both lovers.
Mawpator is said to have broken Mawryngkhang's left hand, who in turn hit him with such force that his head fell off. Mawryngkhang proved himself the king once again and lived with 'Kthiang' happily thereafter.
It is said that from the viewpoint on top, Mawpator's head can still be seen in the deep gorge and the rest of the rock can be seen in front of U Mawryngkhang on the other side of the stream. The king of stones stands tall with some scars he earned in that battle, with the stone of his love, Kthiang, standing right behind.
This trek can be completed within 3-4 hours, which may vary, depending on your fitness and number of breaks. Though man-made, the bamboo trail is strong and sturdy. So, if you know how to balance yourself, this isn't going to be very tough.
However, it is not meant for the faint-hearted as there are parts of the trail that runs right at the edge of the cliff for about 10-15 minutes. Standing on bamboo tracks at the edge of a 100m tall cliff, with forest on one side and deep pits on the other, will require some real mental and physical strength.
Like the Living Root Bridges, these treks are also made by the locals, with no help from the government. Not just the treks, but the bamboo bridges and ladders are also made by them. These bridges are tied together by cane ropes and interestingly, only a few nails were used for the construction.
After putting in a lot of hard work and effort, this trek was opened to the public in 2016. In the times of bots and machines, the fact that the villagers built the entire trail themselves, signifies their skill and craftsmanship. It also stands as proof to their unique and inviolable bond with nature.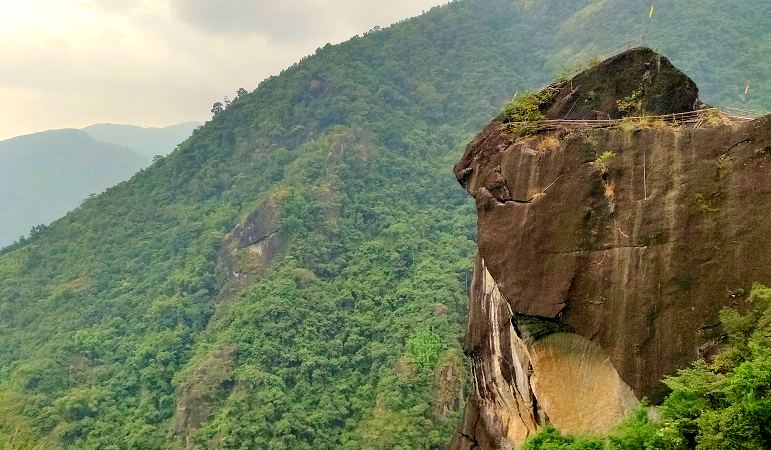 How to reach Mawryngkhang Trek:
As mentioned, this trek starts from Wahkhen village. Assuming that you will start your journey from Shillong, you can drive upto this place or can hire a taxi. Remember that public transport to this village is not available.
After reaching Wahkhen, park your vehicle at the parking lot (Rs 20 for motorbikes and Rs 50 for cars), register yourself at the registration point, pay the entry fees and start walking! (Entry fee for adult: Rs 100)
Do you need a guide? Well, I would say No, as you can easily follow the route and reach your destination.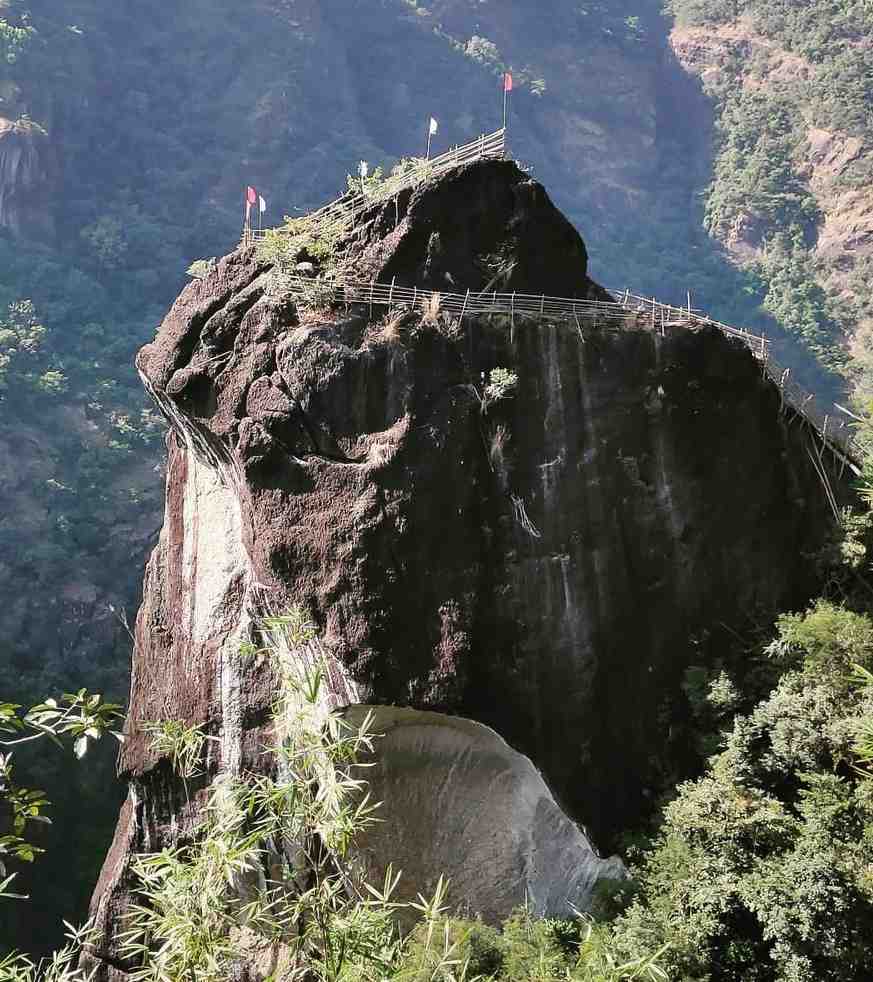 Trek route:
Wahkhen village – Wahrew River – Mawkhlieng Cliff – Mawmoit Viewpoint – Mawryngkhang Rock
Food and accommodation:
Wahkhen village does not offer you any option for overnight stay. You can either stay in Shillong, or Cherrapunji. Pynursla can also be another option.
Though the village does not have any hotels or resorts as of now, you can still request the locals to let you stay in the village. If you are lucky, some arrangements will be made.
Also, it is better if you carry your own food with you, as the last eatery you find is at the parking lot from where the journey starts.
Places to see near Mawryngkhang trek:
Laitlum Canyons, Arwah cave, Mawphlang sacred forest, David Scott trail, Dain-Thlen falls are just a few of the nearby places that you can visit. Be certain that none of these will disappoint you!
Do's and Don'ts:
Carry water bottles, snacks and energy bars! You will need it!
Raincoats are a must as no one can predict Meghalaya weather!
Wear comfortable, non-slippery shoes
Start your journey early
Since you will be doing a lot of climbing, you might want to carry some pain relief spray
Do not litter. Do not throw plastics around
Follow the instructions. If it says not more than 5 people, it means the 6th one might be the reason for your fall.
Carry sleeping bags, just in case!
If you have a fear of heights and still plan to go on this trek, think multiple times!
Avoid Monsoon season
Conclusion
Though this trek might challenge you physically, the mental satisfaction that you gain at the end of the day will literally take you to the top of the world! Apart from the sight of the serene natural springs that you cross mid-way, the pure air that you breathe in, and the incredible view of the valley from up there, this trek will also fill your heart with respect for the locals, who built the tracks with their expertise! It will take you a step closer to nature. You will come as an adventurer but leave as a nature lover. So, if you are looking for some thrill this time, Mawryngkhang trek is just for you.
Also Read: Visit this mysterious bird suicide point in Assam