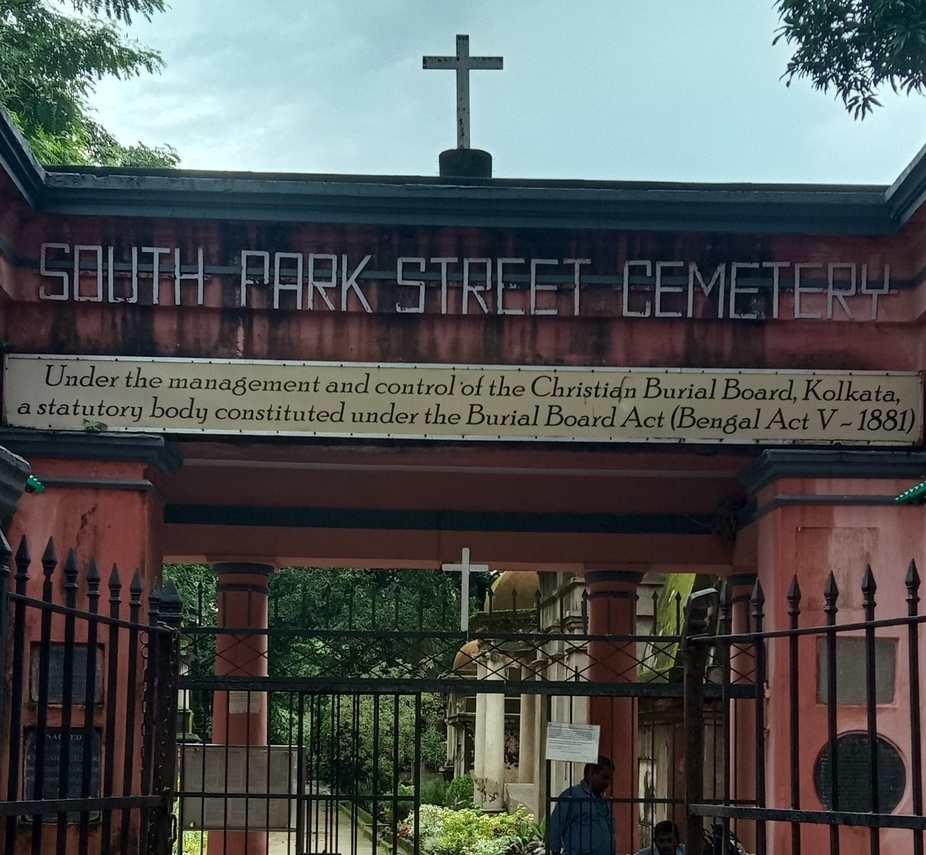 While planning a trip to any place, I bet no one includes a visit to a cemetery in their itinerary. However, what we present to you in this article is an 18th century graveyard, that is definitely not going to ruin your travel. It might sound crazy but this cemetery in Kolkata is eerily beautiful and is sure to tickle the ones who visit a place for adventure!
The South Park Street Cemetery is an 18th century graveyard. It was apparently established in 1767, making it 254 years old! Yes, it's older than America! This is one of the oldest non-church cemeteries in the world. With over 2000 graves, the place appears like a set of horror movies.
This cemetery is easy to spot. Located in Mother Teresa Sarani, it is just opposite to the assembly of God Church School.
The dilapidated pink wall paint, layered with black mould doesn't look very inviting at first, but once you enter the iron gates, it gets a little welcoming. The caretakers have wonderfully placed a lot of potted plants at the entrance. If you manage to ignore the tall tombs on both sides, you can actually enjoy a variety of plants.
As soon as you enter, rows of gray obelisk, pyramid and dome shaped structures spread out in all directions, in no particular fashion as such. The place is well-kept. Broad pathways lead you to almost all parts of the cemetery, providing you with the opportunity to closely view the graves. The ambience, though somewhat spooky, lets you dive into colonial India.
Some graves that are worth mentioning:
Tomb of Sir William Jones
If you walk straight on the pathway, a white structure catches your eyes. Placed at the centre of the cemetery, this is the highest, brightest and definitely the kind of grave that is impossible to miss out on. It is the tomb of Sir William Jones, a renowned philologist and founder of Asiatic Society of Bengal. The epitaph on this grave is a must read!
Though this particular tomb invites all attention, personally, the most beautiful one is that of Charles Stuart (1758-1828). An officer in the East India Company, he was also known as 'Hindoo' Stuart. He was called so as he was one among the few British officers, who had embraced Indian culture.
He apparently requested that his grave be made in the 'panchyatana' style, and there it stands! With beautiful amalgamation of Western, Islam and Hindu designs, this tomb looks like the brightest rose in a garden.
Tomb of the Dennison family
It is said that during monsoon, the Dennison family tomb oozes blood. So, it is nicknamed the 'bleeding tomb'. As per reports, the entire Dennison family died within a week one after the other with unknown causes. While visiting, make sure to find this tomb and check for blood spots for proof! (Spoiler alert: You might not find any!)
Also Read: When in Kaziranga of Assam, Visit the Largest Orchid Park
Tomb of Elizabeth Jane Barwell
The tale of Miss Sanderson is very interesting. Apparently, Elizabeth Jane Barwell (or Miss Sanderson), was a very celebrated person of her times. Daughter of a colonel in East India Company's army, she was known to be the most beautiful girl in the city. She was also known for her notoriety.
A popular story is that she pranked 16 of her suitors to wear some ridiculous outfit to a ball, saying that she would also be wearing something to compliment them. But as it turned out, the suitors only made a mockery of themselves at the event!
While walking through the Park Street cemetery, you will notice many graves with truncated pillars. As many of us would guess, it isn't because of any damage or natural calamity, but it signifies lives that were lost too soon. European kids who would come to the city, fell ill more often as a result of the city's humidity and mosquitoes. Hence, you will notice a number of child graves as many children lost their lives to malaria during those times.
Bordered by thick brick walls, the premise is spread across 8 acres. With a number of tall trees and tombs of equivalent height, the sunlight finds it difficult to enter the place, eventually leaving certain spots that are dark and naturally gloomy.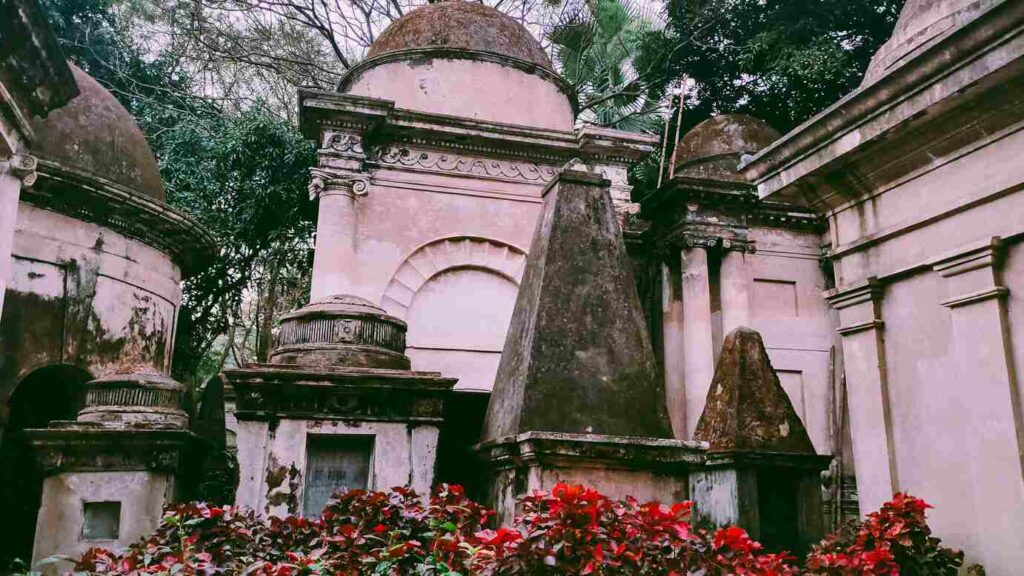 The broken old tombs, overgrown grasses, harrowing silence, constant chirp of crickets, and the mild wind bringing in cold chills from time to time creates a sense of fear in anyone who decides to take a walk in the premises. However, the same reasons also invite a lot of youngsters to visit the place and spend some time with themselves or their loved ones.
In an attempt to change the South Park Street cemetery premise to an arts center, realtors destroyed many graves in the 20th century. It was only after the legal intervention of Calcutta High Court, that the demolition was stopped and the damages were repaired to some extent.
We hope after hearing all these stories, and getting to know the place a little more, the feeling of fear and unease related to the supposedly haunted place should have gradually disappeared. The extraordinary size of some of the tombs, the labour, the materials that were used to build it, the ambience, the maintenance, the stories behind each tomb etc are some of the points of greater interest rather than spirits and ghosts.
Entry Fee
With a ticket of Rs 20, you can enter the cemetery on all days of the week. The charge will be Rs 50 if you carry your cameras. There are no guides to show you around. So, once you enter, the entire place is yours to explore. It would not be fun if you do not have prior knowledge about the place, so our article will definitely be of great help! The place opens for visitors at 10 am and closes at 5 pm.
Accommodation and food:
Food and lodging can never be an issue in the Park Street area as there are a lot of options that the visitor can choose from. Hotels, restaurants, fast food joints, ranging from low to high price facilities are abundantly available.
Other places to visit near South Park Street cemetery:
Kolkata in itself provides visitors with ample sightseeing options. From places of historical importance to places of worship, the city of joy never fails to entertain its guests. Some attractions nearby are Mother Teresa's House, Victoria memorial, Gallery kolkata, ISKCON Kolkata, Birla Temple and a lot more.
How to reach South Park Street cemetery:
By flight: The South Park Street cemetery is just at a distance of 16 kms from the airport. You can easily hire a cab and reach the destination from here
By train:- The cemetery is 2 kms away from Sealdah railway station, you can take an auto or taxi from here.
By road:- Best way to reach the South park street cemetery is by buses, taxis or autos
Do's and Don'ts:
Keep an open mind before visiting Park Street Cemetery
Avoid reading articles that scare you before going to the place
Talk to other visitors, you will get to learn a lot
Do not litter
Conclusion
Today, the South Park Street Cemetery has been preserved as an Archeological Survey of India site and is well maintained. If you are looking for some dark tourism or offbeat places to visit in Kolkata, this cemetery definitely deserves a visit!
India is blessed with many attractive destinations and it is not that difficult to choose one for your next vacation. However, instead of picking the routine destinations, this time take your loved ones to any unexplored location and enjoy each moment. TheTravelB.Com is your best guide to select underrated destinations across India. Reach us @ https://thetravelb.com/contact-us/ or send an email to contactthetravelb@gmail.com to share your experiences or for any suggestions.
Also Read: Visit Kaziranga National Park, the Finest Wildlife Retreat in Assam