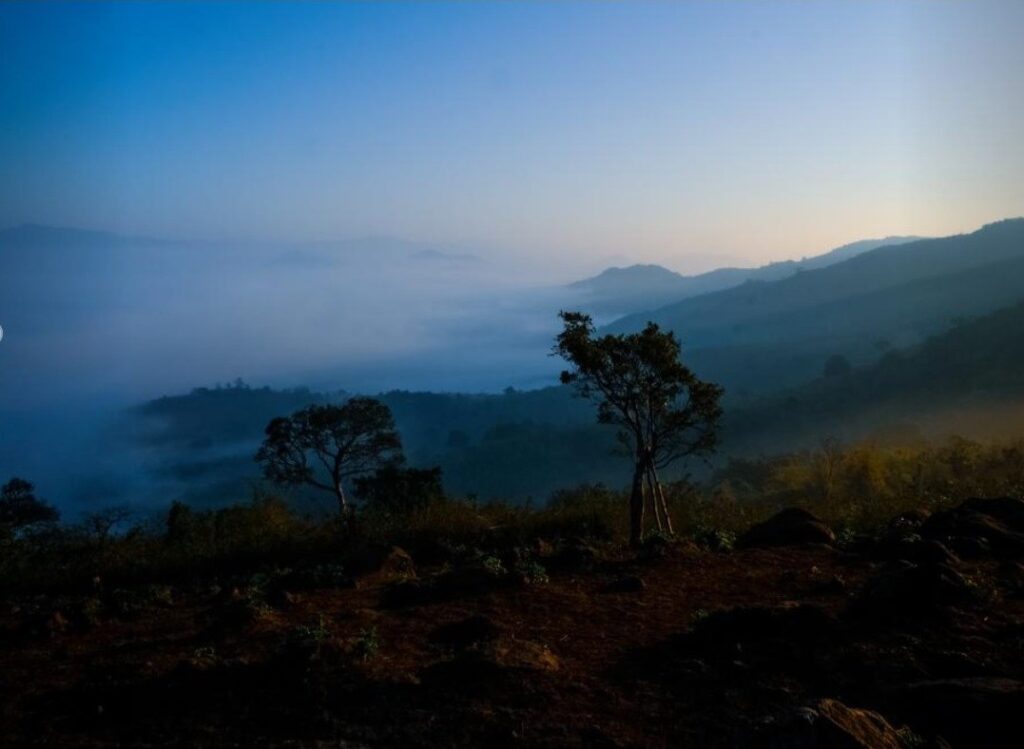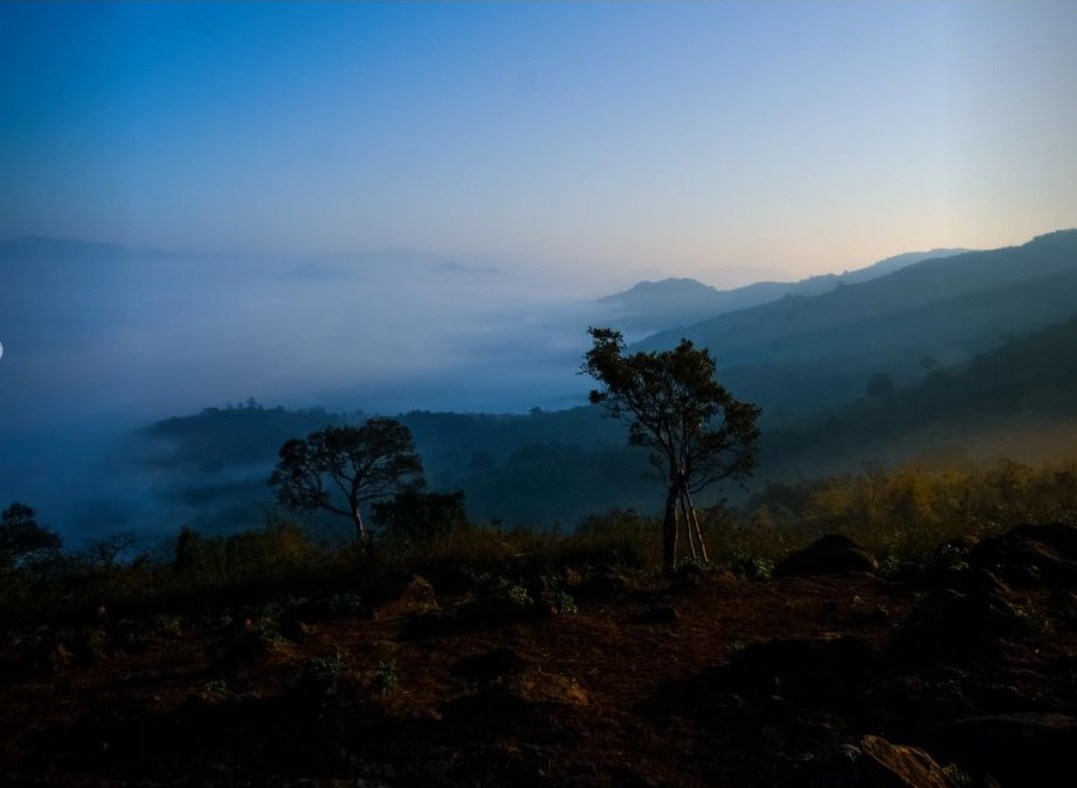 Summers are scornful. But summers in Andhra Pradesh are altogether a different level. Who wouldn't want to escape the soaring mercury and dwell in nature's lap amid green mountains and cold breezes?
The post-pandemic world is full of ambiguity and many people aren't sure about moving to different states and countries to spend holidays. More so, a quick getaway in Andhra offering Ooty-like feels is not a place to miss. 
Covered in dense forests, the untouched charm of the quaint little village 'Lambasingi' in Chintapalli Mandal of Visakhapatnam district is one of the few and less explored hill stations in Andhra Pradesh.
The hamlet located over 1,000 meters above the sea level in the Eastern Ghats hit the headlines in 2012 when it witnessed zero degrees Celsius temperature and snowfall, which is the first of its kind in the state of Andhra Pradesh.
Since then, it has become a booming place with tourists and nature enthusiasts who would make beelines to catch the glimpse of sunset and sunrise with the picturesque views of the mountain range throughout the day.
Just as the Andhra Pradesh Tourism Development Corporation (APTDC) has stepped up to make the best use of the increased footfall, opportunities and economic conditions of the region and locals have begun to soar.
How to reach?
The hamlet is located about 101 kilometers from Vizag, the city of destiny and it can be reached in less than three hours by road. The closest town to Lambasingi is Narsipatnam which is 32 kilometers away from the hill state.
Most of the tourists who visit Araku, the most popular tourist destination in Andhra Pradesh, also visit Lambasingi. Both the places are three hours and 92 kilometers apart.
The nearest airport is in Vizag and the nearest railway station is in Chintapalli. Taxis can also be hired to reach Lambasingi but they might cost a bomb. However, most people visit in private vehicles to this region.
Places of Interest:
Tajangi Reservoir, Chinna Rajupakalu
Annavaram Temple
Bojjannakonda, Rebeka, 9 a.m. – 6 p.m. Entry fee is Rs.15
Kothapalli Waterfalls, Gangaraju Madugula, 6 a.m. – 6 p.m.
Yerravaram Wwaterfalls, 6 a.m. – 6 p.m.
Kondakorla Bird Sanctuary, 7 a.m. – 5 p.m. Entry fee is Rs.10
Black-eyed Susan Garden, 7 a.m. – 6 p.m. Entry fee is Rs 20
Ghat Road
Sunrise trek to the viewpoint
Special attractions
Imagine strawberries and apples growing in Andhra Pradesh. Exciting, eh? Yes, here we are talking about Lambasingi weather, which is as unique as this place from the rest of the state.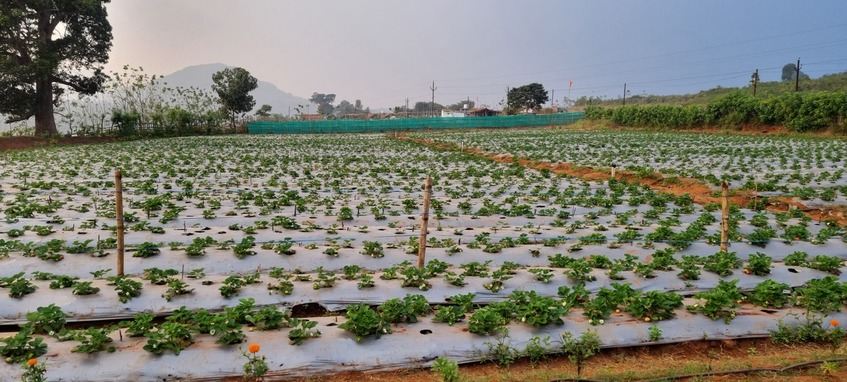 Having favorable conditions such as low temperatures, Lambasingi has become home to a good couple of strawberry farms and a few enthusiastic farmers have even tried their hands at growing apples in the region with additional farming tech support. All these, in addition to the sprawling coffee plantations.
Weather:
The summers usually record up to 15 degrees Celsius and winters record 0 degree and below. The best time to visit is during monsoons and early summers i.e., from November to April. To avoid crowds, pick weekdays over weekends and off holiday seasons.
Accommodation:
We suggest going out of your comfort zone to pitch a makeshift tent if you are an outdoor person or would love to have one for an experience. There are Lambasingi APTDC resorts and a few private accommodation facilities.
According to the APTDC's website, Lambasingi resorts are priced between Rs. 1500 excluding taxes on weekdays and Rs 2000 on weekends.
There are only four rooms, and non-AC tented cottages available to book online, which is why one might find it difficult to secure a modest stay in this remote Andhra Pradesh hill station. The rooms can be booked as early as six months prior to the visit.
Food:
There are numerous street-side vendors offering steaming hot Idlis and south Indian foods. It is advisable to carry your own water and ready-to-eat snacks because the hamlet hasn't completely taken over a touristy face yet making it difficult to find decent places that offer quality food and water.
Do not forget to gorge upon some spicy and delicious Bamboo Chicken, which is both a staple and specialty of the Araku and Lambasingi regions.
APTDC Lammasingi one day trip
The recently launched tourism program by APTDC is aimed at covering the important tourist places from Araku, starting off with a halt at Chaparai, Kothapalli, and Tajangi waterfalls, Matsyagundam, and other places of interest.
The package which is priced at Rs 999 per adult and Rs 799 for a child includes lunch and allows an entire hour to let your hair down and get drenched at Kothapalli waterfalls. It also includes a visit to the lush strawberry farms and apple orchards.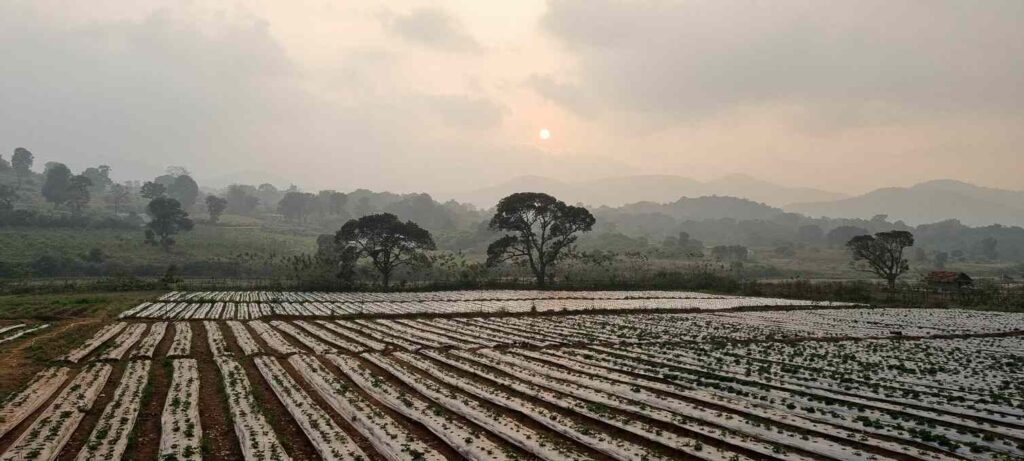 Also Visit
Vanjangi, another hamlet in Paderu Mandal with a hill viewpoint has emerged as a hot spot for youngsters who visit Lambasingi.
To get a view of the city of destiny, Visakhapatnam from 3,400 ft above sea level and catch beautiful sunrises, go a step forward from Lambasingi. From Araku, Vanjangi is at a distance of 44 kilometers.
Letdowns
Good accommodation is other than APTDC rooms which are almost sold out always and or are under maintenance/ under construction.
Inadequate facilities to encourage the tourism industry and engage visitors.
Lack of availability of a number of hygienic eateries and public restroom facilities.
Mindful tips
Unmarried couples are not allowed to book or stay in the APTDC Lambasingi resorts.
Carry warmers and sweatshirts along with breezy cottonwear for you wouldn't know how a hill station changes its climate so quickly.
The temperatures reach the lowest in the months of December and January, which is when the resorts are fully booked, and visitors throng the hill station.
For any further information and bookings, call APTDC Lambasingi at 8500085151
Also Read: Best Tourist Attractions in Srikakulam