The quaint little place called Maredumilli, located in the East Godavari district of Andhra Pradesh is emerging as a popular picnic spot for the tired souls.
The dainty jungle village was conserved and developed by the tribals; surrounded by picturesque landscapes and waterfalls paints a pleasant canvas when visited during peak seasons – winter and monsoon.
Nevertheless, Maredumilli offers its quintessential charm that is so alluring to everybody who looks up to it, irrespective of time and season.
What can be the best time to take a trip down to this eco-friendly place other than the summer when the mercury is soaring! Especially, with the river Godavari exuding life into their valley in the Eastern Ghats, the season after monsoon is just so right.
Leave behind all your worries and disconnect from outside world (quite literally because there is no network except for BSNL) and dwell in the rich biodiversity.
An idyllic location away from network and concrete buildings, the place is rampant with family travelers and groups of travel enthusiasts, making it a perfect family weekend getaway.
Places of Interest
The expansive coffee plantations, pepper fields, the twin waterfalls- Amrutha Dhara and Swarna Dhara are said to be the highest in the State, and thick but enchanting forests, which will surround you with enthralling vibes will make up for a great weekend getaway.
Medicinal plants conservation parks, Karthika Vanam, Madanakunj- home to wild habitats among others are a few popular attractions that lure visitors. Trek up the hills and get lost in the forest or waddle through the parks or do nothing at this place, you still cannot complain.
Sokuleru and Manyam view points
Mothugudem waterfalls, are said to be flowing throughout the year.
Nandanavanam Ethno Medical Awareness Centre
Pamuleru waterfalls
How to Reach
The tribal village is widely connected via roads. It is about 232 kilometers from Vijayawada and 90 kilometers from Rajahmundry. From Tadepalligudem, Maredumilli is 127 kilometres. Buses and private vehicles are abundantly available.
A jolly bike ride or a gang in a cool four-wheeler too is a good option. Once there, traveling around the place can be done mostly on foot.
Accommodation
The options are plenty unlike earlier if you plan on spending a night or two at Maredumilli forest. Ranging from a cozy wooden cottage to outdoor pitched-up tents with security arrangements and safety, the place is brimming with the latest updates to cater to crowds.
However, make sure to book stays and guesthouses at the earliest. You can find accommodations for every budget- from Rs 1500 per pax/ room and up to Rs 20,000 for a group.
Most stays offer accommodation for a group of four starting Rs 2500 which is why youngsters are vrooming to this location come long weekends.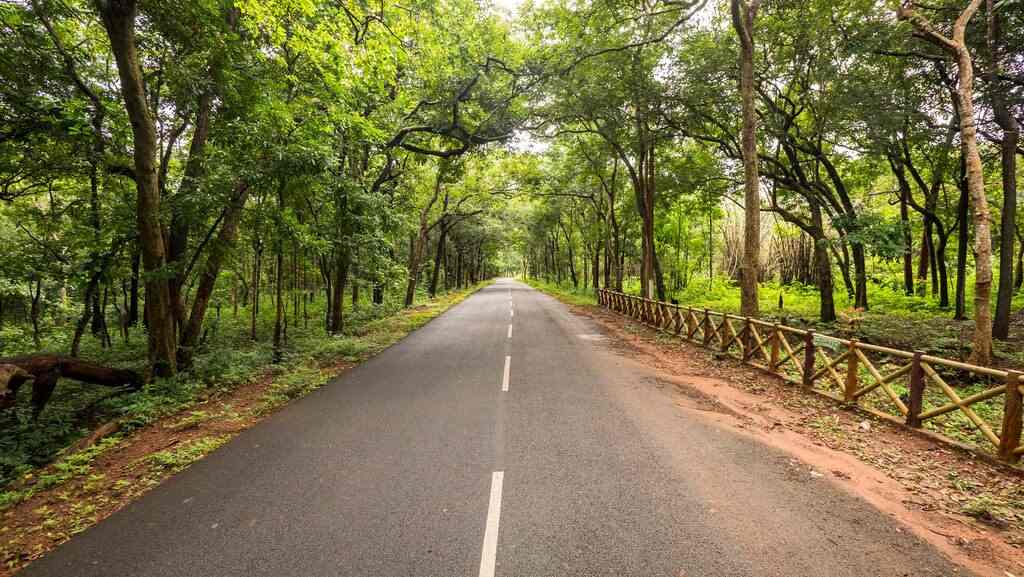 There are a couple of private resorts and a Forest Department-run guesthouse- Vanavihari, maintained by tribals again. The rooms at Aranya resorts are nominally priced and equipped with basic amenities including ACs and a DTH TV facility. Food is prepared fresh on order at these guesthouses so it is advised to keep the staff informed.
Owing to the great demand, several private resorts, and hotels are making way for this untouched natural beauty.
One such is the Woods Cottage which charges Rs 9,000 for three members for a wooden cottage and Rs 18,000 for 6 members accommodated in a suite room per night basis including lunch, snacks, bonfire, dinner, and breakfast. They also organize a two-day tour with accommodation.
Also, there are resorts like Bird's Nest Resort, Papikondalu Bamboo huts, Green Island Resort, Sunrise Valley Resorts, SK Riveria Resorts, Jungle Star Eco Camp, and a few other stays.
Food
Feast on the yummy and fresh bamboo chicken cooked with authentic spices.
Taste the coffee prepared from the nicest of coffee beans roasted to perfection by the tribals.
Light up a campfire and experience deep woods under the open sky. Do not forget to buy yourself some handmade products made by tribals, that include- soap nut powders, honey, and some memorabilia.
Tour Packages
There are a few private travel operators who organize a day or two-day trip to Maredumilli from Tadepalligudem at about Rs 2000 per head. The package includes sightseeing places with food.
From Maredumilli too, one can look for a local tour to cover the nearby sightseeing places to get the wholesomeness experience. If lucky, you might spot a few animals and a kaleidoscope of butterflies on your visit.
Look out for
Do pack some woolens because nights are usually so chill.
For campfires, firewood is sold locally.
Go for a ride to cover Papi Kondalu, Pinjanrakonda, Kadiyam and Rampachodavaram, Konaseema, and Coringa Wildlife Sanctuary.
Conclusion:
Maredumilli is one of the best options for eco-tourism where you can drench yourself in nature. Local food, mostly prepared by tribals is an add-on for your trip to this picturesque destination. Leave behind your hectic lifestyle and pamper yourself by entering this world of greenery.
India is blessed with many attractive destinations and it is not that difficult to choose one for your next vacation. However, instead of picking the routine destinations, this time take your loved ones to any unexplored location and enjoy each moment. TheTravelB.Com is your best guide to select underrated destinations across India. Reach us @ https://thetravelb.com/contact-us/ or send an email to contactthetravelb@gmail.com to share your experiences or for any suggestions.
Also Read: Best Weekend Getaway from Hyderabad in Monsoon