Mandu is an old fort city in Madhya Pradesh, a state in central India. Stone walls enclose it with gateways strewn about. It is also noteworthy for its architectural legacy from Afghanistan. If you are looking to explore the architecture of India along with adventure and fun, you must keep Mandu and Madhya Pradesh on your list. 
Mandu is an excellent offbeat site that is a tribute to King Baaz Bahadur and Rani Roopmati's love. It is possible to relive a bygone period here.
On World Tourism Day, this architectural marvel was honored with the "Best Heritage City" accolade at the National Tourism Award event in New Delhi.
Mandu's gentle, soothing pace brings you to another planet, allowing you to forget about the passing of time. Mandu in Madhya Pradesh is a superb example of rich heritage, including monuments, tombs, and lovely green gardens.
As a result, the stunning monuments of Mandu blend the statement of Afghan fashion with the Turkish people's rich cultural legacy. Like other eclectic legacies that combine the best of two cultures, Mandu is one-of-a-kind.
Please take a look at its incredible heritage, making it the best heritage city in the world.
PLACES TO VISIT IN MANDU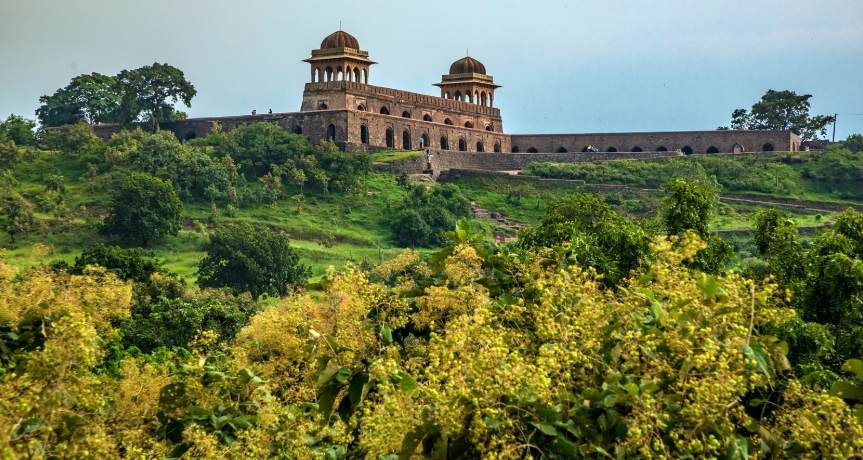 This should be one of the first tourist places to visit in Mandu Madhya Pradesh. One can reach Roopmati's pavilion by climbing up the hill from the palace.
The monument is created with arched constructions and tells the story of King Baz Bahadur and Rani Roopmati's love. The palace also contains a cistern for rainwater collecting, and Roopmati Palace is one of Mandu's most famous tourist sites.
The tomb of Hoshang Shah is entirely made of white marble. The tomb's minimalism and the vast cosmic white tomb are the first things that strike the viewer.
Carvings of lotuses and blue enamel stars set in masonry are among the other features. It is reported that this domed marble monument inspired the builders of the Taj Mahal in Agra.
Jahaz Mahal is one of the outstanding monuments in Mandu that effectively depicts the medieval romance of the city.
This two-story edifice, situated on a short strip of land between Munj Talao and Kapur Talao, resembles a ship anchored in the water.
Sultan Ghiyasuddin Khilji is said to have erected it for his massive Harem in the latter half of the 15th century, and it reflects Mandu's classical period of architecture.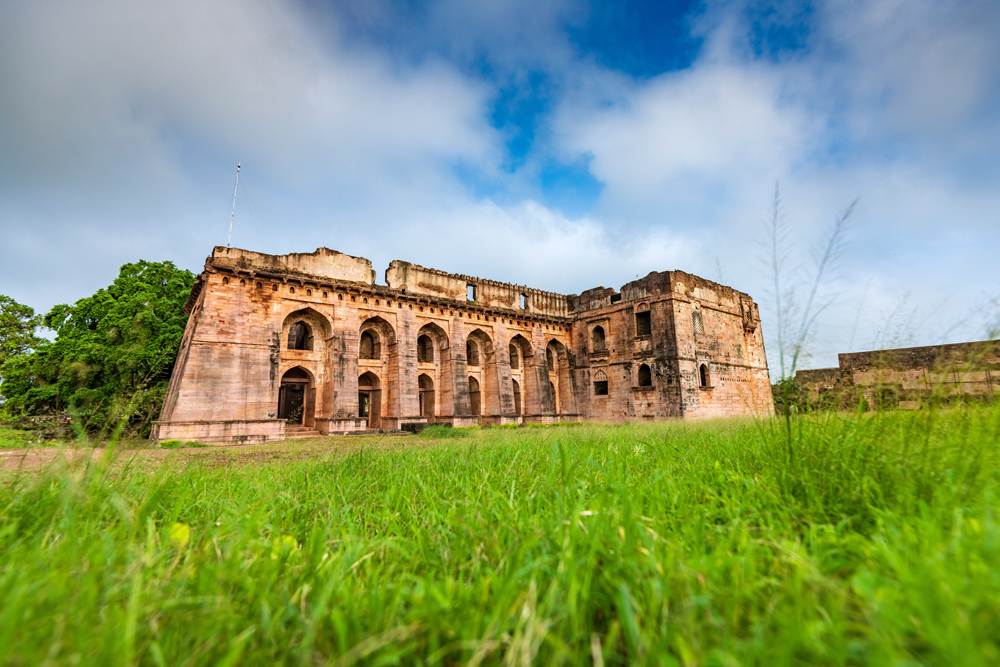 The sloping walls of the Hindola Mahal, also known as the swinging palace, give it its name. The structure is shaped like the letter 'T'. Because of the simplicity of the building, it stands out architecturally among the other monuments in Mandu.
The traverse projection consisted of two levels, with the upper story dedicated to the Royal ladies' usage. The higher apartments were reached via sloping stages, which permitted the women to ascend in a palanquin.
Hoshang Shah built the Ashrafi Mahal as a madrasa (Islamic college), which had a quadrilateral with rows of cells and arcaded hallways on the outside and four corner towers.
Mahmud Khilji of the succeeding dynasty renovated the northwest tower into a seven-story triumph tower. The courtyard was roofed as a platform for his large marble mausoleum.
Baz Bahadur Palace is a fascinating mix of Rajput and Mughal architecture. The palace's main entrance is reached through 40 broad steps with landings at regular intervals.
The palace's main section is a large open court with halls and rooms on all four sides. Apart from the king's private quarters, these halls served as a gathering place for the general public and court officials.
HOW TO REACH
Mandu is well connected to Madhya Pradesh's significant towns, such as Indore and Bhopal. The roads are well-kept, and buses can easily be routed from Indore to Mandu through Dhar.
Ratlam, 124 kilometers from Mandu, is the nearest railway station. Take a bus or hire a taxi from Ratlam station to reach the location.
The nearest airport is "Ahilyabai Holkar Airport" in Indore if you are traveling by air.
Local Cuisine
Mandu, Malwa's historic capital, is home to various delights. Poha, Malpua, Kachoris, and other typical culinary items are popular in several Madhya Pradesh locations.
The many regions of Malwa are known for their specialties, but Mandu is known for its Baingan ka bharta, Dal Bafla, and Arbi ki sabzi.
THINGS TO DO IN MANDU
1. Climbing
Rock climbing is a popular tourist attraction near Mandu. Visitors to the mountains climb up, down, or across the natural rock to appreciate the beauty of this ancient architecture.
2. Shopping
Shopping is a popular pastime in this city. There are many shops in the town that sell various decorative items for your home, office, and daily needs.
3. Camping
Camping is another attraction for tourists and visitors who enjoy outdoor activities that require overnight stays. Camping is an adventure as well as a lot of fun.
4. Observing architecture
The sight of the architectural building takes you to those times and provides you with a beautiful and memorable experience.
Accommodation
Finding a good, budget-friendly, and good service hotel is very important for a comfortable stay while traveling. Though you may easily find hotels to stay in Mandu Madhya Pradesh at good prices, we would recommend the following with the best facilities. These are: 
MPT MALWA RETREAT, MANDU
Down-to-earth rooms & suites in a humble hotel featuring complimentary breakfast, parking & Wi-Fi.
Unfussy property featuring low-key quarters, plus lake views, a garden & a no-frills restaurant.
This is one of the budget-friendly hotels in Mandu, that you can choose for a comfortable stay. 
Conclusion
Would you mind saying why wouldn't you know about this incredible heritage, making it the best heritage city in the world earlier? No worries, all those who are always energized to visit and explore the architecture and heritage sites of India, should definitely check their calendar and plan their journey to Mandu in Madhya Pradesh. A place that not only quenches your thirst to explore and find old stories inside the four walls but also fills you with a lot of adventure and peace in Nature. 
Also Read: Raisen Fort in Madhya Pradesh