Introduction
Raisen Fort is one of the unexplored forts in Madhya Pradesh. It is situated in the town of Raisen which is about 24 kms from Sanchi, and 44 kms from Bhopal Junction. Located on a hilltop, the 800-year-old Raisen fort has nine doors, fortresses, vaults, and the remains of few structures from the early medieval period. The Raisen Fort is spread over ten sq. kms on a slope that is 1500 feet high. It was built in the eleventh century AD, Raisen Fort. There is no entry ticket to visit Raisen fort.
History of the place
Raisen fort is one of the ancient forts in Madhya Pradesh. In the fifteenth century, this fort was managed by the Sultans of Mandu, from whom it passed to the Rajputs. In 1543, Shershah Suri seized it from Puranmal. Fiaz Mohammad Khan, the third Nawab of Bhopal State occupied it in around 1760 and later got himself perceived as Faujdar of Raisen by Emperor Alamgir II.
After Bhopal State turned into a section 'C' State of the Union of India, the current district came into existence on the 5th May 1950, with headquarters at Raisen. Seven Tehsils in the district were chosen.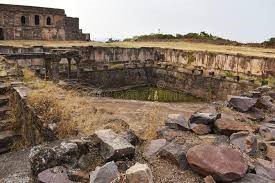 How to reach
Raisen Fort is only approachable by road. The timing to visit the fort are from 10 am to 5 pm. Therefore, you have to at least reach the fort by noon to be able to roam around the whole fort.
If you are traveling to Raisen from any other state then you might first travel to Bhopal around 40kms away from the fort. Then from there, you can book a taxi and travel to the fort.
The taxi will take about 40 mins to reach the fort and charge at least Rs 1000/- per person if it's a shared taxi otherwise if you hire taxi for yourself, it will cost you around Rs 3000/-.
If you have a tight budget you might wish to rent a scooter or a bike from Bhopal and go on your adventure to the Raisen fort. The rent for the scooter or bike will be around Rs.400 to Rs.800.
Raisen Fort is accessible from other parts of the state as well. But, considering the distance and the timings to visit the fort, Bhopal is the best option for you.
Accommodation
If you plan to stay overnight in Raisen then here are some hotels for you:
Price – Rs. 1281/ per night (approximately)
Price – Rs. 1871/ per night (approximately)
If you are a budget traveller, then this is the best hotel for you near the ISBT bus stop in Bhopal.
Price – Rs. 910/ per night (approximately)
Do's and Don'ts at the Raisen Fort
Don't go inside the rooms from where mysterious sounds are heard. As the fort is very old bats might live there.
Don't ignore the signboards. They are hanged for your safety as the walls in some areas of the fort have become weak over the years. So, entry is not allowed to the public in those areas.
Do carry water bottles as it is an exhausting trek to the top and there are not many spots where you can find water.
Don't roam around alone in the fort, as the fort is massive you might get lost, and contacting others through the phone might be a challenge.
Please carry some snacks as you might not find anything to eat nearby.
Suggestions for travelers
The best time to visit the Raisen fort is in the early or late winters in November or February.
You can go for a picnic there as it is a very large fort with some nice spots to sit and enjoy the view.
You must visit the top of the fort as the view from there is breath-taking.
Try to visit the fort as early as possible because even in winter and trek might be tiresome.
If you are traveller who does not like to trek, you might not be interested in visiting this place. As it is quite tiring and might not be able to please you.
Raisen fort is best suited for people who love historical monuments and enjoy its glorifying architecture.
Conclusion
Raisen Fort is the best place for you if you are a history enthusiast and like to roam around in old architectural palaces. As told earlier, this fort has had a big water reservoir, a few palaces, and temples within. However, they might not be in their best condition now. It is one of the best outing destinations near Bhopal. A perfect weekend getaway for everyone. If you have no plans and want to explore a new place and enjoy a long drive then Raisen Fort is the best option for you.
Also Read: Tamia Hill Station in Madhya Pradesh