Beatles Ashram is a well-known ashram situated in Rishikesh in Uttarakhand. It was formerly known as Chaurasi Kutia. The Beatles Ashram is believed to have an exceptional and inspiring energy of its own that makes the travellers understand the genuine power and worth of spirituality.
The unwinding and restoring a climate of the spot refreshes the body from the inside and revives the brain, filling you with inspiration.
The Beatles Ashram has some amazing wall arts and some mysterious writings on its wall in some places. The main attractions in the Beatles Ashram include dome-shaped construction, wall art, and the Beatles Band member's pictures on the wall of Ved Bhavan.
The time to visit the Beatles Ashram is from 10 am to 4 pm. It also has an entry fee of Rs. 150 for Indian Citizens and Rs. 600 for Foreigners.
History of Beatles Ashram
The place was named Beatles Ashram after the Beatles band of Liverpool came to stay there in the year 1986 following Maharishi Mahesh Yogi. It was then this place got a lot of recognition. The individuals from the band practiced meditation and composed numerous great melodies there.
The Beatles ashram remained closed for many years. But, later in 2015, it was reopened for the public. The Beatles Ashram is visited by local people as well as tourists, out of which the vast majority of the travellers are Beatles band fans.
As it was an international celebrity hub at some time and has lost its glory over years. Thus, the Government is now trying to regain its lost popularity and showcase this amazing place to everyone.
How to reach Beatles Ashram
The place is well connected to different cities. The Beatles Ashram is about 30 kms from Jolly Grant Airport and 13 kms from the nearest railway station.
To reach there you need to cross River Ganga from the main road which runs through Rishikesh. You can go through Ram Jhula or Laxman Jhula depending upon your choice.
It is better to go from Ram Jhula as it is only 1 km after crossing the bridge. Whereas, it is about 3 kms from Lakshman Jhula. You have to walk from there to Parmarth Niketan and then go straight on that road for few meters and you can find the Board of Beatles Ashram leading you to its entrance.
You can also hire a bike or a scooty to make your travel easy. No other conveyance is allowed on those streets.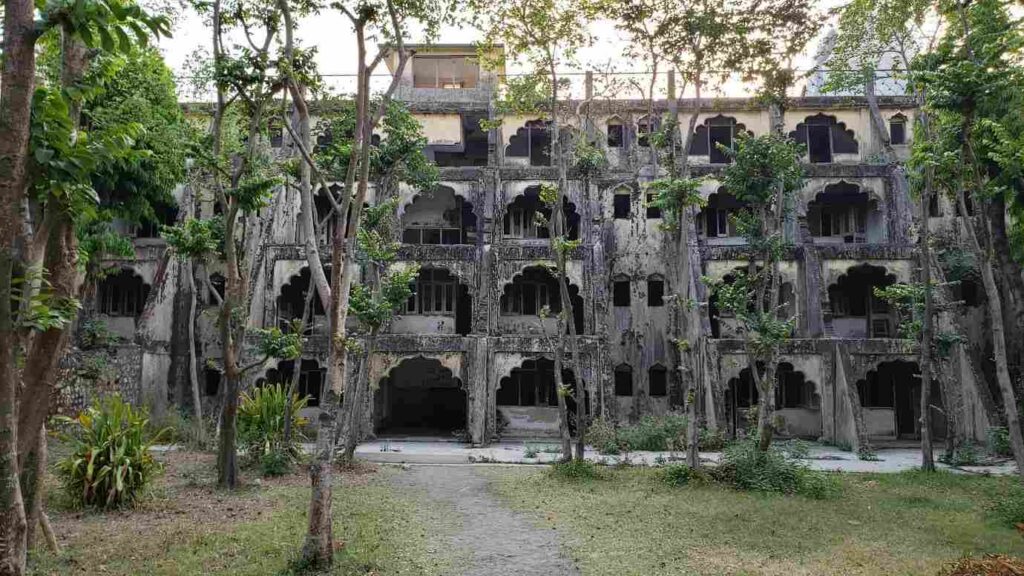 Local Cuisine
Rishikesh is known as the Yoga Capital of the World, which makes it a tourist destination. Travelers from all over the world visit Rishikesh. Thus, the food there is not limited to one type.
You will find all types of foods like continental, South Indian, Mexican, and other varieties as well. It does not have its own special cuisine, but you must definitely try the pahadi food there. As it is not easily found in other parts.
Accommodation
If you are looking for accommodations when planning your trip, you can have look here:
Premium (Hotel Aloha on The Ganges)
Price – Rs. 7257/ per night (approximately)
It is a 3-star hotel situated in Tapovan, Rishikesh. The facilities it offers are:
Wi-fi
Outdoor Pool
Spa
Parking
Bicycle hiring
Game room
Currency Exchange
Laundry
Deluxe (Zostel Rishikesh)
Price- Rs. 599 to Rs. 3135 (approximately)
The Beatles Ashram price here depends upon the kind of room you choose. They have deluxe dormitory rooms where each bed has a price of Rs. 599/ per night. On the other hand, they offer deluxe rooms for which the price ranges from Rs. 2500 to Rs. 3135 per night.
It is situated on the Bhirketh bypass road, Tapovan, Rishikesh. The other facilities it offers are:
Wi-fi
Breakfast
Parking
Common Television
Café
Lockers
Storage facilities
In-house activities
Budget-Friendly (Hill Hoppers)
Price- Rs. 879/ per night (approximately)
This hotel is situated near Rudra Yog Peeth, Yoga Ashram, Rishikesh. The facilities it provides are:
Wi-fi
Café
Tours & Treks
Bonfire
Housekeeping
Airport transfers
Suggestions
The best time to visit Beatles Ashram is in spring or in early winter. As the weather is comfortable and other activities can also be enjoyed.
Carry your identification cards with you as they are checked during your entry.
Go till the end of Chaurasi Kutia as there you will find an amazing view of the river Ganga and the city.
Definitely, go inside the bhavans even if you find them spooky. They have some best wall graffiti waiting for you.
Do not carry eatables as there is a café inside.
Keep your camera ready as you will need to capture a lot of photos.
Carry mosquito spray or apply the mosquito repellent beforehand since there are plenty of them waiting for you.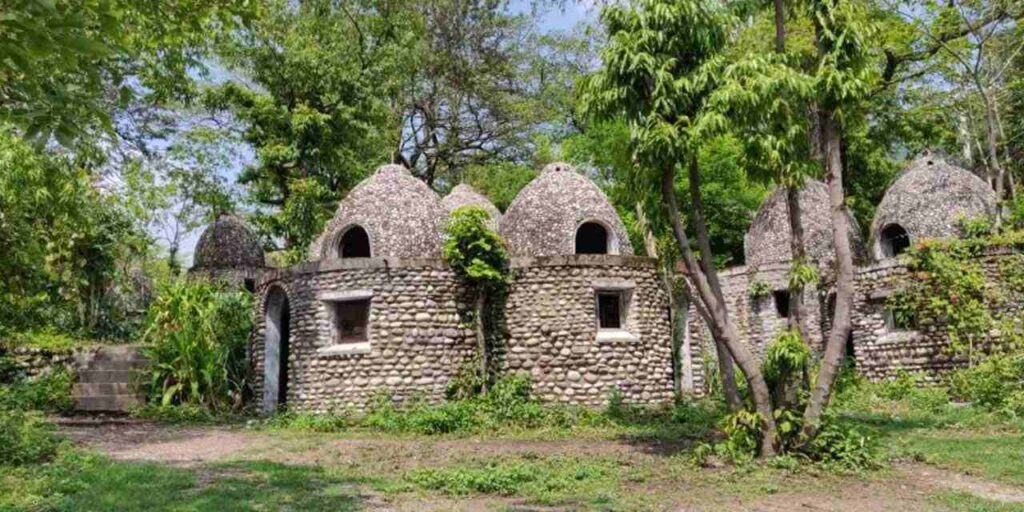 Conclusion
Beatles Ashram is said to be one of the peaceful and most serene places for travelers to visit. It is not overly crowded and has a calm vibe. This place is under the Government of India now and will be transformed into a museum soon. The Beatles ashram is surrounded by plenty of other travel destinations like Triveni Ghat, Ram Jhula, Laxman Jhula, Bhootnath temple, and many others. This spot is absolutely worth visiting when you're out traveling to the world's Yoga Capital, Rishikesh.
Also Read: Parsili – The Jewel in the Crown of Madhya Pradesh