Parsili, an idyllic village in the Sidhi district, has more to offer than the eye can see. This unspoiled destination is 10 kms away from Sanjay-Dubri National Park, where you can combine your passion for wildlife with a relaxing break.
You can find birds such as Herons, Egrets, White-Necklace Stroke, White Ibis, Whistling Teal, Kites, Eagles, Harriers, King Fishers, and Orioles in Parsili's rich avifauna.
The tranquil town of Parsili Madhya Pradesh is located away from all the hustle and bustle amid scenic Nature. The lovely Banas River flows alongside.
The soft and moist sand bed that stretches for 4 kms is one of the most stunning features of this location. Trekking barefoot on this natural carpet is a calming experience that you will remember for the rest of your life.
Parsili is a bird lover's paradise, home to many exotic and elusive species of birds. Parsili will bring you closer to Nature's beauty while transporting you back to childhood!
WHAT CAN ONE DO IN PARSILI RESORT IN MADHYA PRADESH
Walking barefoot on Soil, Earth, or Grass is the ultimate way to feel Mother Earth's gentle touch. A one-of-a-kind barefoot 4km trek on the Banas River's soft sand moist sand bed is an out-of-this-world experience.
Pure oxygen revitalizes your body, and acupressure on the soles of your feet by fine sand energizes the Panch tatvas—the five elements of Nature (Earth, Water, Air, Space and Fire).
Trekking barefoot on a soft turf of fine wet sand gradually transforms into wading in a comprehensive water stream with a depth of 6 to 12 inches, providing a binding intimacy with Nature. It's a relaxing, refreshing, and exciting walk surrounded by chirping birds and a cool breeze.
WHAT SHOULD YOU WEAR?
Though it's always your choice. We recommend tourists can easily wade in the water if they wear comfortable bottoms/pants. You should also bring a cap and binoculars with you because you are going to have the best adventure experience in the woods and water of Parsili Sidhi.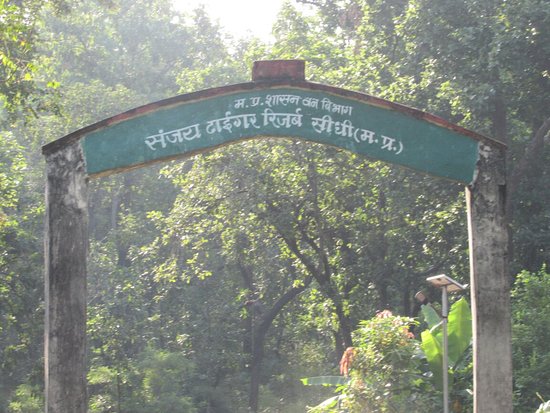 SANJAY-DUBRI NATIONAL PARK
There are numerous reasons why the Sanjay National Park is one of the best wildlife viewing destinations in Central India. This wildlife paradise is located within the Sanjay Dubri Tiger Reserve, known for its rare and exquisite flora and fauna. Its flora diversity is well-known among nature and biota enthusiasts.
The park is only 10 kms away, and if you're lucky, you might see a Chital, Jackal, or a Peacock. The Reserve's core consists of Dubri Sanctuary and Sanjay National Park, with Gurughasidas National Park forming the Reserve's southern boundary.
The lush forests of Sanjay Dubri National Park are dominated by Sal, Dhawda, and Semal trees. The Sanjay Dubri National Park protects the watershed formed by the Son River and its tributaries, home to numerous waterbird species.
These forests, which are spread across the districts of Sidhi and Singrauli, are home to approximately 300 different species of birds. The National Park highlights Gopad Darshan, Ram Daha Kund, Giddhi Pahad, and Bachar Dam. Natural and cycling trails are two other exciting activities to try.
WHERE TO EAT IN PARSILI?
Though there is no specific cuisine or place to try the food, you can enjoy your food amidst nature. You can have your food at the Parsili Resort.
WHERE TO STAY IN PARSILI SIDHI?
MPT Parsili Resort
MPT Parsili Resort Madhya Pradesh is located on the banks of the Banas River, surrounded by magnificent natural surroundings, including dunes and a perennial water stream hemmed in by undisturbed dense forest that serves as a natural playground for exotic birds of both common and rare species.
Animals frequently visit this resort. Book your vacation at the Parsili resort, a very peaceful place with proximity to water.
HOW TO REACH PARSILI
By Air: The nearest airport is Jabalpur (JLR) which is at a distance of 350 kms.
By Train: Biohari (25kms) is the nearest railhead on the Howrah-Singrauli-Katni-Jabalpur line.
By Road: Taxis are available from Rewa, Bandhavgarh, Shahdol Beohari, Sidhi, Umaria, Tala, and Bhanpur.
BEST SEASON TO VISIT
The best time to visit Parsili is from October to April. Visiting Parsili in these months will make your trip calm and ideal. This is considered as the best time to celebrate the week off in Nature.
So, what are you waiting for? Prepare your binoculars to catch a glimpse of an elusive bird and animals as several species of migratory birds visit the place and you will be able to capture the beautiful views far off your site all in your eyes.
Also Read: Visit Chhatar Manzil in Lucknow to know about Nawabs' lifestyle