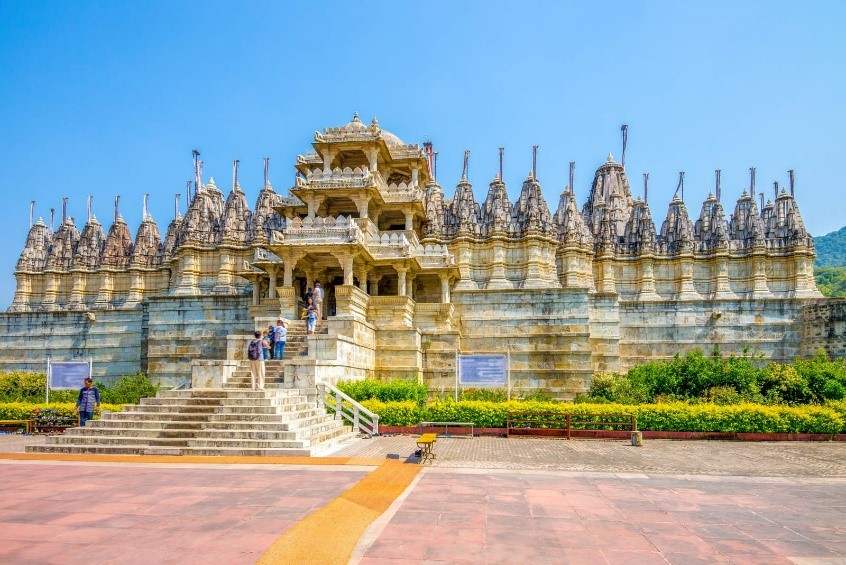 Dilwara Temples are one of the finest Jain temples located in Mount Abu, Rajasthan. Dilwara temples are also known as Dilvada Temples. Mount Abu is the only hill station in the Aravalli range. This desert state's crown jewel is Mount Abu due to its extensive tradition and heritage. Dilwara temples might look pretty basic from the outside. Yet, every cloud has a silver lining, and the temple's interior showcases the best human craftsmanship.
Followers of Jainism in India are well-known for their compassion and love for peace. The temple is open from 12 noon to 6 pm for tourists. Currently, the temple is managed by Sethi Kalyanji Paramanadji Pedi.
History Of Dilwara Temple
Dilwara temples were constructed by the Chalukya dynasty between the 11th and 13th centuries AD. The uniqueness of its architecture is established by the carefully carved details on all its ceilings, doorways, pillars, and panels. It is also important to note that there was no transportation facility available to move such huge marble blocks. These marble blocks are of a height of 1200 meters. Marble was carried by elephants from Mount Abu to the Arasoori hills at Ambaji.
The "Maru-Gurjara" architecture of these temples is well-known for its use of pure white marble and difficult marble carvings. Each of the five main temples has 48 pillars with female figures dancing.
5 Temples of Dilwara
The Dilwara temple has 5 different temples inside it. Each of these temples is dedicated to five different Jain Tirthankara of Jains. Here is a little about these temples.
Shri Adinath Temple
It is also known as Vimal Vasahi Temple. This temple is dedicated to the first Jain Tirthankara, Adinath Ji, or Rishabh dev. It is the oldest temple in the complex. The Vimal Vasahi Temple was constructed in 1032 A.D. by Vimal Shah, a minister to Bhima I. The temple is in an open courtyard surrounded by a corridor with many cells containing smaller Tirthankara idols. Designs of lotus buds, petals, flowers, and scenes from Jain mythology are engraved on the ceiling.
Shri Neminath Temple
It is also known as Luna Vasahi Temple. This temple is dedicated to Shri Nemi Nathji, Jainism's 22nd saint. It was built in 1230 A.D. by the Porwad brothers Tejpal and Vastupal. In a hall called Rag Mandapa, there is a stunning black marble idol of Shri Nemi Nathji among 360 minutely crafted tiny idols of Jain Tirthankar.
Shri Parshavnath Temple
It is also known as Khartar Vasahi Temple. It is the tallest of all the dilwara temples and was built by the Mandika clan between 1458 and 1459 A.D. It also has four big Mandapas. Another illustration of this temple's superior architecture can be seen in the carvings of the pillar in this temple.
Shri Rishabdaoji Temple
It is also known as Peethalhar or Pittalhari temple. Bhima Shah, a minister from the Gujarat dynasty, constructed this temple. Like the other temples in Dilwara, it also has a Navchowki and a Gudu Mandapa.
Shri Mahaveer Swamy Temple
This temple is dedicated to Lord Mahaveer, the 24th Tirthankara of the Jain religion. In 1582, it was built. When compared to other Jain temples, this one is quite small.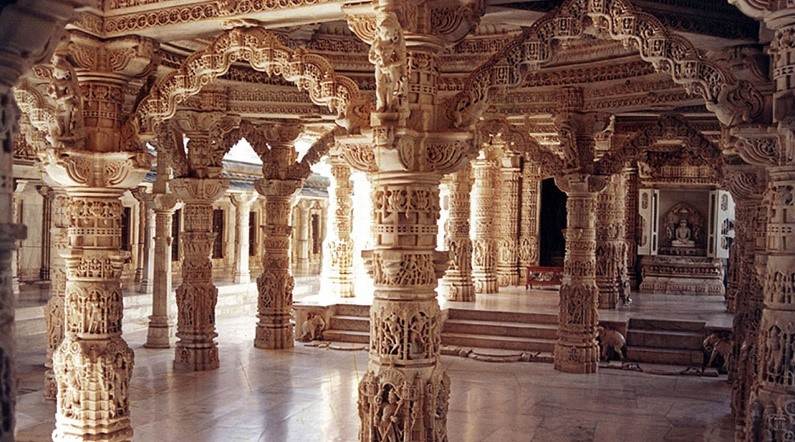 How to reach Dilwara Temples
One can reach Dilwara temple by traveling to Mount Abu. You can reach Mount Abu by bus or train. The nearest airport to Mount Abu is Udaipur. Once you have reached Mount Abu, take a cab, auto-rickshaw, or bus to travel to Dilwara temples.
Explore More: Explore Sambhar Lake, India's Largest Inland Salt Lake
Food to Try
Mount Abu is a hill station in the dry state of Rajasthan. Like the other cities of Rajasthan, Mount Abu also serves some delicious vegetarian dishes. Mount Abu does not have any special dish of its own to offer. But the food here will leave everyone mouthwatering. The dishes which you can try here are:
Dal Baati Churma
Lal Maas
Pyaz Ki Kachori
Ghevar
Malpua
Gatte Ki Khichdi
Makhaniya Lassi
Accommodation
You can consider the following places for your stay while traveling to Mount Abu:
Premium hotel (Hotel Hilton)
Price – Rs.13,360/per night (approximately)
Deluxe hotel (Hotel Lasa Grand- By Castle Rock)
Price – Rs.5300/per night (approximately)
Budget-friendly (Hotel Mountway)
Price – Rs.1250/per night (approximately)
Facts about Dilwara Temple
Cameras, mobiles, and belts are not allowed inside the temple.
Men and Women are not allowed to wear shorts inside the temple.
Guides are available for free there.
Taking a bath is mandatory before performing any pooja there.
Passive solar power is used to heat the water for bathing there.
It has a storehouse inside where you can get ancient manuscripts.
Lockers are available at the temple to keep your belongings.
The city of Mount Abu is a haven for adrenaline addicts because of its stunning surroundings and plenty of adventures. Mount Abu has some of the best adventure activities, like camping under the stars or rowing a boat in Nakki Lake.
Conclusion
The city of Mount Abu is surrounded by lush green forests, lakes, temples, and the remains of ancient forts and Havelis. This city is home to many beautiful places filled with artistic features and picture-perfect artistry. The city is very peaceful and the locals are friendly. Mount Abu's climate remains a little cooler than other parts of the state. However, the city experiences some hot days. Plan a trip to Mount Abu to experience the adrenaline rush. While enjoying your time there, visit the Dilwara temples for some peace.
Explore More: Rann of Kutch, A Must-Visit Destination in Gujarat