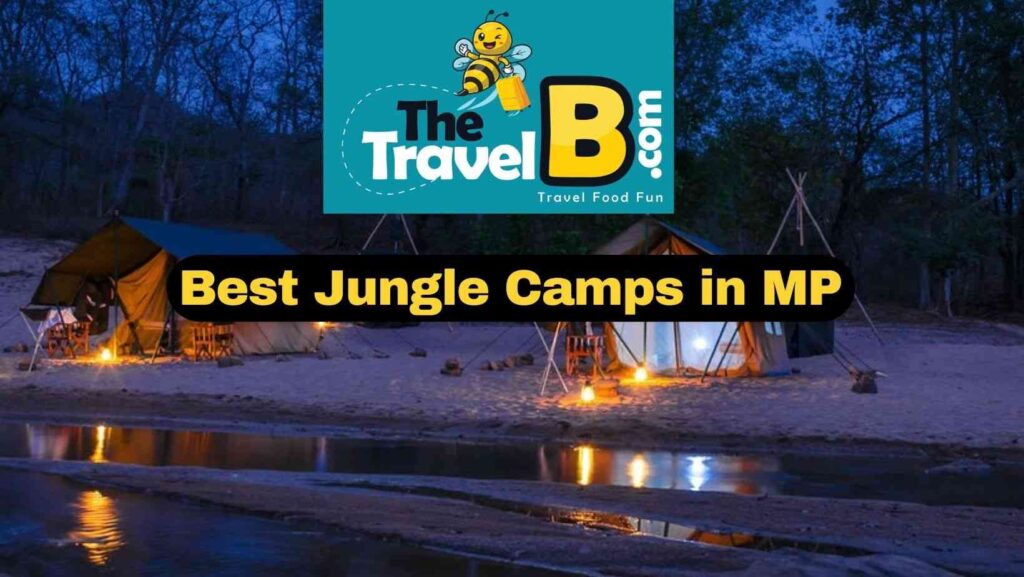 We all yearn for a trip away from the city crowd, somewhere serene and calm. Ideally setting up a tent in the middle of a forest may be very relaxing. The desire to travel to the jungle, spend time among the trees, and live under the forest rhythms is what everyone must have in their bucket lists. That's why camping has always been attractive. Awakening to the sound of birds, the rustle of leaves, and the stunning open air is nature in all its unspoiled splendour.
Madhya Pradesh, a state known for its rich and lush forests, is home to a plethora of fauna, including the densest population of the iconic Royal Bengal Tigers. It is not surprising that MP is the go-to location for every wildlife enthusiast who wants to see nature at its most pristine, undisturbed state because it is blessed with over 25 national parks and sanctuaries.
However, nothing makes the experience and excitement of exploring flora and fauna of a forest complete without actually living in a jungle camp. Yes, Madhya Pradesh Tourism has established some of the best jungle camps that can truly take you into the wild. The most incredible way to experience the wild, natural beauty of the jungles of Madhya Pradesh through camping.
Here is a list of best locations for jungle camp in Madhya Pradesh you absolutely must visit and spend the best time with your family and friends.
Adventure Camping in Nature's Karavas, Bhopal
Nature's Karavas is one of the best jungle camps in MP for you if you're looking for adventure mixed with calmness so that you may unwind yourself. Located at a distance of 75 kms from Bhopal, where the Tawa and Narmada River meets, the camp provides a feeling of being in the wilderness despite its proximity to the city. It allows you to explore nature or catch the dawn while giving you the convenience of meals and fun activities.
Kerwa Backwaters Camping, Bhopal
Located only a distance of 10 kms from Bhopal city, this location for jungle camp in Madhya Pradesh lies on the backwaters of the Kerwa Dam. With mesmerizing beauty and the promise of a fantastic sunrise, the landscape, the cool breeze, and the echo of flowing water, Kerwa is the destination to relax your mind and body.
Forest Camping at Kalakund, Indore
Kamp Kalakund is surrounded by dense jungle and close to the famous Kumbhalgarh Fort. The campsite, situated in the Kalakund Forest's jungles, has excellent access to major towns. The style fits the jungle motif, adding authenticity to the stay. It is considered as one of the best jungle camps in MP.
Camping Near Patalpani Waterfall, Indore
Dhawalgiri Camp is located near the Patalpani Waterfall. Due to its aesthetic and natural attractiveness, it is steadily becoming one of Madhya Pradesh's most sought-after weekend getaway locations. The exciting activities that await you at this jungle camp in Madhya Pradesh include trekking, river crossing, a night jungle walk, fishing, stargazing, and a campfire with some light music.
Halali Riverside Camp, Bhopal
The Halali Riverside Jungle Camp in Madhya Pradesh offers the unpretentious experience of camping in the woods while tucked away in the middle of the jungle. This campsite is a perfect getaway from Bhopal to enjoy with friends and family.
Waterfall View Camp at Bhedaghat, Jabalpur
The jungle camping experience amidst the dense forest surrounding the Bhedaghat Waterfalls is full of excitement and thrill. You may engage in sports like archery, hiking, cable cars, and even night-time stargazing here. If you are traveling with family and friends for an off-site, this jungle camp will give you an experience you'll remember for the rest of your life. What about enjoying a bonfire and live music outdoors with your family, friends, or co-workers? And, if that's not all, remember to embrace the mesmerizing view of the waterfall alongside everything green and wild – just more than perfect setting to get away from the hustle-bustle of the city. Agree?
So, Winters has come, and the star nights are waiting for you to come and enjoy jungle camp in Madhya Pradesh. Without taking a second, Let's Get Set, and Go to experience the best jungle camp in Madhya Pradesh – the state with Heart of India, and book your stay at one of the jungle camps in Madhya Pradesh and begin another exciting wildlife expedition and enjoy adventure and strange tales in the midnight under the stars.
India is blessed with many attractive destinations and it is not that difficult to choose one for your next vacation. However, instead of picking the routine destinations, this time take your loved ones to any unexplored location and enjoy each moment. TheTravelB.Com is your best guide to select underrated destinations across India. Reach us @ https://thetravelb.com/contact-us/ or send an email to contactthetravelb@gmail.com to share your experiences or for any suggestions.
Explore More: Best Malls to Explore in Chandigarh