Introduction
Badamwari Garden Kashmir: If you want to travel to Kashmir, you don't have to think about which season makes your experience better, because it is an all-season destination. And one such place is Badamwari Garden Kashmir, also known as Almond alcove.
Being Kashmirs' centuries-old almond garden that offers a glimpse of how the spring season looks in the region, the colour of autumn in Kashmir, and the feel of cold snow carpeted fields during winter, it becomes a choice for all.

Close your eyes, imagine what Badamwari Garden almond blossoms, breath-taking view of Nigeen Lake, manicured lawns, smell of flowers can bring to your thoughts and soul. It is a historic, beautiful, and soothing memory for every traveller.
Inside the garden which is spread over 280 kanals of land, it has over 1000 almond trees, spread over the green velvet like grass in between the beds of the flowers.
It has an amphitheatre on its one end made only of stones, and decorated by Kashmir's traditional trees. In its middle, there is a deep well, locally known as Chah, which is many centuries old.
It has two arched pavilions. It also takes a visitor back to the times when it was under Mughal rule. From the top, the garden is overlooked by Hari Parbat, which has two shrines in its middle. They are the shrine of revered Muslim saint Hazrat Sultal-ul-Afreen, locally known as Makhdoom sahab, and the Temple of Hindu goddess Sharika Devi.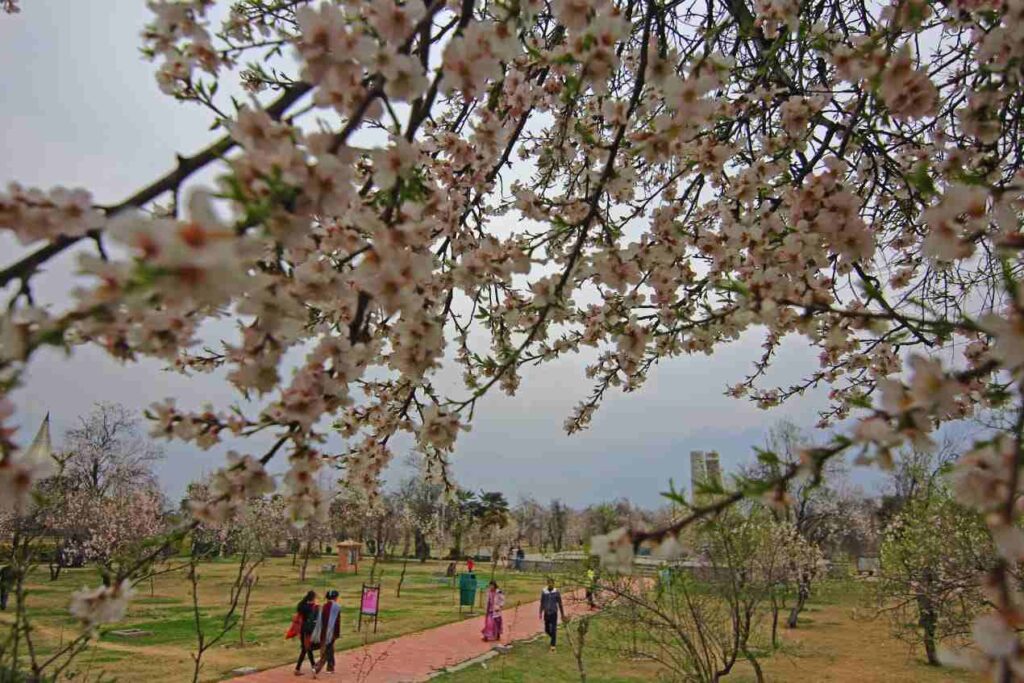 History:
The garden, according to the oral historian Zareef and Zareef, the shape of an almond garden was given during the times of Mughals. Emperor Akbar is said to have used it as a leisure park during his visits to this place.
"The soothing atmosphere of the garden was liked by Emperor Akbar," a history professor at a local university said. During the reign of Dogra ruler Ranbir Singh, it was a developed further.
Post-independence, in the late '50's and '60's, thousands of people used to throng the garden. The government at that time would through it open on a select date, and hold cultural Programmes like buffoonery, music and dance.
That tradition was given up for some time, but has now begun again, after it was brought to life from ruins by a local bank.
In the garden there is a well, known as Chah Waris khan, built by the administrator Waris Khan during Singh rule in Kashmir. It was used for watering the trees and flowers in the garden. Today, it offers an insight into how some centuries ago, water well was used for sustaining life.
How to Reach:
There are many ways, depending upon how one wants to travel.
From Lal Chowk, the center of Kashmir that can easily help to navigate any place from, the garden is seven as well as 20 kms distance. So, if you are a person who likes to see old buildings, take a route from Lal Chowk to Khanyar to Nowhatta to Kathi Darwaza.
This will offer you a view of old buildings, historic and largest mosques of the Valley, known as Jamia Masjid, and Malakha, the largest cemetery of the valley.
But, if you want to mix the feeling of seeing water, architecture, life, take a route through Dal Gate, through Boulevard, Hazratbal Dargah, Saida Kadal and destination. This route will offer you a glimpse of Kashmir's famous and beautiful places.
You can hire a local taxi, or your own car are both okay for the trip. Public transport is also an option. Whatever the mode, the roads leading to the garden will showcase the history of the city.
Local Cuisine/Accommodation
At the garden, you will get to taste the Kehwa, a kind of a tea made of local saffron, cinnamon, cardamom and occasionally Kashmiri roses.
There are many choices for having food depending upon the season. If you come here in winter and Autumn, you will taste Harissa in the morning. Harisa is a gravy made of mutton and eaten in the morning to kill the chill.
During the summer, you will get to taste a special ice cream called Matka ice cream, made of locally made ingredients.
Throughout the year, you will have Wazwan, a traditional method of various delicacies, for both veg and non veg.
Stay can be made anywhere. There are hotels within the vicinity, within one km range.
Do's and Dont:
Wear appropriate clothes when you visit this place. Don't forget to have jackets along during summer as weather might change anytime.
During winter, have a visit to a garden during the snowfall. A view of the city, and its past, amid the snowfall is very beautiful.
You will have many other historical places around, like Gurudwara, Temple, Shrine, and Fort. Come here for a day, so that you can experience everything.
Why should you visit Badamwari!
Badamwari offers a mix of many things. View, natural as well as architectural. A peaceful place which is away from the crowd and noise for those who want to detoxify themselves.
Vistors who are interested in old architecture site seeing, Badamwari Garden Kashmir can become one of the favourites choices. Those who have a short stay in Kashmir but want to experience the most, Badamwari is the first choice.
It has revered centuries' old shrines nearby, which can be visited on the same day. Yes, climbing of a small hill can also be done. It will take three hours to climb, stay and return. What better you want than having a sight of the city from the top.
Kashmir's longest wall build by emperor Akhar could also be seen the same day. The wall is known as Kalai originally was 4.8 kms, but today only 3.3 km wall is left. Walking or travelling around it could make you to see the city.
Also Read: Kashmir of Malwa in Madhya Pradesh