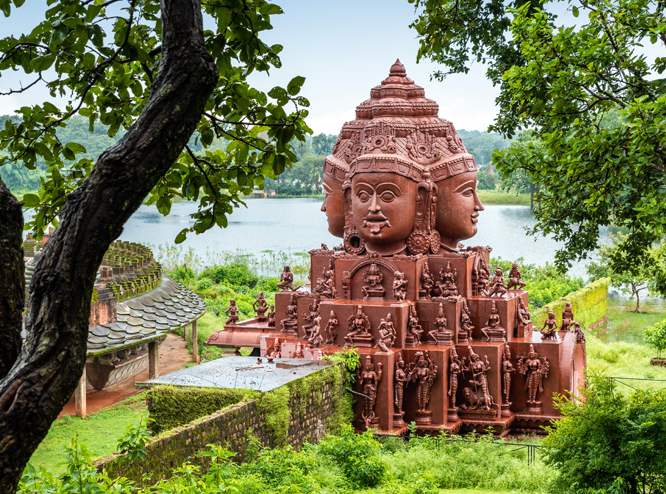 A spirit of adventure can be felt in the monsoon showers' pitter-patter. Madhya Pradesh is a sight to behold during the monsoons, with the aroma of rain-soaked earth and the drops hanging onto the lush green leaves. Prepare for an experience in the heart of Incredible India by packing your bags and departing to Amarkantak in Madhya Pradesh
Being a spiritual soul, a visit to Amarkantak will fill your heart with happiness and positivity. The monsoon rains add more charm to the town and the forests surrounding it.
Encircled by the beauty of the Vindhya and Satpura ranges, Amarkantak is one of the most well-known pilgrimages in the state of Madhya Pradesh.
Amarkantak is known as the Teerthraj – the king of pilgrimages. The Narmada and the Sone, two renowned and significant rivers that offer several tales about the history of Amarkantak, originate in this exquisite area.
Theertha Raja, often known as "the King of pilgrim destinations," is located at a height of 1065 meters in central India. The Maikal Hills serve as the pivot at the intersection of the Vindhya and Satpura Ranges. Because of the abundance of medicinal plants in the forests surrounding Amarkantak, it is particularly significant from an ecological viewpoint.
As Amarkantak is blanketed in beautiful mango trees, it is believed that the famous Sanskrit poet Kalidasa visited the area and gave it the name Amrakoot. This may be seen in the mango and banana tree grove known as Mai Ki Bagiya. The sacred Narmada, Sone, and Johila rivers come from Amarkantak's womb at this location.
Place to Visit in Amarkantak
Every year, thousands of tourists flock to Amarkantak to pay their respects at one of these historic temples and take in the tranquil ambience while enjoying the ideal laid-back weekend with family and friends. Make sure to include these Amarkantak tourist places on your itinerary to get the greatest possible vacation.
Narmada Kund & Temples
Ancient Temples of The Kalachuri Period
Dudh Dhara Falls
Shri Yantra Mandir
Kapil Dhara Fall
Mrityunjay Ashram
Bhrigu Kamandal
Kabir Kothi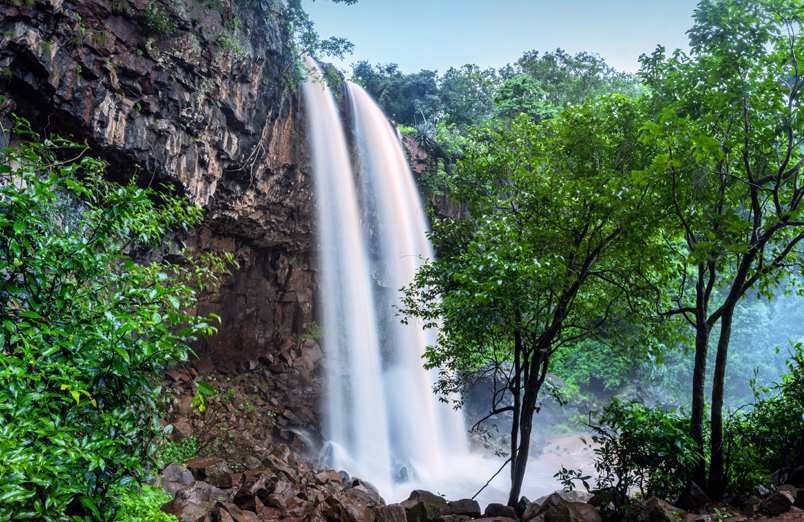 Things to do in Amarkantak, Madhya Pradesh
Visit Amarkantak's most well-known sights, such as Narmada Udgam, Jwaleshwar Temple, and the old Kalachuri Temples, to enjoy tranquillity in the most wonderful way.
Capture the breathtaking grandeur of the Kapildhara waterfall, which is bordered by lush, natural scenery.
Plan a day excursion to the Achanakmar Wildlife Sanctuary, which is reachable via Shahdol, the Bandhavgarh region, or Bilaspur.
Visit the Trimukhi temple to admire the intricate carvings made by Kalchuri artisans and to see the temple's façade featuring Lord Shiva's face.
Visit Mai Ki Bagiya, also known as Mother's Garden, to see a natural garden with Gulbkavil, roses, and other flowering plants, along with mango, banana, and other fruit trees.
Visit Narmada Kund for the morning and evening aartis to experience the tranquillity of the location.
Another well-known attraction in Amarkantak is Kabir Chabutra, which is thought to be the location where Sant Kabir spent many years in meditation.
Visit events that are fervently commemorated in the months of January and March, such as Narmada Jayanti and Shiv Chaturdashi.
Explore More: History of Takht Sri Damdama Sahib Which Nobody Knows
Festivals in Amarkantak
Every January, around Makar Sankranti, the city celebrates "Narmada Jayanti," during which the entire Narmada Complex is decked up in flowers and lights, and a large arti is held there in the evening. At this location, a huge group of pilgrims congregate to enjoy the day in style. In addition to this, the town also fervently and enthusiastically celebrates Holi and Diwali.
Food
There is no special food to eat in Amarkantak. One can only have vegetarian food in a bunch of restaurants out there. Finding non-vegetarian meals in Amarkantak is nearly impossible due to the city's predominantly Hindu population and as it is the "Land of Temples."
As a result, the city primarily serves vegetarian food, apart from all the traditional dishes from across India. There aren't many restaurants, but one may find plenty of Dharamshalas where people can eat.
Accommodation
In comparison to other Indian religious attractions, Amarkantak has extremely few lodging options. However, there are a few hotels, as well as guest homes, dorms, cottages, etc., owned by the Madhya Pradesh State Tourism Development Corporation. You can explore and find the best choice according to your budget and preferences.
How to Reach
By air: Jabalpur Airport, which is about 254 kms from the town of Amarkantak, is the location's closest airport. Jabalpur is often connected to Delhi and Mumbai by flight. To get to their destination in Amarkantak, one can take a direct taxi or cab from the airport.
By Rail: The closest rail station that links Amarkantak to other regions of the nation is Pendra Road. It is accessible by taxi or bus and is located around 17 kms from this sacred town.
By Road: From Pendra Road, Shahdol, and Bilaspur, state buses run to Amarkantak. Buses are used to connect it to Jabalpur and Rewa as well.
Conclusion
Not to mention, the state of Madhya Pradesh itself is an absolute delight for travelers. It has so much to offer for all types of travelers. Amarkantak is not just a pilgrim destination, but a beautiful place that offers immense natural beauty and adventure. Apart from getting a shot of a spiritual dose, you can unwind yourself in the blanket of greenery.
Explore More: Dive in Spirituality at Mukteshwar Temple in Pathankot