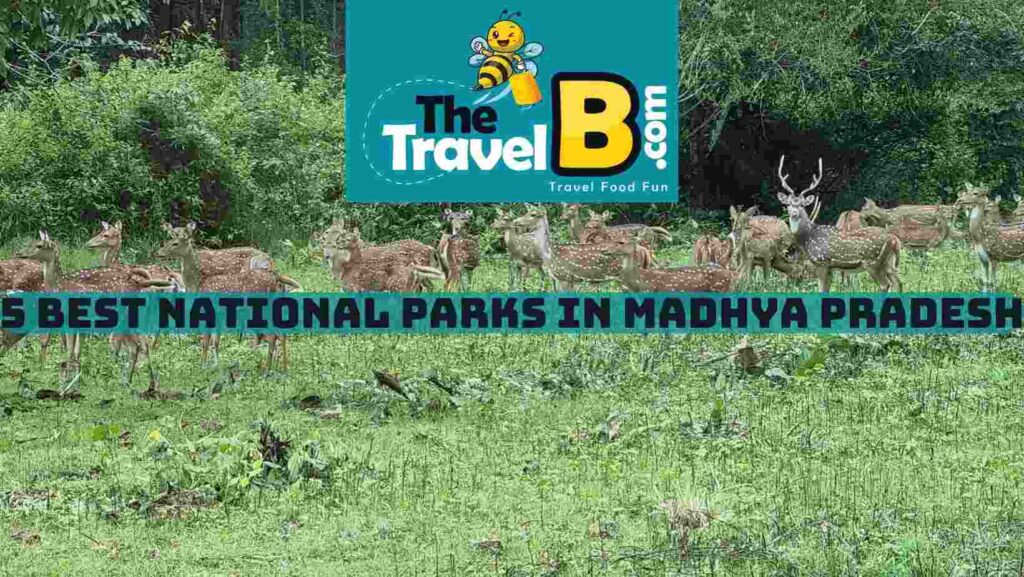 Madhya Pradesh is one of the states in India that is bountifully blessed by nature. It is the state where you can see the most exotic creatures walking in the wild. The National Parks in MP are known for their rich biodiversity. The thick woods of these best national parks provide a retreat for a few of the world's most endangered species of flora and fauna.
A variety of species, like Indian White Tiger, Royal Bengal Tiger, Indian Bison, Rock Python, Blue Bull, mammals, reptiles, birds, insects, trees, and shrubs thrive here. So, to all the wildlife lovers, if you are planning a wildlife tour to Madhya Pradesh, these national parks should be at the top of your bucket list.
Below is the detailed information you must know before packing your bags. The best five national parks in Madhya Pradesh are:
Kanha National Park
Bandhavgarh National Park
Panna National Park
Pench National Park
Satpura National Park
KANHA NATIONAL PARK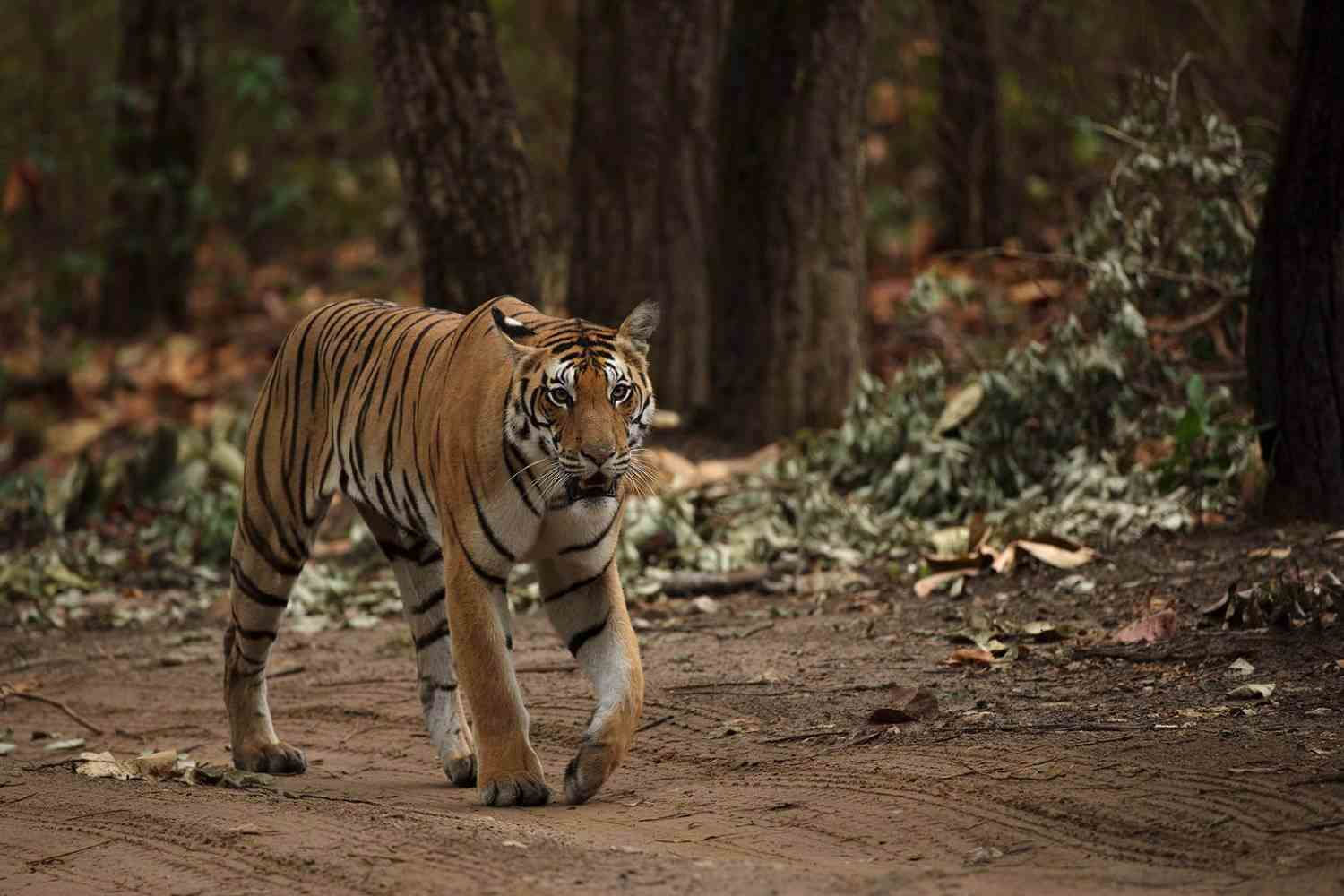 One of the best parks in Asia, Kanha National Park is the largest of the national parks in Madhya Pradesh and central India. The Royal Bengal tigers are one of the 22 species of big animals and a prominent draw. The Barasingha deer, one of the rarest kinds of deer, is found in the Kanha National Park, which is rich in flora and fauna. Through Rudyard Kipling's book, The Jungle Book, it rose to global fame.
Where to Stay
There are three zones called Kanha, Kisli, and Muki that are close to Kanha National Park. All three gates have a lot of hotels nearby.
Attractions in Kanha National Park
Go on a safari to see the wildlife.
Safaris in Kanha National Park
Walking safaris lasting 3 to 4 hours, drives, and elephant rides. No entry to areas that safeguard animals.
How to reach:
By Air: The nearest major airport is located 266 kms away in Nagpur, Maharashtra. The airport in Jabalpur is 177 kms away.
By Rail: Kanha National Park is accessible by rail from Jabalpur, Nagpur, and Gondia, which are at 200, 266, and 177 kms away from the park, respectively.
By Road: There are daily buses from Jabalpur, Nagpur, Bilaspur, and Raipur to Kanha.
BANDHAVGARH NATIONAL PARK
The Bandhavgarh National Park is a renowned tiger reserve and was formerly used as a hunting site by the Maharajas of Rewa. The park is a lovely forested region with lots of wildlife and plants. All wildlife enthusiasts should visit Bandhavgarh National Park since it is known to have the highest concentration of Royal Bengal Tigers in the world, which are frequently spotted there.
Explore More: Life at Prakasham – Unwind at your own pace at this Hyderabad farm stay!
Safaris in Bandhavgarh National Park
Walking safaris, lasting three to four hours, and elephant rides are available from three gates: Tala, Maghadi, and Khatauli, as well as the buffer zone.
Where to Stay Near Bandhavgarh National Park
Hotels for various budgets are available in Katni and Jabalpur.
Things To Do In Bandhavgarh National Park
Take a trip to Jabalpur to taste local cuisine and shop.
How to reach Bandhavgarh National Park:
By Air: The closest airport is Khajuraho, located 260 kms from Dumna Airport in Jabalpur.
By Train: Access is easier from the Katni Railway Junction, which is 100 kms away. Take a train from the Bandhavgarh wildlife reserve to Umaria (40 kms), Satna (9120 miles), or Jabalpur (180 km).
By Road: Transportation is easily available from the nearest railway station and airport.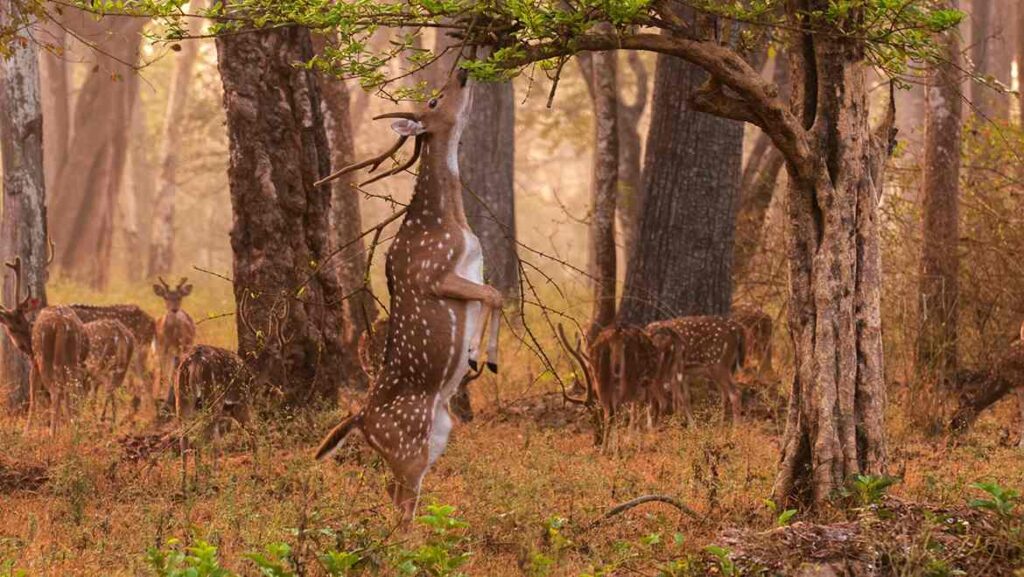 Panna National Park, one of Madhya Pradesh's national parks, is the fifth tiger reserve in the state and the 22nd in all of India. It is situated in the districts of Panna and Chhatarpur. The national park, which has a lot of wildlife and avifauna, has an area of about 542.67 square kilometers. The park is well-known for its attractions like tigers and other wild cats, as well as deer and antelope. Additionally, more than 200 different bird species call it home.
Where to Stay Near Panna National Park
Available in Panna among the two waterfalls and on the Ken River's banks. Most tourists prefer Khajuraho because of its outstanding infrastructure.
Things To Do In Panna National Park
Hike to Pandav and Pahen waterfalls.
Safaris in Panna National Park
Driving safaris lasting three to four hours, drives, and elephant rides. The main draw in this area is the river safari.
How To Reach Panna National Park
By Air: The Khajuraho Airport is 30 kms away and offers great access to Panna National Park.
By Train: Satna and Katni are respectively 85 kms and 120 kms apart.
By Road: Khajuraho is connected to other areas of the state by the Madhya Pradesh Road Transport Corporation.
The Pench National Park was one of the inspirations for the well-known book "The Jungle Book" because of the gorgeous Pench river meandering through the lush vegetation and the variety of wildlife that can be seen in the rocky landscape. On the boat tours, visitors can take part in a variety of activities in addition to the wildlife safari, such as seeing some well-known local temples and dams along the way and getting a peek into tribal life. You can take an open-air vehicle safari into the jungle day and night. Light trucks and 15-person buses are permitted on the property.
Where to Stay Near Pench National Park
Travelers heading to Pench can get the greatest deals from Nagpur. Both home stays and stays in hotels and lodges are options.
Things To Do In Pench National Park
The reserve's Sita Ghat, Alikantta, Raiyakessa, Baghin Nala, and Pench reservoir are great places to see animals, birds, insects, and reptiles.
Safaris In Pench National Park
4×4 drives and 3- to 4-hour walking safaris are available. No entry to areas that safeguard animals. Trips for hunting are categorically forbidden, in line with other reserves.
How to Reach:
By Air: The Jabalpur airport, which is 209 kms away, and Nagpur airport, which is 120 kms away, are the closest airports to the National Park.
By Rail: The closest railway station, Seoni, which is around 30 kms distant, is where one can take a train to get to Pench National Park.
An exclusive and pristine area that has been protected largely for the conservation of flora and fauna is the Satpura National Park in Madhya Pradesh. The 2010 TOFT Wildlife Tourism Award went to this park for being the most visitor-friendly wildlife destination. The Satpura Hills ranges, also known as the Mahadeo hills, are the source of the park's name.
It is situated in the Hoshangabad district of Madhya Pradesh, India, and covers an area of 202 square miles. The Satpura National Park, along with the Bori and Pachmarhi sanctuaries, provides about 550 square miles of tiger reserve territory, making it crucially important to India's ecosystem.
Safaris In Satpura National Park
Half-day walking safari, 4×4 drives and elephant rides in the safe perimeter
How To Reach Satpura National Park:
By Air: Bhopal is 180 kms, Indore, 390 kms, and Jabalpur, 360 kms away.
By Train: Itarsi Junction, which is 93 kms away, is the best place to get off the train and go to Satpura. Hoshangabad and Pippariya are two more.
By Road: Regular buses to the towns near Satpura National Park are available.
Explore More: Most Underrated Beaches in India to Explore