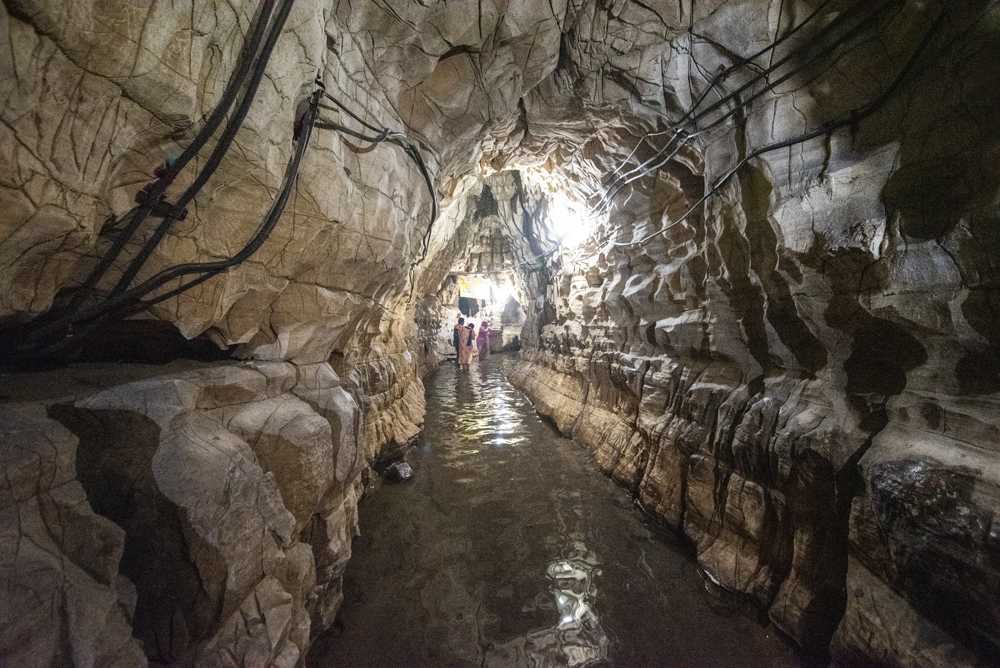 It might be possible that most of us might not heard about Chitrakoot and the Secret Gupt Caves in Chitrakoot. If this is the case, let us take you to the tale of Gupt Godavari in Chitrakoot, which will make you crave to visit the place to uncover its secrets.
Gupt Godavari History
Chitrakoot is a prominent location from the era of Ramayana, which is spread across Madhya Pradesh and Uttar Pradesh. Commonly known as the 'hills of many wonders', the area is mainly made from ancient lava fields and large stretches of woods interspersed with rivers. The town also enjoys a spiritual legacy incomparable to any part of the country.
Dotted with temples and religious tourist spots linked to Rama, Bharat, Hanuman, and Sita, Chitrakoot attracts pilgrims throughout the year. Out of all the fantastic places to visit in Chitrakoot, Gupt Godavari Caves hold exceptional prominence among Hinduism.
Gupt Godavari Story
The peeping-tom monster, Mayank, is thought to have attempted to spy on Sita as she was taking a dip in the Gupt Godavari. Lakshmana was furious with him for what he did, so he petrified and nailed him to the cave's roof. Today, that place is an outcrop of black rock protruding from the paler top of the cave.
The reasonably narrow mouth of this cave opens into a large cavern with two exciting features, one of which is a black rock cave. The second feature is Sita Kund, a small pond where Sita was bathing when Mayank tried to spy on her.
Source of Godavari
A stream is believed to flow from several small springs from the mountain outside the cave. Pilgrims who seek spiritual benefits are often seen walking through the stream length and exiting through the mouth of the lower cave. The Gupt, or the hidden Godavari, emerges from the cave, flows into a pond, and vanishes underground. According to historians, River Godavari flowed from Nasik to this place to have a glimpse of Lord Rama.
Nearby Attractions to Visit
While you visit the mythological city of Chitrakoot, don't miss exploring the hills of Maihar, meeting the White Tiger at Mukundpur, and exploring the wildlife of Panna National Park. Believe us; this trip will end up giving you mysterious experiences and adventures at the same time.
Explore More: Hardy's World – A Fun-filled Weekend Getaway in Ludhiana
Godavari Caves Visitor Timing
Visitors can visit Godavari Caves in Chitrakoot from 7 AM to 6 PM.
Foods to Try
Chitrakoot is famous for its Traditional Cuisine, which includes its traditional Paan, Sweets and Veg Thali.
Paan is a well-known Indian mouth freshener made with betel leaf and varies widely. A paan is typically filled with toppings, pastes, and condiments, depending on taste and choice.
Indian sweets or mithai are popular here, with traditional sweets such as Jalebi, Ladoos and Halwa commonly available in sweet shops.
As Chitrakoot is a religious place, it serves only vegetarian food. Most of the restaurants serve North Indian cuisine serving dishes that consist of vegetables, lentils, snacks, Indian bread etc.
Accommodation
There are a lot of hotels to stay in Chitrakoot, depending upon the area and place you want to visit. You can choose according to your budget. You can also stay in MPT Hotels of Madhya Pradesh Tourism.
How to Reach
Chitrakoot is situated in the Satna region of Rewa district of Madhya Pradesh and is easily accessible from Khajuraho and Jhansi.
By Air: The nearest airport is at Khajuraho which is at a distance of approximately 175 km
By Train: The nearest railway station is at Chitrakootdham (11 kms) on Jhansi-Manikpur main line.
By Bus: Regular bus services also connect Chitrakoot with Jhansi, Mahoba, Chaitrakootdham, Harpalpur, Satna and Chhatarpur.
Conclusion
If you are an adventurous traveller, Gupt Godavari in Chitrakoot is an apt destination. Wait no more; indulge in the adventures and secrets of Gupt Godavari in Chitrakoot and enjoy this magical trip with your family and friends.
Explore More: Kanatal – A Perfect Offbeat Hill Station in Uttarakhand