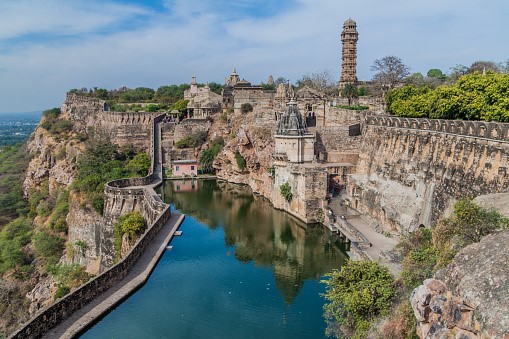 Did you know which is the largest fort in Asia? Chittorgarh Fort is the largest fort in India as well as in Asia. This enormous fort is situated in Chittorgarh, Rajasthan. It is acknowledged as a World Heritage Site By UNESCO. The Chittorgarh Fort was the capital of the world's longest-ruling dynasty, the Mewar Dynasty for around eight centuries.
This citadel is a gem that attracts tourists from all over the world. You might remember the enormous palace you saw in the movie Padmaavat, it was the Chittorgarh Fort. The time to visit this enormous fort is from 9 am to 5 pm.
History
The fort was built by Chitrangad Mori hailing from Maurya Dynasty in the 7th Century. Thus, the fort is also known as Chitrakuta. The fort was captured by Mewar rulers later. Then the fort was taken over by Alauddin Khilji from Ratan Singh in a battle known to be the most epic battle in Indian history.
After him, the fort was passed on to his son Khizr Khan who lost the fort to Sonigra Chief Maldeva. About 7 years later, Hammir Singh of the Mewar Dynasty captured the fort again and built an unconquerable army under the reign of Rana Kumbha.
Soon after Rana Kumbha was killed by his own son to take power and which is when the Mewar dynasty crashed. This gave way to Bahadur Shah and he took over the fort. In 1567, Akbar took over the fort and kept it till the British came over.
How to reach Chittorgarh Fort
The fort is enormous and requires around 3 to 4 hours for exploring. If you going for a day trip from Udaipur you can hire a taxi and travel easily according to your wish. The taxi will charge you around Rs. 3500 for a day.
If you are on a budget trip prefer to travel by train. There are many trains you can travel from. It takes around 2 hours by train to reach Chittorgarh from Udaipur. It cost you around Rs. 160 per person. Then from the Chittorgarh station take an auto-rickshaw. If you book an auto-rickshaw it will be around Rs. 200 otherwise, shared autos are also available.
For travelling back to Udaipur, there are many trains available in the evening as well. You can be assured that you won't get stuck there.
In case you are staying in Chittorgarh for some days then you can easily reach the fort. There are many other types of transportation also available like E-rickshaw.
Local Cuisine
Chittorgarh has rich cuisine. It offers vegetarian as well as non-vegetarian speciality of food. The vegetarian must-try dishes are:
Dal Bat Churma
Gatte Ki Khichdi
Badam Halwa
Whereas, the non-vegetarian must-try dishes are:
The restaurants in Chittorgarh offer both Rajasthani food and Continental food to cater for all types of travellers. You can also try the street food in Chittorgarh as it is very different and has its own flavour.
Also, if you want to try authentic Chittorgarh cuisine then go for thalli. Thali is offered in vegetarian as well as non-vegetarian styles. Thali has around 10-15 dishes served along with the sweet, side dishes, rice, roti, and curry.
Accommodation
If you are planning to visit Chittorgarh you can refer to these hotels for your stay.
Premium (Hotel Padmavati Fort View)
Price – Rs. 2999/ per night (Approximately)
It is located on Fort Road, Maharana Pratap Setu Marg, Chittorgarh.
Deluxe (Chittorgarh Fort Haveli)
Price – Rs. 1899/ per night (Approximately)
It is located 1 km from the Chittorgarh fort.
Budget-Friendly (Hotel Inn Chittor)
Price- Rs. 777/ per night (Approximately)
The hotel is located in the middle of the city in Meera Nagar, Chittorgarh.
Suggestions for Travellers
Explore the Rana Sanga market as it is popular for its fine display of local art, jewellery, and handicrafts.
Plan your trip to Chittorgarh during the festival of Teej or the Jauhar Mela, as it is a very good time to explore the city.
The best time to visit the fort is from January to March.
It is definitely the best place to visit for those who love history, art and culture.
Explore the newly-restored government museum located inside Fateh Prakash Palace in the Chittorgarh fort.
Do check out the Vijay Stambha and Kirti Stambha as they are the second most visited part of the fort.
Padmini palace is undoubtedly the most visited part of the fort. It is a white, three-story building which is actually a replica of what Queen Padmavati's original palace might have looked like.
You should also visit Sanwariyaji temple dedicated to Lord Krishna. It is on the Udaipur Chittorgarh highway, about 50 minutes from Chittorgarh.
Conclusion
The Chittorgarh Fort has seen a long history along with the Jauhar of Rani Padmini and Rani Karnavati. It has been a home to so many rulers which can also be seen in the form of different architecture in the fort. A history enthusiast will love exploring and wandering in this fort. The fort is situated on a hilltop thus the view is mesmerizing from the top. The fort can be seen everywhere in the city which means you can never miss this place if you travel to Chittorgarh.
Also Read: Feel the Spiritual Vibes at Ramtek in Maharashtra